This post is sponsored by Nissan Australia.
We are super excited to introduce you to the new Fun Mum Automobile! Nissan have kindly lent us this beautiful Nissan X-TRAIL to transport us on some FUN adventures and we're not sure who's more excited by it, us or the kids?! In fact all of our children are already asking (daily) if we can can keep him, yes we've nicknamed him Bear (short for Bear Grylls), because what family doesn't want an agile, tough, and adaptive adventurer like Bear in their lives?
The kids have been on school holidays the past few weeks which has given us lots of time to explore and spend quality time with our family and friends. We've travelled to the city, the beach, high in the beautiful hinterlands and just about everywhere else around town testing just how well built this car is for families.
Our Nissan X-TRAIL has been a delight to drive, 'Bear' has the most fluid power steering we've ever come across and the sunroof has given our children the opportunity to gaze at rainforest canopies, blue skies and star light nights, adding more excitement and entertainment to our travels. We've honestly found ourselves planning excursions to faraway places just to give us more driving time. Which brings us to the topic of… picnics!
We've become picnic packing pros after all the adventuring we've been enjoying and we've been so surprised by how much stuff we can fit in the back of our Nissan X-TRAIL. The unique Divide-N-Hide™ cargo system is GENIUS for families, seriously every car needs this! You can configure it 18 different ways and the washable luggage board makes it super easy to clean any mess from the picnic rug. Watch their clever demonstration below. And yes, my daughter has opened and closed the sensor activated boot just like the little girl in this video…about 1 million times, she calls it her new magic trick.
Here is one of our beautiful picnics loaded into the roomy boot, everything is easily accessible so we didn't need to pull everything out in order to find the kids hats or toys when we arrived at our favourite picnic spots. We still had loads of extra space and could've quite literally taken the kitchen sink. We look forward to sharing more details about this Family Proof car in the coming weeks…watch this space!
Would you like to know how we plan the Ultimate Picnic? Of course you do!
PLANNING THE ULTIMATE PICNIC
We love nothing more than spending time exploring in nature and that often involves us travelling off the beaten track to find some truly amazing picnic destinations like the one pictured below. It takes a little planning and preparation to ensure you have a hassle free and enjoyable day trip. Today we would like to share some of our top tips, recipes and ideas!
CHOOSING THE RIGHT DESTINATION
Most of the best picnic places we've been to have been ones referred to us by friends in the area, we suggest asking your friends or locals where their favourite picnic places are, better still, plan a day out with your friends so they can lead the way. We also recommend checking the road conditions, if it's a national park it may only be accessible by a 4 wheel drive, pets are also not allowed in National Parks so it's well worth researching the area to find these things out ahead of time.
ADVENTURE ESSENTIALS
If you're planning on doing some hiking, swimming or walking be sure to pack good footwear, sun protection and insect repellent! There is nothing worse than trying to enjoy a picnic whilst being attacked by mosquitoes. Also make sure to pack plenty of water to stay hydrated whilst you're exploring.
EQUIPMENT
Obviously a reliable form of transport is important, we've loved taking our Nissan X-TRAIL on some dirt roads and were really impressed how it handled the bumpy tracks. Some areas have daily tour buses that can take you to some lovely picnic destinations if you choose not to self-drive.
A good picnic hamper and esky is also a must to keep your food cool and safe to eat, something comfortable to sit on. We always try to pack finger food that is easy to store or wrap without spilling. Another important tip is to bring a good quality rubbish bag, you always want to ensure the only thing you take with you are memories and the only thing you leave behind are your footprints. Don't forget to pack your fully charged camera too!
FOOD & DRINKS

It's essential that we pack plenty of food and refreshments that the whole family will enjoy, but why stick to boring sandwiches when their are so many easily prepared and delicious picnic foods like these –
1.Peachy Lemonade! This perfectly peachy lemonade is simply delicious and super refreshing! Click here to view, download or print the easy recipe!
2. Banana and Oat Smoothie – this healthy smoothie is guaranteed to keep everyone energised on your picnic. We often take it in the car in travel safe cups for a breakfast on the road. Find the yummy recipe here.
3. Hawaiian Green Smoothie – Another smoothie recipe that makes a great breakfast on the go or tropical picnic refreshment! Find the yummy recipe here.
4. Healthy Mac & Cheese Muffins – Kids love Mac & Cheese? Well they will devour this healthy version! Substituting most of the cheese for creamy roasted Butternut Pumpkin is the key! Click here to see the easy recipe!
5. Zucchini Bites – This simple recipe uses cream cheese which makes them super creamy and delicious. It is one of our go-to 'bring a plate' recipes. Find it here.
6. Roast Pumpkin, Spinach, Ricotta and Caramelised Onion Pie – This is by far my favourite 'egg' pie recipe! The sweet Roast Pumpkin and Caramelised Onion make it so tasty and my kids love it too! Click here to view, download or print the easy recipe!

7. Individual Picnic Loaves – I grabbed some fresh sour dough rolls at our local bakery, removed the inside (reserved for breadcrumbs in another dish), spread the inside with cream cheese then stuffed with layers of grilled eggplant, capsicum, Pastrami and baby spinach. These would be perfect for a family picnic if some family members like different fillings.
8. Pizza Puffs – Simple pizza flavours wrapped inside their own crispy shell! Perfect finger food for a picnic! Find the easy recipe here.
9. Easy Chickpea'sy Hummus – Make your own hummus dip, serve with sliced veggies and rice crackers. Find the simple recipe here.
10. Zucchini Fritters – We've enjoyed these Zucchini fritters on many a picnic! They freeze really well which makes them a great bake-ahead of time recipe! Find all the details here.
11. Savoury Muffins – This simple recipe is so simple, perfect to prepare with the kids for their own special picnic menu. Find it here.
12. Savoury Waffle Sticks – These make a great finger food by using a waffle maker to cook this fluffy and tasty recipe. Find it here.
13. Salad in a Jar! These Salad in a jar recipes are PERFECT for picnics! Find all three recipes here.
14. Quinoa and Chickpea Salad – this recipe is a super simple salad filled with fresh and vibrant flavour, find it here.
15. Rosemary, Potato & Blue Cheese Frittata – This frittata is another great recipe to prepare the day before your picnic and serve cold. Find the yummy recipe here.
16. Ham & Salad Rolls – A clever way to cater to a large group is making some simple ham and salad rolls using a long bread-stick. Simple cut lengthways and fill with your ingredients before slicing into individual serves. Find it here.
17. Chickpea & Mango Chicken Balls – These are tasty served warm or chilled making them a great addition to this picnic recipe round up. Find the easy and yummy recipe here.
18. Healthy Chicken Sausage Rolls – Inspired by the recipe above we made these yummy sausage rolls. Find the recipe here.
19. Yogurt and berry cups – These yogurt and berry cups make a wonderful & healthy desert option on a picnic! Simple top your favourite yogurt with some fresh berries inside individual sealed cups. Easy to transport. serve and enjoy!
20. Banana and Sultana Muffins – The perfect muffin to accompany a yummy picnic! Find the healthy recipe here.
21. Watermelon Salad Bowl! This is such a FUN way to serve a healthy fruit salad! Simply cut your melon in half and scoop the flesh out to create the bowl, fill with your favourite seasonal fruits and serve. You can also freeze your bowl overnight before filling to keep your salad nice and chilled. You can use your leftover watermelon to make this yummy sorbet.
22. Healthy Chocolate Brownies – These healthy chocolate brownies are AMAZING! Find the delicious recipe here.
23. Nutella Brownies – Love Nutella? We don't blame you! You'll love this easy three ingredient recipe! Find it here.
24. Nutella and Banana Sushi – it doesn't get much easier than this! Find the video tutorial here.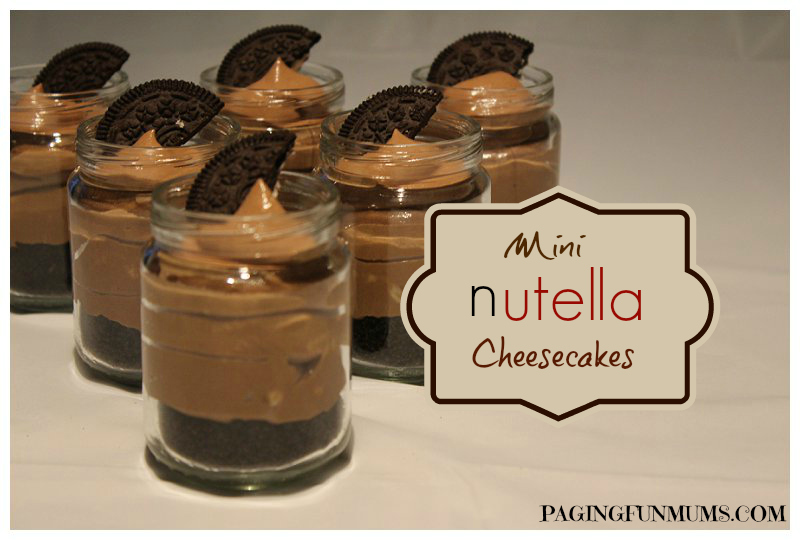 25. Mini Nutella Cheesecakes – Serving food in baby jars is a GREAT picnic trick. Easy to transport and the perfect serving size for something sweet! Find this easy recipe here.
26. Mini Lemon Cheesecakes – This easy no-bake recipe is perfect for picnics! Read all about it here.
27. Cranberry Nut Clusters – Simple, sweet and perfect for your next picnic! Find the recipe here.
PICNIC GAMES
Our kids love to sit down to yummy food but they're often finished eating WAY before we are. We like to pack some FUN games to keep them occupied whilst we finish our meal. Some great picnic games are croquet, badminton, ring toss, cards, tic tac toe or even tug of war! You could also pack a kite if it's a windy day! Our children also love a good Nature Scavenger hunt!
We really hope these ideas and recipes help you plan an incredible picnic with your family and friends! If you're in the market for a new family SUV be sure to take a Nissan X-TRAIL for a test drive, you can learn more about the full range of Nissan SUVs here on their website and be sure to pop back as we share more details of our upcoming adventures.
Jen & Lou x
If you want to become a Fellow Fun Mum Member & receive all of our fun craft, recipes & activities as well as special offers & promotions – click the button on our home page 🙂
We also have some fun video tutorials for you to view on our YouTube Channel.