This post is sponsored by Nissan Australia.
We've been taking some long road trips in our new Nissan X-TRAIL, it's so nice to drive that we've been planning longer trips on the weekends just so we can enjoy the ride!
We were so impressed with all the driving features in the Nissan X-TRAIL, especially for long road trips! The EZ Flex second row seats recline so the kids are comfortable on long drives and the cleverly designed theatre style seating means even the littlies can always see the road ahead.
The cruise control is super easy to operate and the digital speed display in the dash makes it really easy to view and adjust. The drive assist display also tells me which seatbelts are buckled or unbuckled (so handy to know the car seats in the back are all securely buckled). Our model also has blind spot detection lights, lane departure warning & moving object detection! And don't even get me started on the Around View Monitor, I have no idea how it works but it's like you are looking down on your car in REAL time! It makes reverse parking a dream.
The Nissan X-TRAIL even has cup holders that cool or heat! Perfect for keeping cool drinks cool or hot drinks hot!
There are far too many features to share here so head to their website to see them all and watch this short video of some of them in action.

We all know how boring long road trips can be for kids, we've all heard the "Are we there yet Mum?" over a thousand times. We hope the following tips and games help make your  next road trip with kids enjoyable, fun and full of memorable family moments.
Safety 1st
It's important to give your car a quick once over before heading on a long trip. Making sure the car is up to date with it's servicing, checking the oil, tyre pressure and tread are just a few quick things to check that can save you hardships later in your journey. If your children are still using car seats make sure you check their straps are at the correct height and ensure the seats are installed properly. Take care when packing your vehicle too, heavy loose items can be dangerous in the event of an accident and should be well secured in the boot (our Nissan X-TRAIL has the Divide-N-Hide™ cargo system which allows you to configure the boot 18 different ways, tackling even the trickiest storage dilemmas).
Essentials 
Obviously you'll need to pack varying equipment and clothes depending on your adventure but make sure you pack enough food and refreshments to keep everyone happy if you're unexpectedly caught in bad traffic or decide to stop at a nice picnic ground along your way! We have a great list of Picnic ideas here. We always keep a travel first aid kit handy too.
Planning your route
Don't forget to pack a Map or enter your destination details into your car's Satellite Navigation ahead of time, it's also a great idea to check on road conditions before you depart, most states have websites set up with updated road conditions. Check the length of time it will take to get there and plan a few stops along the way to stretch your legs and have a break from the road. Never drive when you're feeling tired.
Now that you've got the main things covered it's time to share some of our favourite Road Trip Games and Activities for kids!
Road Trip Bingo!
This is such a fun way to encourage kids to watch their surroundings and stay occupied during a long drive. Download the FREE Printables here, we've included 4 variations so kids don't all scream Bingo at once, plus a blank page for them to draw or write their own Bingo game!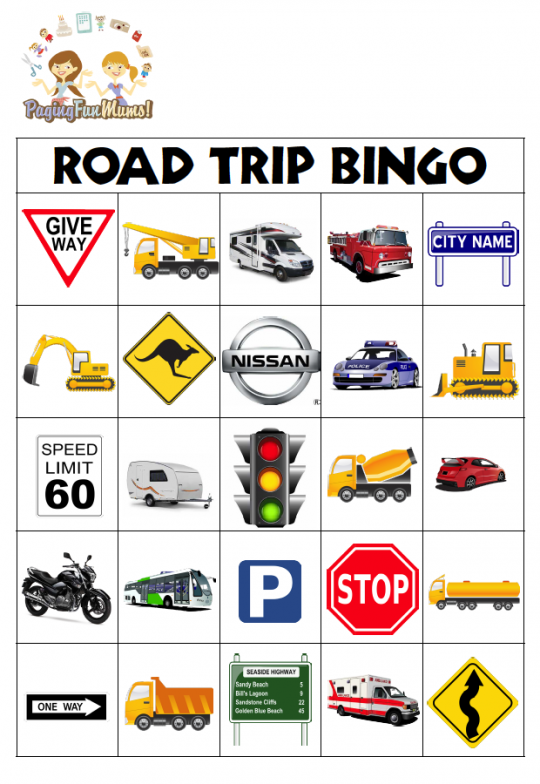 I Spy with my little eye!
An oldie but a goodie! This can be played by letter or even colour for the little kids! With the Nissan X-TRAIL sunroof the sky's the limit to what our kids are spying!
The Alphabet Game!
This is one of our favourite games! We all play along and try to spot things that start with each letter of the alphabet starting with A then ending with Z… We usually allow the tough letters like X & Z to be found within an objects name.
20 Questions
One person thinks of a person, place or thing. Everyone else takes turns asking questions that can be answered with a simple yes or no. After each answer, the questioner gets one guess until 20 questions have been asked, then everyone can take one more guess before the 'answer' is revealed.
Spot the Car! 
This game involves picking a brand of car like Nissan, the first player to spot 10 Nissan cars can pick the next car make or even colour.
Mintie Wrapper War
This is old game I fondly remember playing with my brother on long road trips, we had this down to a fine art! Start with a mintie lollie or any lolly wrapper (I personally think my Mum chose these because it took us a long time to suck them, therefore we were quieter for longer lol! Carefully tear your wrapper to try and get the longest strip of paper, whoever gets the longest wins!
Licence Plate Names 
This is a fun game where you spot other car's licence plates and try to make fun acronyms using them. The fastest or cleverest deemed by the driver wins!
The Animal Name Game
One person says the name of an animal (like cow), each player then takes turns naming an animal that starts with the last letter of the previous animal (wombat would work for cow). The game continues until you run out of animal names!
Guess that song!
One player hums the start of a song and everyone has to guess the correct name of the song, the winner hums the next song and so on.
The Silent Game
Let's be honest, there is no parent that hasn't tried this game on their kids at least once on a long road trip! Everyone stays quiet and the last person to remain silent the longest wins! My kids break within the first 3 seconds!
We hope these tips and games help keep your children entertained on your next road trip! If you're in the market for a new family SUV be sure to take a Nissan X-TRAIL for a test drive, you can learn more about the full range of Nissan SUVs here on their website and be sure to pop back as we share more details of our upcoming adventures be sure to pop back as we share more details of our upcoming adventures or check out our first story here.
Jen & Lou xx
If you want to become a Fellow Fun Mum Member & receive all of our fun craft, recipes & activities as well as special offers & promotions – click the button on our home page 🙂 
We also have some fun video tutorials for you to view on our YouTube Channel.