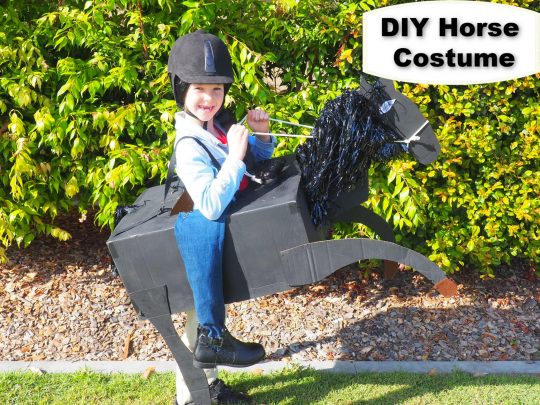 There's always a good excuse for a Horse Costume – be it for Book Week, Halloween, a party or for just dress ups. You can make this adorable and impressive costume out of cardboard boxes and
You will need:
Cardboard boxes
Black spray paint
Glue Gun
Brown Felt
Masking Tape
Stanley Knife/Box Cutter
Elastic
Rope (for the reins)
Kids jeans
Kids boots (I got both of these from the Salvation Army store)
Helmet (optional – we already had one)
And something for the horses mane – we used pom poms from the $2 shop, but you can use wool also
This costume is really simple but will require you to do a lot of eye balling – which is quite easy.
I'll try to break it down for you.
Start with the horses head:
I got a large box and drew the head shape as above and then cut it out using the stanley knife.
You'll then need to do the same for the legs: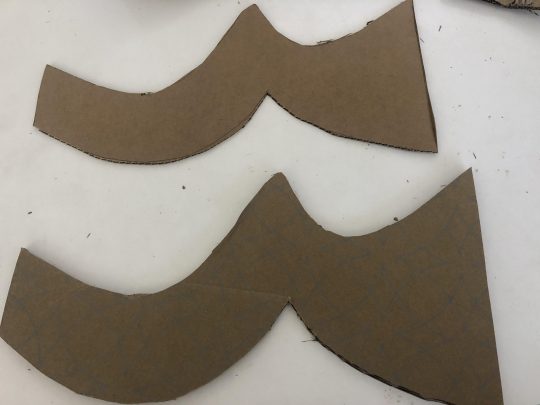 For the body of the horse, it's quite simple – just cut a hole large enough in the top for your gorgeous child to fit and use masking tape to secure.
You will need to cut a slit into the box to slide in the head and then you can glue gun the legs on.
Once that's done, it's time to get your spray on (one of my favourite parts).
Once dry, you can add on the mane using the glue gun and secure on the jean legs and boots (simply stuff the jean legs with newspaper to make them look 'real').
It's a good idea to secure the jean legs using bull clips to keep them secure whilst the glue is drying.
We added another pom pom to the back of the house for the tail as you can see above.
Make sure you add on some elastic to the each side of the box so your child can balance your newest creation on their shoulders.
This is not a necessity, but we added some squares of felt for the horses shoes too 🙂
We made this costume for my daughters Book Week. She is OBSESSED with Free Rein at the moment and so this was so much fun to make for her. She's going to wear it for Halloween too!
I hope you enjoyed this project. Let me know in the comments if you have any questions and please let me know if you make this costume, I'd love to see it!
Jen x
If you want to become a Fellow Fun Mum Member & receive all of our fun craft, recipes & activities as well as special offers & promotions – click the button on our home page 🙂
We also have some fun video tutorials for you to view on our YouTube Channel.