Rice Krispy Treats –
An American treat that works best with American Marshmallows, it was hard to source the marshmallows but thanks to some great friends, I managed to get my hands on some!
There marshmallows are less sweet and are so extra fluffy!!! Target & Aldi sometimes stock them or you can look for them online.
It's very easy and fast to make this slice –
3 tbs Unsalted Butter
1 Pack of American Marshmallows (about 40)
6 Cups of Rice Bubbles
Sprinkles or 100's & 1000's
Melt the butter over medium heat in a large saucepan, add the marshmallows and stir continually until they're melted. Add the rice bubbles and stir to coat, tip into lined slice container and press firmly using a silicone spatula (I find the silicone tends not to get as sticky) I always add a few sprinkles for parties once it's been pressed down. Allow to cool at room temp before slicing. Store in an airtight container at room temp for up to three days.
Marshmallow Pops –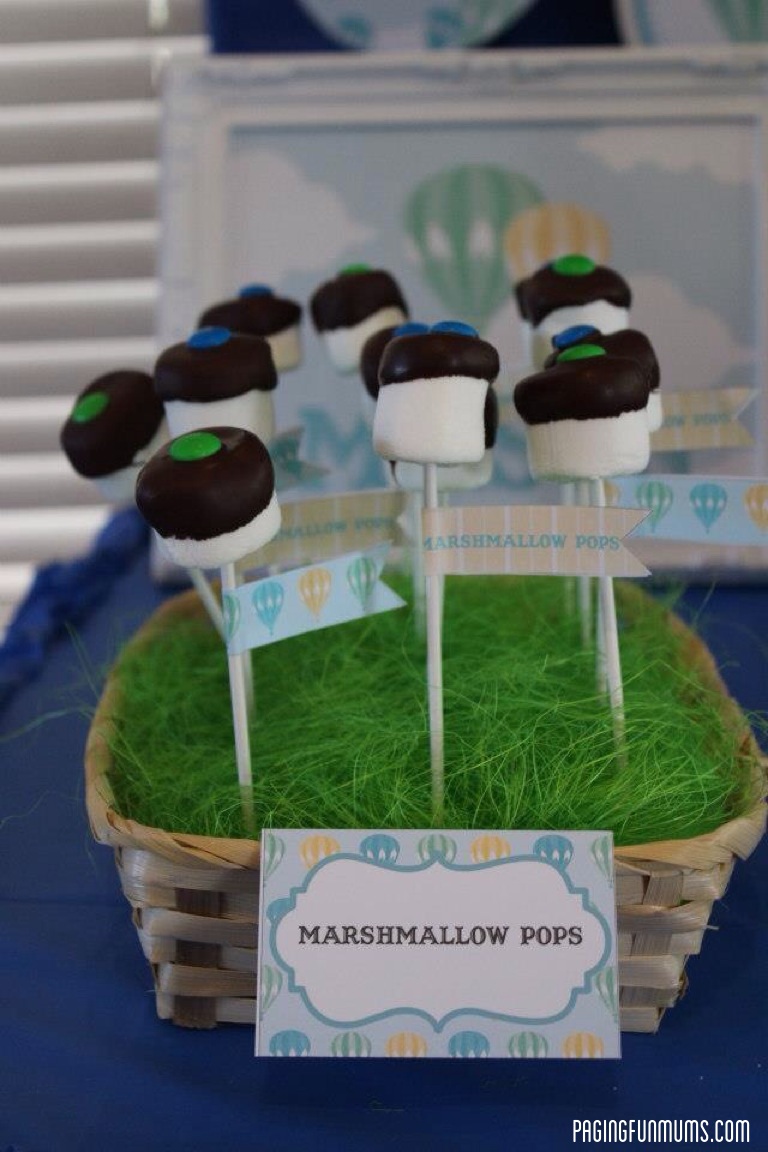 Choc dipped Marshmallows on sticks with a M&M on top…as easy as it sounds ;). Just melt some dark chocolate, place the Marshmallow on a stick, dip in chocolate and add an M&M.
Here are some other examples and a link to the 'DIY' –
Hot Air Balloon and Cloud sugar cookies –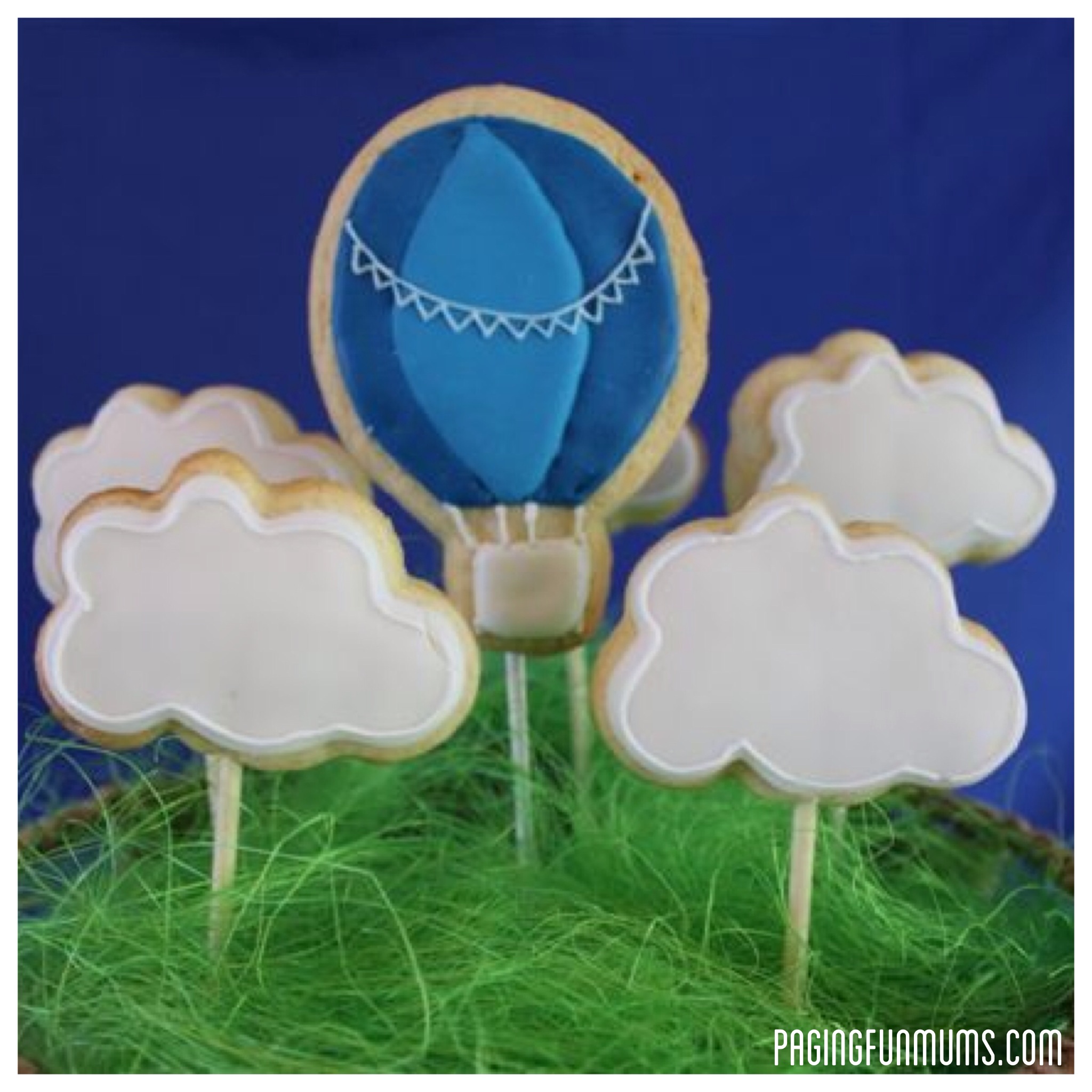 I couldn't have made these without the help of my good friend Rebecca. Rebecca kindly gave me a private tutorial on decorating these – and she gave me this recipe for the cookies  too -.
Bec's Sugar Cookies
1 cup unsalted butter (at room temp)
1 cup castor sugar
2 eggs
2tsp Vanilla Extract
3 cups plain flour (sifted)
1tsp baking soda
1/2 tsp salt
Beat the butter & sugar until pale and smooth, then add the vanilla and one egg at a time (beating between eggs). Mix the dry ingredients and fold into butter mixture.
Make a roll of the dough and wrap in cling wrap & refrigerate overnight.
Pre-heat oven to aprox 190 degrees c.
Roll out cold dough on a floured bench to about 4mm in thickness and cut using cookie cutters.
Bake for aprox 8 – 10mins (depending on cookie size and different ovens). Allow to cool before decorating.
We used a royal icing packet mix to decorate the balloons, and a mix of both fondant and royal icing on the clouds. Thanks Rebecca!
Mini Cheesecakes –
Jenni kindly made these for me using lime instead of lemon (4 limes)- so yummy! You can find the recipe here –https://pagingfunmums.com/2012/12/16/mini-cheesecake-jars-louise/. They looked super cute with the circle pintables on the lids!
Here is another version made with Chocolate –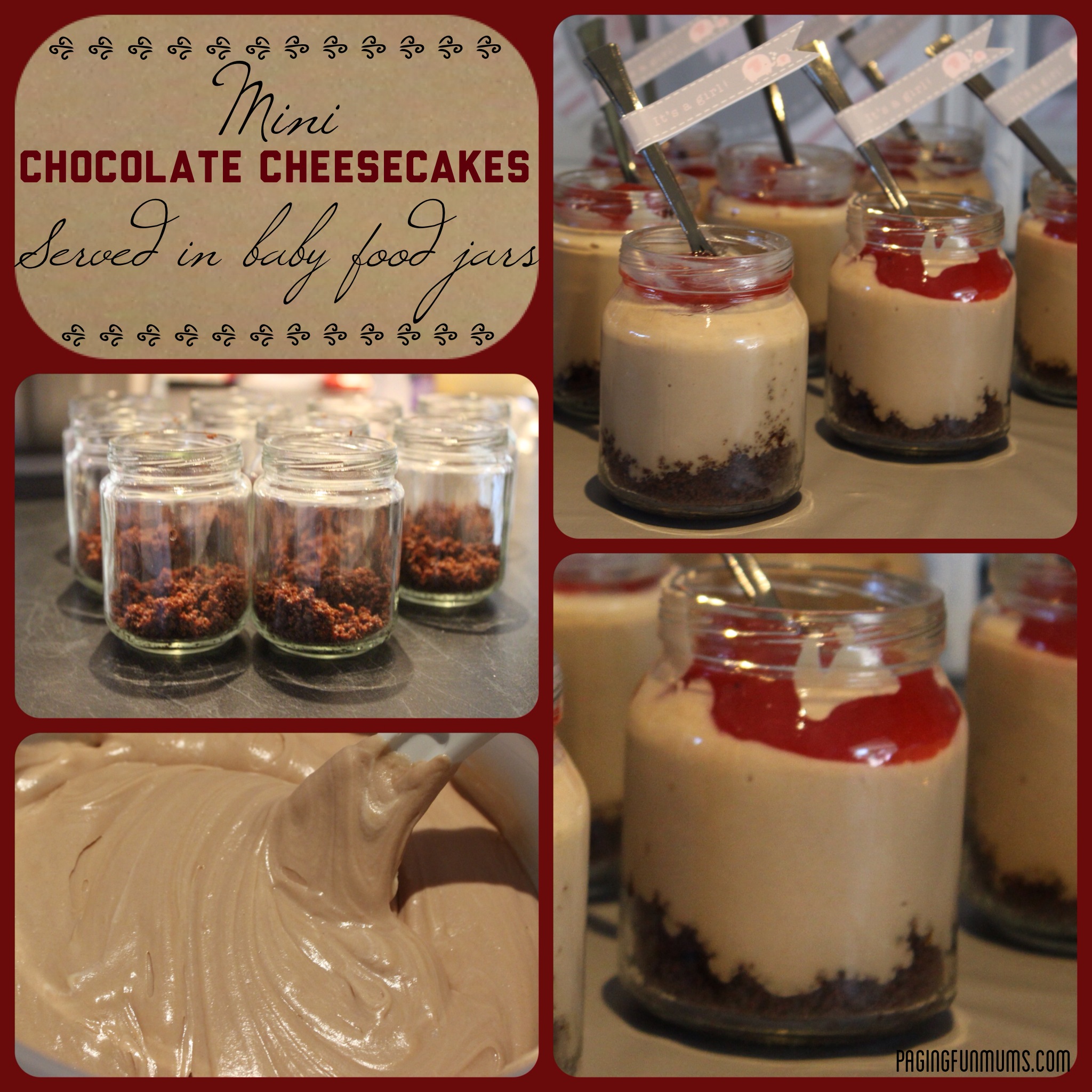 Hot Air Balloon Cake Pops-
My good friend Rebecca made these for me. She used Reese's Peanut Butter Cups to make the baskets.
Hot Air Balloon Chocolate Pops –
Whenever I'm planning a party I always look to see if there are chocolate moulds to suit the theme…How sweet are these! I'm so grateful that I was able to find these Hot Air Balloon moulds at Inspired by Chocolate! They were so easy to make! I thought I would experiment with some different techniques – I used a two tone effect using white chocolate in the grooves then filling with dark chocolate.
I also experimented by adding some sprinkles to the inside then adding white chocolate – they were a big hit!
For the mini hot air balloons I used white chocolate with blue food colouring. Inspired by chocolate has a huge range of chocolate moulds for any occasion!
Ham, cheese, salad and ranch rolls.
Simply a pond French bread stick with deli ham, tasty cheese, lettuce and Ranch dressing. I cut these into easy handheld sizes :).
Dip Cups –
Individual serves of Dip, breadsticks & veggies served in a little plastic cup. Insures no double dipping ;). lol
Watermelon Pops –
A great way to have something healthy & FUN!