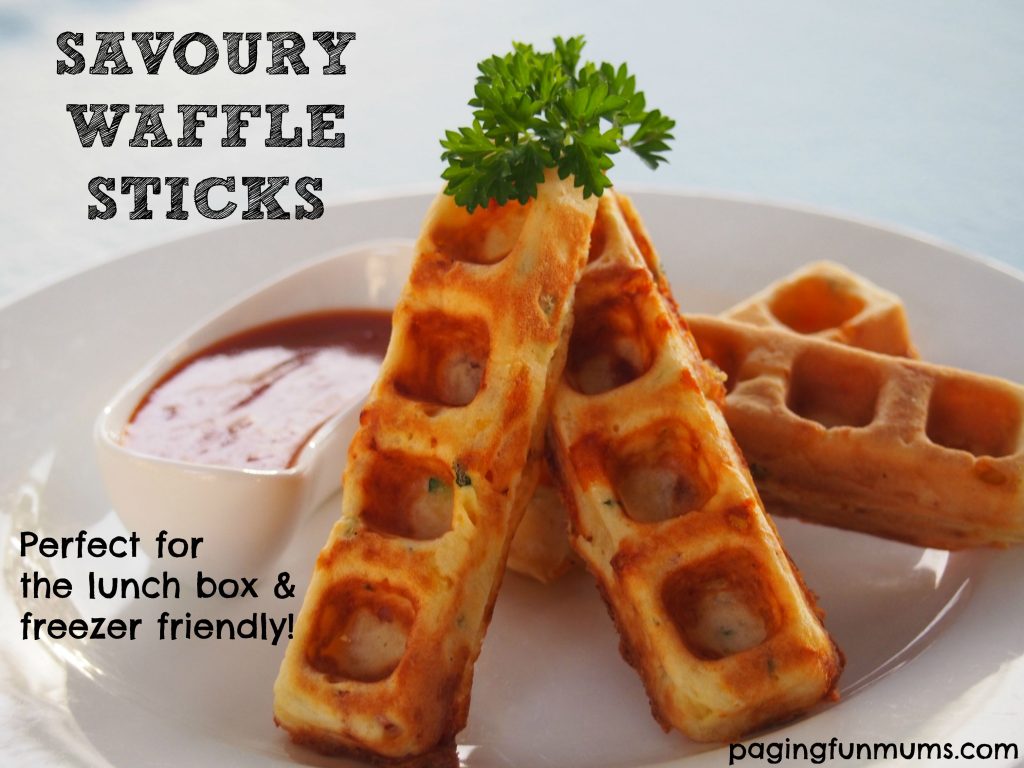 These Savoury Waffle Sticks are so yummy and they're a fantastic 'finger' food for kids or even parties! We served ours with some home made tomato sauce but they're great on their own or with other dipping sauces.
Ingredients –
1 1/2 cups SR Flour
1 medium Zucchini (grated with excess liquid squeezed out)
1 large Carrot (grated)
½ cup Grated Tasty Cheese
 50g of finely chopped ham
¼ cup Olive Oil
125g Tin of Creamed Corn
¾ cup Milk
 2 eggs
Cooking oil spray
Method –
Combine the flour, cheese and grated vegetables in a large bowl and then add the remaining ingredients and stir with a wooden spoon (do not over mix). Heat your waffle maker and generously spray with oil before adding the mix and fill until just level so it doesn't spill out whilst cooking.
I used my Sunbeam Snack Heroes Waffle Stick Maker. I LOVE this machine!! This post isn't even sponsored, I bought it last Christmas and use it every week!! Each batch took 4 mins to cook (if you're using a regular waffle machine you might need to do a test run on your first go to make sure they're cooked through). There was enough to make 7 batches of waffles! I froze half and the kids have been enjoying them in their school lunch box.
This is a really FUN and simple recipe to make with your kids! I always find my children are more likely to eat and enjoy something they've helped cook – would you agree?
Louise x
You can find heaps of other great family recipes here and a whole bunch of lunch box ideas here.
We also have some fun videos for you to view too! You can check them out here.
If you want to become a Fellow Fun Mum Member & receive all of our fun craft, recipes & activities as well as special offers & promotions – click the button on our home page  
Oh, and why not pop over and 'like' us on Facebook OR perhaps Twitter is your thing. . You can also find us on Pinterest & Instagram too!