We are HUGE fans of anything Glow in the Dark at our place! We've made Glow in the Dark Slime, Glow in the Dark Silly Putty, Glow in the Dark Glitter, Glowing Bath Paint & the list goes on.
This one is super simple and super CUTE!
To make your own you will need
Teeny jars (you can get them at $2 stores)
Pink & Purple Glitter
Fairy stickers (again, from the $2 store)
Black Light
Step 1
Fill each little jar with the glitter (I made two purple & one pink). Pop on the lid
Step 2
Add your adorable Fairy sticker
Step 3
Wait until it's dark then switch on the black light!
My little 5 year old was so mesmerised by these 'magical fairy jars'. She carries them everywhere even when they aren't glowing. They are just too cute!
They would make sweet party favours or as a little gift just because!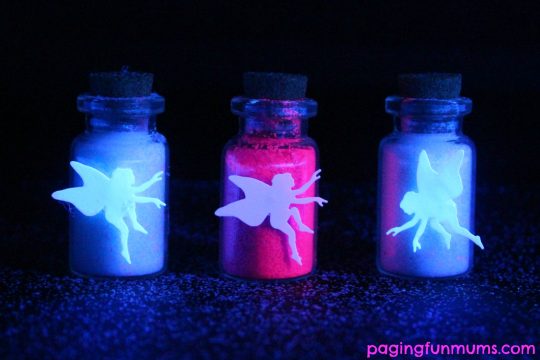 Jen x
If you liked these, you may also like our:
Glow in the Dark Coloured Sand
Glowing Jelly or our
If you want to become a Fellow Fun Mum Member & receive all of our fun craft, recipes & activities as well as special offers & promotions – click the button on our home page 🙂 
We also have some fun video tutorials for you to view on our YouTube Channel.