We love to experiment with different glowing projects at home, this Glowing Jelly was a huge success and would be perfect served at a Glow Party! Or maybe as a FUN Halloween treat! It even makes for some SAFE and FUN sensory play!
Ingredients – 
1 packet of lemonade Jelly/Jello (any clear colour flavour should be fine to use)
1 cup of Tonic Water
Boiling water
Method –
Simply replace one cup of boiling water (from the instructions on the Jelly/Jello packet) with one cup of warm Tonic Water. I used the microwave on medium for 1 minute to gently heat the soda water.
Mix all the ingredients then place in the refrigerator to set as per the packet instructions.
How to make it GLOW in the dark – 
Once the Jelly/Jello has set it will GLOW when placed under a *blacklight.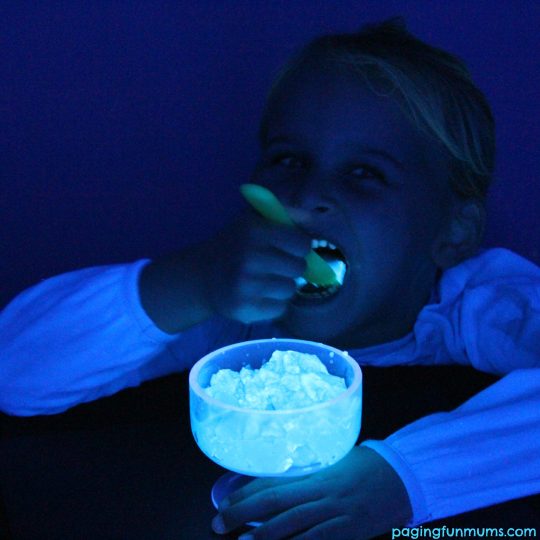 We have many Glow in the Dark Recipes to explore – you can find them all by clicking here. 
Louise x
*Here is the link to the Australian store where we purchased our Fluro Light Fitting and Blacklight tube  from Wide World of Lights. You can also find them via their Facebook Page. You can buy the tube separately if you are lucky enough to have a Fluro Light Fitting at home.
If you want to become a Fellow Fun Mum Member & receive all of our fun craft, recipes & activities as well as special offers & promotions – click the button on our home page : )