We love to make and play on Water Blobs! So why not make one that glows?
We bought a blacklight a while ago in the hopes of testing out some cool glowing activities – especially over our warm summer nights. We found an awesome post on Glowing Bath Water from Fun at Home with Kids and this cool idea sprang to mind.
What we used –
A flat section of grass or decking close to a hose (It will NEED to be level or your Blob will just roll down the hill…trust me!!)
Scissors
Duct tape
Baking paper
Hair Straigtener (if you don't own one you could follow the directions for an iron found here).
Clear plastic sheeting*
8 'Glowing Tablets' found here via Fun at Home with Kids (there is a link included for the USA, UK & Australia)
Mortar & Pestle
Funnel
Hose and water supply
*We bought our plastic sheeting from the local hardware store off the roll. It was 2 meters wide and cost $1.80 per meter (I used 2 meters = $3.60). It is typically used by builders, painters and furniture removalists to protect furniture or flooring.
Firstly I folded my plastic in half to give me a 2 x 1 meter rectangle. I then folded a strip of baking paper in half lengthways (aprox 80cm in length). I placed the folded paper over the join at the fold of plastic.
I then clamped my heated hair straightener over the folded paper and gradually moved along the folded paper as pictured. ***WARNING*** The plastic will be very hot where you have sealed it – wait for it to cool for aprox 20secs before moving the paper along to the next section. You should be able to see clearly where your plastic has been melted together (as pictured).
Continue to work your way around the plastic joins until you reach the final corner, you will need to leave a 3cm hole to feed the hose into your plastic pocket. Once completed I gave the plastic a thorough look-over to see if their were any holes – I found one section that had a small hole so I cut some Duct tape to fit and stuck that over the hole (it held fast and never leaked from that spot).
Then we need to add the special ingredient to make the water glow. We used 8 'Glowing Tablets' that I rubbed under warm running water to remove the brown coating – we then crushed them up with 100ml of warm water using a mortar and pestle.
We used a funnel to easily add the 'glowing' liquid before filling the blob with fresh water from the hose…when the blob is full simply seal the opening using some more duct tape.
Than we waited for the sun to set and counted down from 10 before switching on our blacklight – we were pleasantly surprised by a glowing blob and lots of squeals of delight from all the children.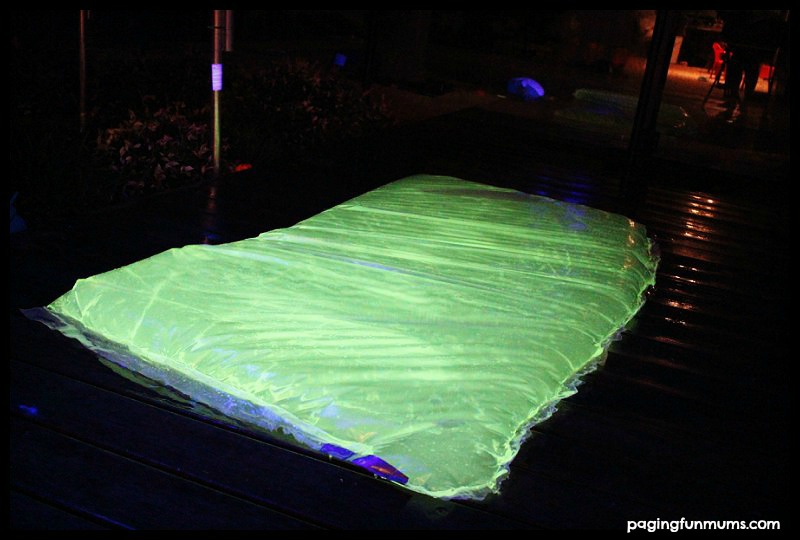 We hope you enjoyed the look of this activity and might consider purchasing your own Blacklight – maybe you could share one with a friend or neighbour like Jenni and I do?
Here is the link to the Australian store where we purchased our Fluro Light Fitting and Blacklight tube  from Wide World of Lights. You can also find them via their Facebook Page. You can buy the tube separately if you are lucky enough to have a Fluro Light Fitting at home.
PS. my husband was excited to use our new 'portable' fluro fixture for camping and working on his car ;).
If you liked this glowing activity, you may also like our:
Here are some other FUN  Summer Activities you might enjoy-
Louise x
If you want to become a Fellow Fun Mum Member & receive all of our fun craft, recipes & activities as well as special offers & promotions – click the button on our home page : )