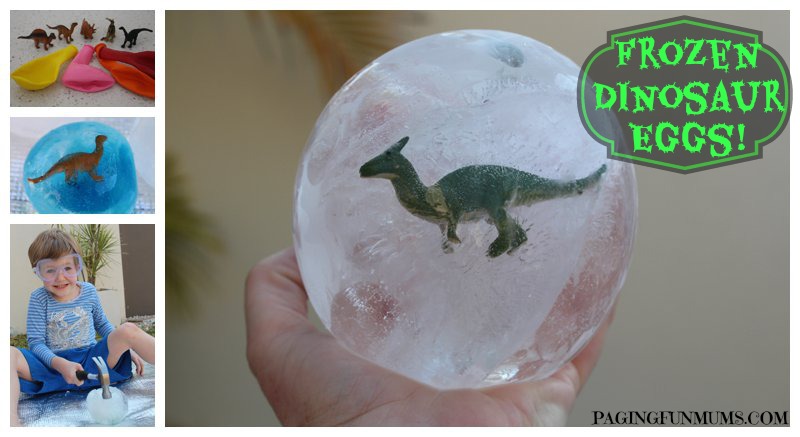 My little man LOVES Dinosaurs, so I thought this was a super fun way to get his inner Archeologist juices flowing : )
It's so easy to prepare and very inexpensive to make too!
I found this idea via Pinterest and have been in love ever since!
You can make these over and over again and the kids will delight EVERY single time!
To make your own you will need:
Balloons (the larger sized ones work best – we used 30cm rounds)
Small Plastic Dinosaur Toys
Water
Food dye (optional)
Hammer
Safety goggles

Step 1
Take your toy Dinosaurs and insert them into the balloons…at first this will seem difficult, but once you get onto the second one it's very easy! Just gradually worm the balloon over the Dinosaur ensuring to be a little gentle as you don't want to pierce the balloon with any spiky dino parts.
Step 2
Take your Dino-stuffed balloon and fill it with water!
You can also add a few drops of food colouring at this point for extra effect!
Step 3
Transport your future frozen fossils (or FFF's as we call them in the business ; ) to the freezer and let them freeze over night.
Step 4
Once frozen, pull the balloon off the frozen egg…you might need scissors to get it started, but once it starts coming off, it's really quite easy.
Don't they look cool! It's almost a shame to SMASH them…except that's where the REAL fun starts!
Step 5
Take a hammer and start excavating to get to those Dinosaurs!
We started out with some very child friendly plastic hammers, but they were really not doing the job! So then we tried using a standard 'Dad' hammer and it worked a treat! (please note, I gave strict instructions to Master 5 before he started and we also used safety goggles – I highly recommend you do the same…there is no fun in injuries!)
The kids were so excited to retrieve their Dinosaurs after all of their hard work! I enjoyed watching them smash, crash and bash their way to the prize!
This was such a great activity! I'm already having great plans to freeze little chickens in frozen eggs for Easter too!
If you would like some other Dino related Activities from Paging Fun Mums, then check out:
Jen x
If you want to become a Fellow Fun Mum Member & receive all of our fun craft, recipes & activities as well as special offers & promotions – click the button on our home page 🙂