Sponsored by My Little Pony
My little girl is in love and I mean IN LOVE with My Little Ponies! Who can blame her! I remember playing with mine when I was a little girl! There's something so whimsical, magical, sparkly and down right girly about them! What's not to love!
We like to throw big parties for our kiddies here at Paging Fun Mums HQ so when Miss 4 requested a 'My Little Pony Themed Party', I was super excited!
My parties are always easy to do, not too expensive but always look great (if I do say so myself). I'm sure you will get some inspiration and ideas on how to host your very own My Little Pony party!
The first thing on the 'party to do list' is of course, the invitation! You can get loads gorgeous custom designed invitations from Etsy. This one featured was provided along with the adorable printables from KidsPartyDIY. Head to this link to find the printable pack that I used! You simply purchase, print and cut out! An easy way to have a party that looks like you're a pro! There are so many beautiful My Little Pony Party printables, party favours and more on Etsy…simply head here for some fantastic ideas!
Ok, so now your guests are excited about coming, let's get the party started!
Let's start with the party table…
My Little girl's favourite Pony is Rainbow Dash so I knew right away we had to go with a rainbow theme!
For the kids party table I used multi coloured plates & serviettes, confetti, colourful drinks and of course PLENTY of My Little Ponies!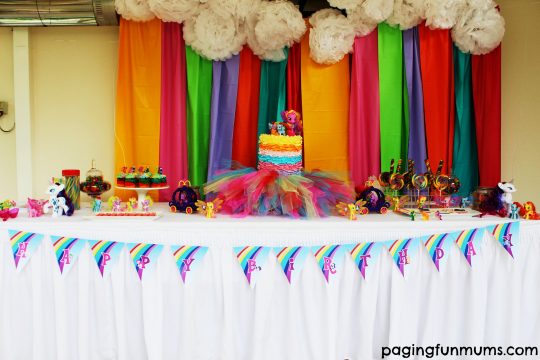 To create my rainbow backdrop I simply purchased some inexpensive plastic table clothes and pegged them to some clothes line (in the rainbow colour order of course). I then wanted to create some clouds to go on top of my rainbow, so purchased some tissue paper pom poms from the $2 shop! You can make your own as seen here if you like too!
I always like to create a 'lolly station' at every child's party – over the years I have collected some glass jars that make for a beautiful looking table. You can get these jars in the $2 shops for quite cheap and use them over and over for every party! I filled them with M&M's, Jelly Beans, Rainbow Belts – anything that was bright and fun! The very adorable My Little Pony Cookies were made by Louise – aren't they the cutest! You can check out how she made them via this easy video tutorial here.
Food
To coincide with the Rainbow theme I created:
Rainbow Pretzels – simply dip your pretzels into melted white chocolate and add rainbow sprinkles!
A Rainbow Fruit Platter – cut your colourful fruit into bite size pieces and lay them in the rainbow shape…we used these cute mini marshmallows for the clouds!

Rainbow Wafers – to make these I simply got some pink wafer biscuits, dipped the ends into melted white chocolate then dipped into a bowl of hundreds & thousands!
Games & Activities
No party is complete without these! First of all, we hired real ponies! This is obviously something we don't do all the time but as a little girl I always wanted a pony in my backyard so we decided to surprise my little one with some ponies for her and her friends to ride! This side is not cheap but the memories will last a lifetime and there is no price on that!
We were lucky to have our good friend Matt from Twisted Mr to come along and paint some beautiful Cutie Marks on the girls faces! I made this printable for Twisted Mr with the birthday girl's top 6 favourite ponies cutie marks for the children to choose from so he had a reference for the cutie marks! If you'd like to do this, click the link below for your free Printable!
My Little Pony Cutie Marks Printable
Check out the video on how to make your own Rainbow Dash Cutie Mark here.
He also made these gorgeous Pony Balloons!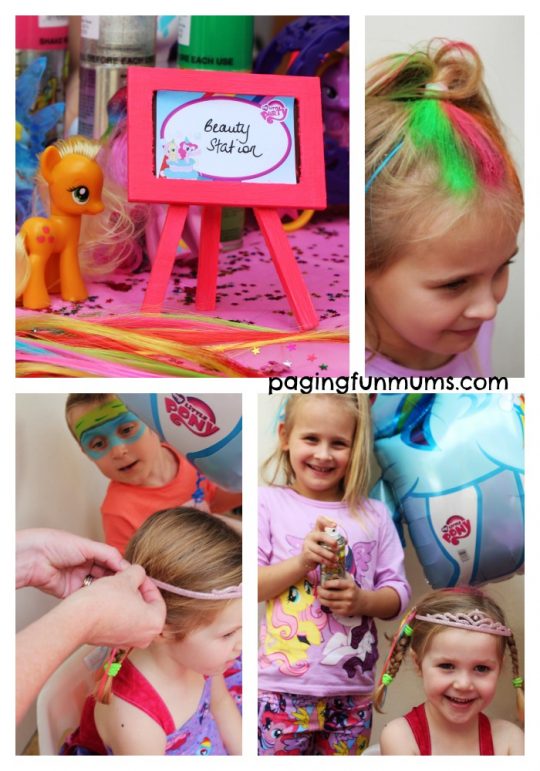 We set up a My Little Pony Beauty Station where the girls could get their nails painted, have rainbow hair pieces added to their hair and also opt for some cool rainbow coloured hairspray!
We also had a Friendship Bracelet Making Station – because after all – Friendship is Magic! The girls (and boys) had so much fun making these for each other!
We then took the children on a My Little Pony Treasure Hunt! They had so much fun running through the garden finding their favourite ponies!
When it was time for a little 'rest' we had a nice quiet colouring in table where the children could sit and relax and colour in their favourite My Little Pony character!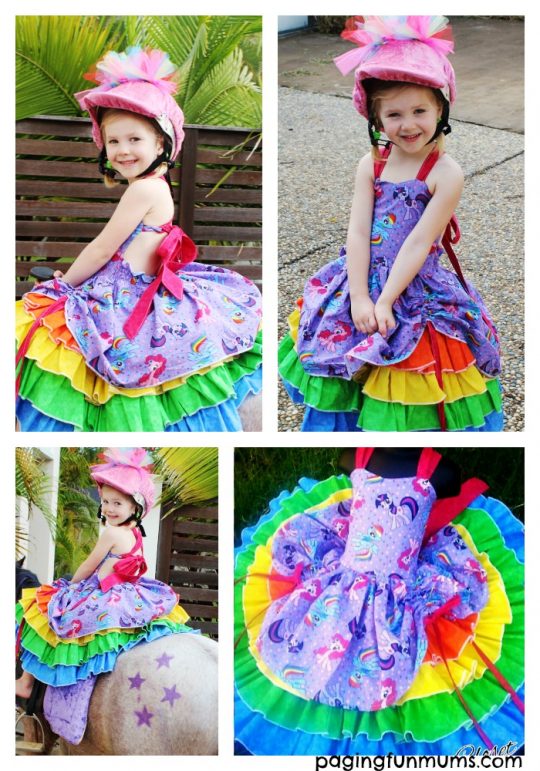 I found the birthday girls's beautiful dress from Kylie's Closet Online and I was over the moon at how gorgeous it was! With the My Little Pony Print, it was beyond perfect! She looked like an absolute princess up on those ponies! Head here to buy this exact dress!
I made some rainbow tulle headbands for all the little girls to wear. Head to this link to learn how to easily (and inexpensively) make your own!
I found this adorable custom made Rainbow Dash costume on Etsy at Little Lady Diva. Great for us Mums who want to dress up too! Click here to purchase your own!
Let them eat cake!
This cake was made by my beautiful friend Carly at Sublime Sweets and Sweets. She always does such a wonderful job and she certainly didn't let me down this time! I of course had plenty of My Little Ponies to decorate the cake – how adorable are the carriages! *swoon
I made a beautiful rainbow tulle skirt stand for the cake to sit on – head to this link to learn how to make your own! 
We also have a fantastic video tutorial on how to cut a tiered cake in seconds! Check it out at the top of this post!
No party is complete without the quintessential Lolly Bag! We stuffed ours with a My Little Pony Neon Bright pack, a MLP Cutie Mark Magic Pony Friend, some glasses, a necklace, a ring & a party whistle (I made some 'boy friendly' bags too which contained little dinosaurs & cars).
You can see that my little girl thoroughly enjoyed her My Little Pony Party and I absolutely loved planning it!
If you have any questions, please pop them in comments below and I will be more than happy to help!
BUT WAIT, THERE'S MORE!
You have the opportunity to WIN a Major My Little Pony Prize Pack valued at over $250 consisting of:
1 X Ultimate Rarity RRP $29.99
1 X MLP Carriage RRP $24.99
15 X MLP Blind Bag RRP $4.99
10 X Cutie mark pony friends RRP $6.99
4 X Deluxe Winged Pony RRP $12.99
There is also THREE runners up Prizes valued at over $70!
Head to the link below to enter!
My Little Pony Ultimate Prize Pack Giveaway
Good Luck Fun Mums!
We have plenty of other Party Theme Ideas for you too! You may like to check out our:
We also have some fun videos for you to view too! You can check them out 
here.
If you want to become a Fellow Fun Mum Member & receive all of our fun craft, recipes & activities as well as special offers & promotions – click the button on our home page 🙂 
Jen x