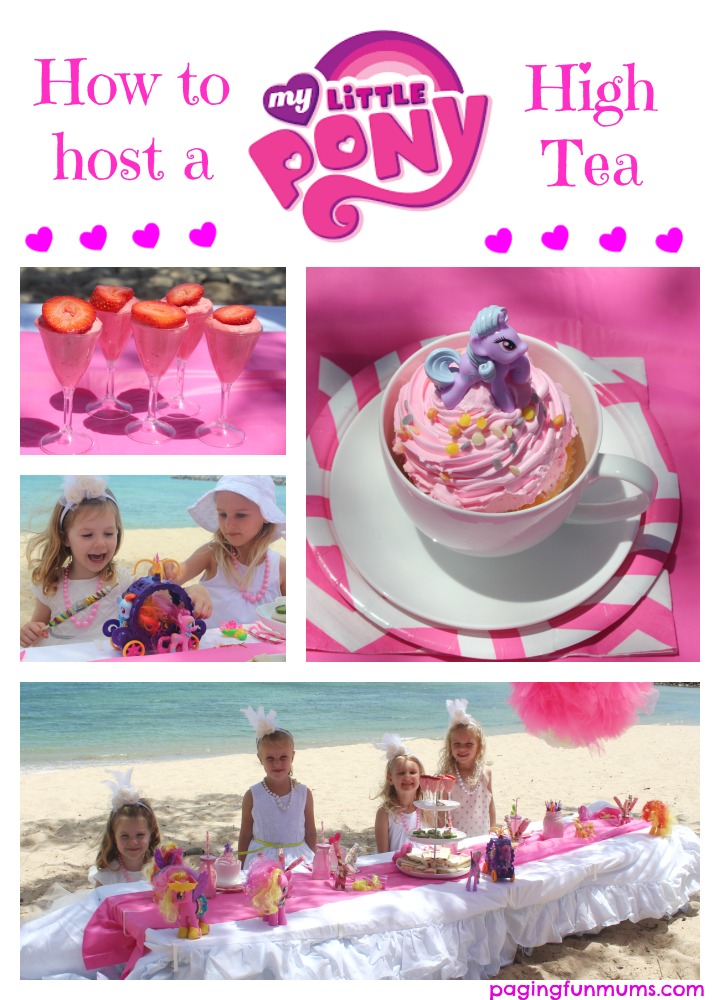 This post is sponsored by My Little Pony
It's nearly the end of the year and my youngest child is off to school next year…I still can't believe it!
In honor of that, I decided to celebrate by throwing her and a few of her little kindergarten friends a Summer High Tea…on the beach! I am always excited to throw a party of any sort, but I especially love when I get to play with tulle, ruffles and of course PINK! Pinkie Pie would be so proud!
I threw a My Little Pony Party for Miss 4 earlier this year and it is STILL top of mind for her. So of course when I asked her what 'theme' she would like, she of course said "My Little Pony please"! YES!
For the decorations, I hung Tulle Pom Poms and Rose Topiary Balls using fishing line from the trees. Click here to find the DIY Tutorials for the Flower Topiaries.
I had a small camping table that I covered in a white frilly tablecloth and used a cheap pink plastic table cloth as a runner. I filled small glass milk bottles with pink lemonade with pretty cardboard straws and filled the rest of the table with food and My Little Ponies!
So now for the food!
When I hear high tea, I automatically think of teeny tiered food! I made little egg & lettuce sandwiches which I sliced into fingers and did the same for some salami & cheese sandwiches. I also flattened a few pieces of bread added butter salami & cheese and then rolled it up and cut into small pieces- the girls loved these 'sushi sandwich bites'.
I made this delicious Strawberry Mousse recipe and spooned them into teeny cocktail glasses (plastic from the $2 store) then topped them with a slice of strawberry. Click here for the recipe.
For more finger sandwiches, I took white bread, cut them into circles (using a cookie cutter) spread them with cream cheese, topped with a slice of fresh cucumber and topped with a dollop of cream cheese and chopped chives. These are so refreshing and summery! YUM!
To make these pretty 'wafer sticks'. I got store bought wafer sticks, dipped them in melted chocolate then sprinkled with pretty sprinkles. So easy but so effective!
No party is complete without cupcakes! I served my cakes individually in a tea cup topped with an adorable My Little Pony…adorable right?!
The girls were happy to be playing with the My Little Ponies I had placed around the table, but I also organised a few activities!
The first was Pony Races (of course). Each little girl lined up with their pony & waited for the 'Ready, Set, Go"! Then they all ran down the beach giggling like crazy it was so cute!
I also printed off some My Little Pony colouring pages (found via google images) and had them colour in their favourite pony to take home.
We then planted some herbs in the cute Mason Jars I had decorated for them. These were to take home to their Mums for a gift! You can see the tutorial on how I made these here.
I also made these gorgeous headbands for each of the girls to wear – way prettier than a cardboard party hat! You can find the easy (and inexpensive) tutorial for these here.
The girls had so much fun eating lots of yummy food and playing with their ponies! I was so nice to see them all so happy. It was a beautiful day which made for loads of photo opportunities!
I thoroughly enjoyed putting together this High Tea for my little girl. I know the memories of this will last her a lifetime!
Jen x
If you want to become a Fellow Fun Mum Member & receive all of our fun craft, recipes & activities as well as special offers & promotions – click the button on our home page 🙂 
We also have some fun video tutorials for you to view on our YouTube Channel.