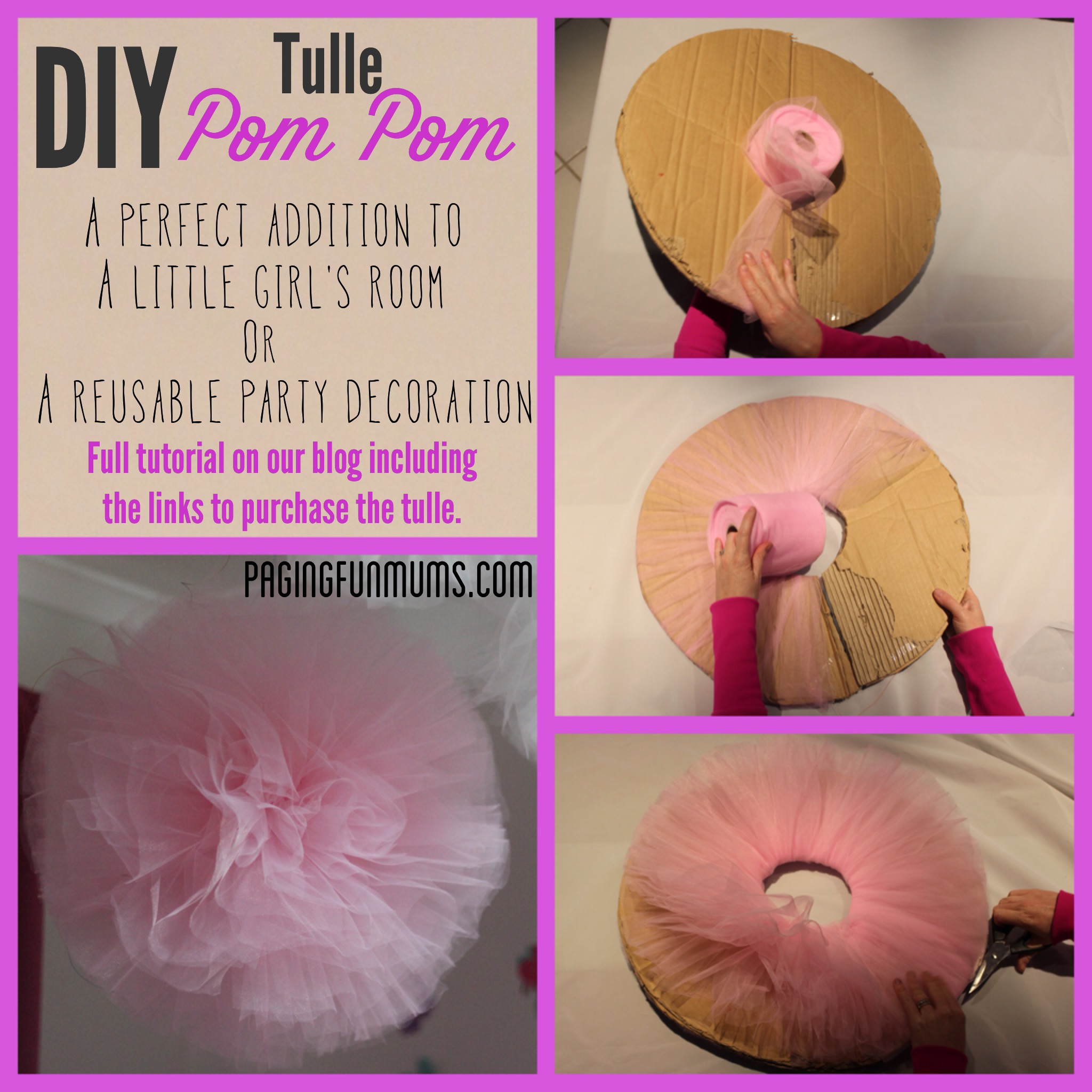 How to make your own Tulle Pom Pom – perfect for a party or kids room decoration!
I have experimented with a few ways of making these and this method has always had the best results.
What you'll need –
Strong clear fishing line (we used 50lb leader)
Roll of 6inch wide tulle – we used aprox 50yd for our largest balls and 25yd for the smaller size (you could use more or get away with using less).
Large cardboard box to make two templates
Marker (for making template)
Box cutter (Stanley Knife)
Scissors
Start by making the templates. I cut the cardboard box so I had two large square areas. I stabbed a pencil into the centre and attached a length of fishing line from the pencil in the centre then tied the marker to the other end so it would draw a circle. After drawing your large circle carefully cut out the circle. Then do the same thing again in the centre (large enough to fit your roll of tulle through. Then trace around the first template to make a duplicate template. Then make a cut from the centre circle outwards on both templates.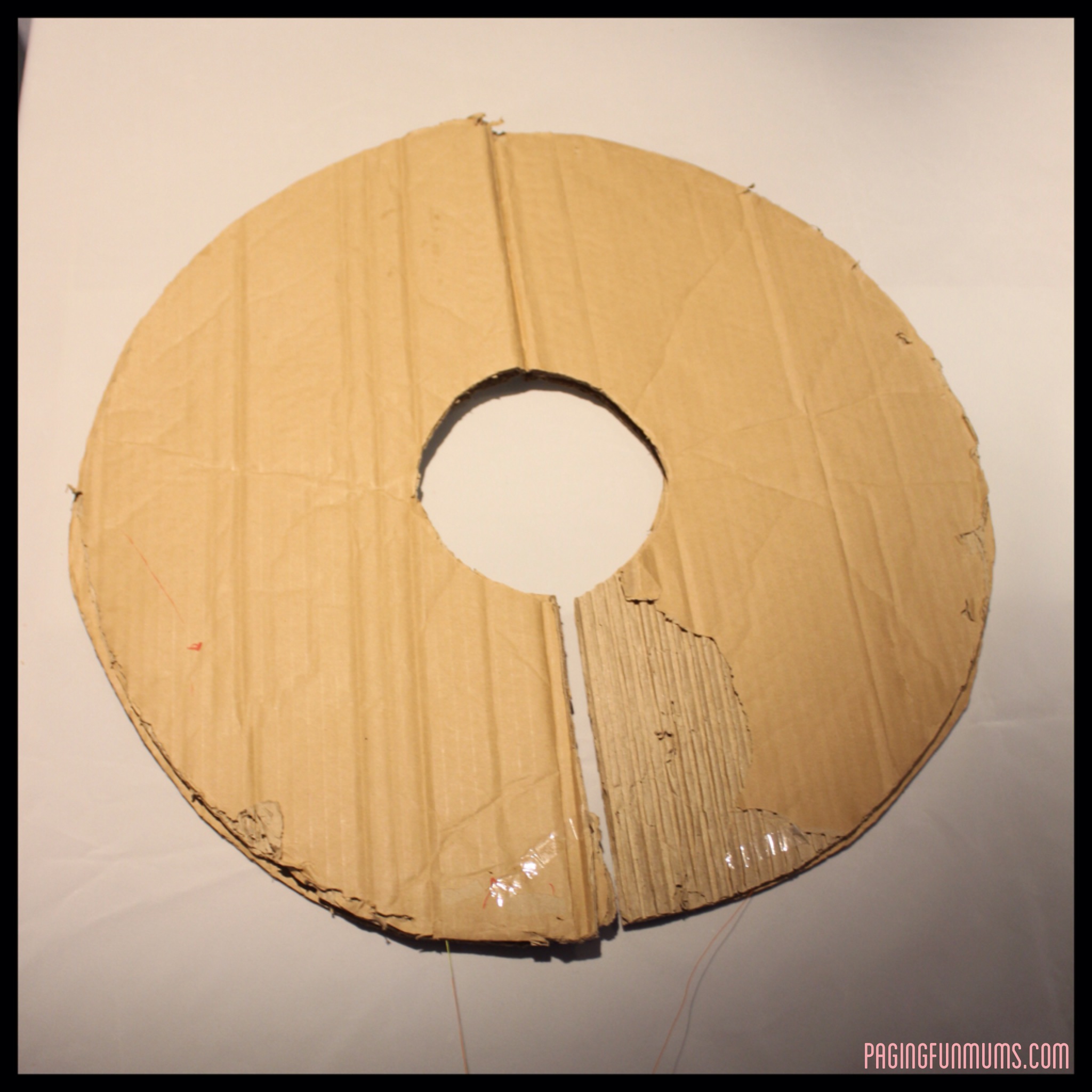 Take your fishing line and slightly tape it next to either slit of the template (this will ensure that you won't loose the fishing line). Then lay the top template to match on top.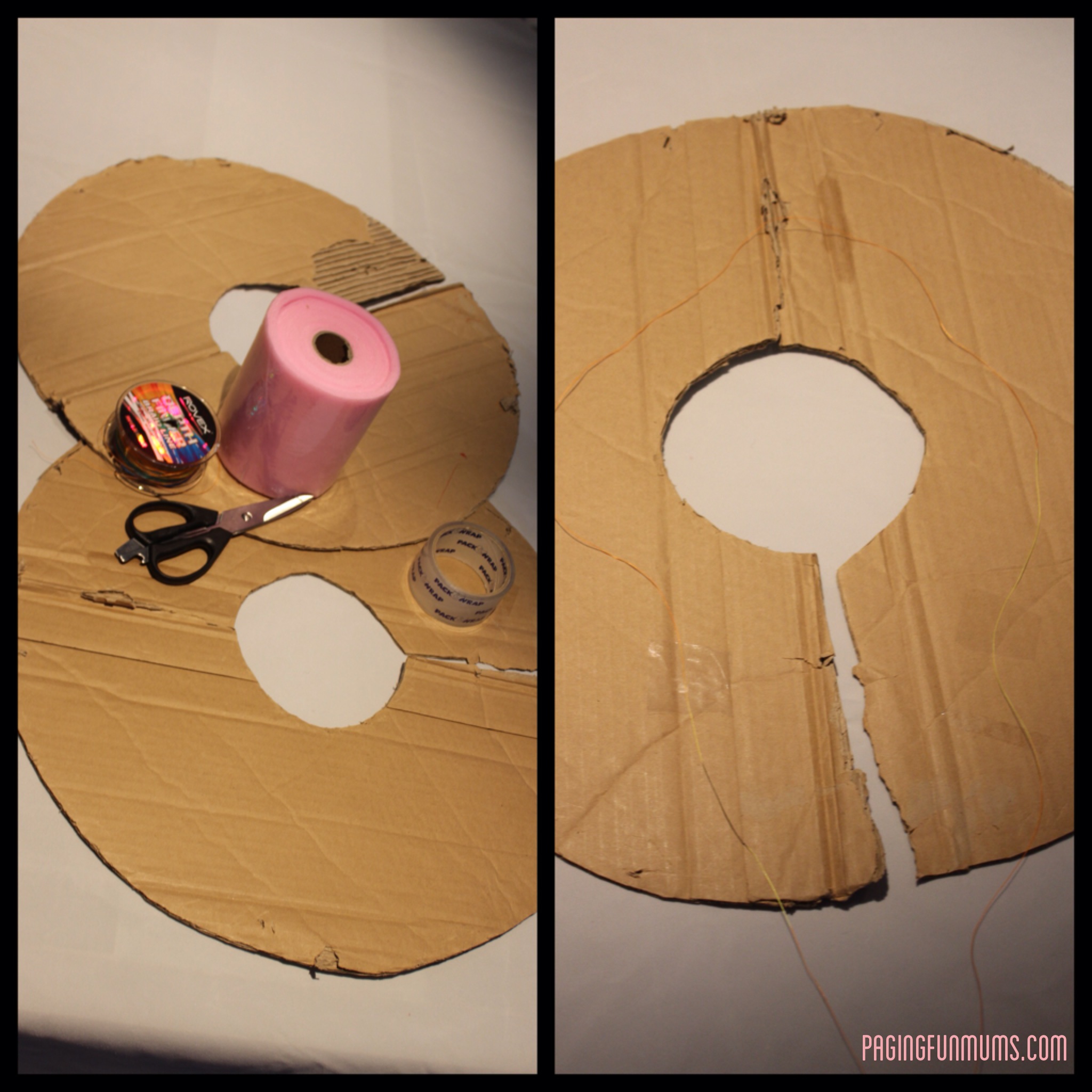 Once your two templates on top of each other with the fishing line in place, you can simply start tightly wrapping around the tulle starting at the front and travelling around 'full circle'- if you're using a 100yd roll of tulle use your marker to mark the centre of the roll so you'll know when to stop wrapping. You can also just 'eyeball' it ;).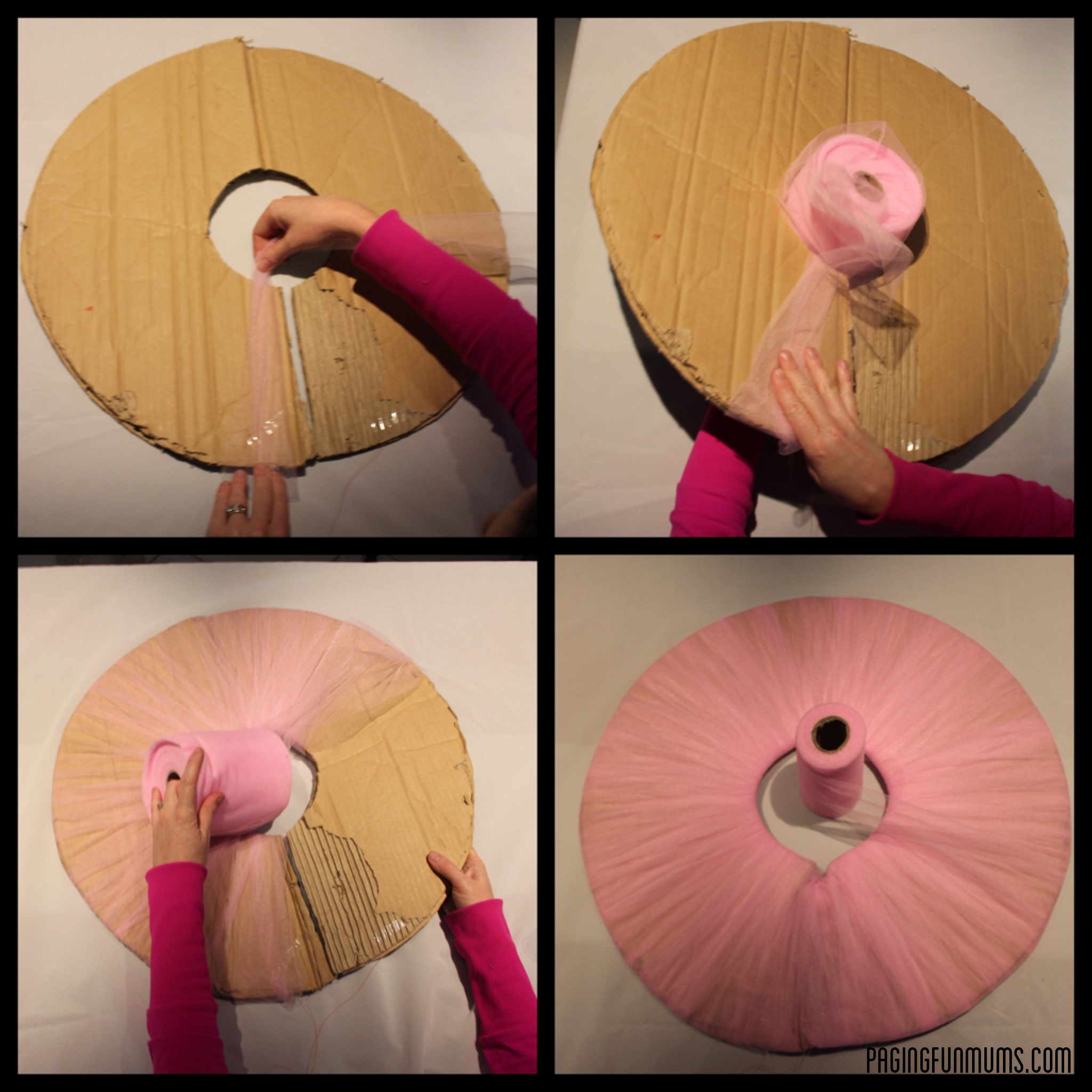 Once you've filled the template with multiple layers of wrapped tulle use some large sharp scissors to cut around the outside circle using the 'gap' between the cardboard as an easy guide. ***IMPORTANT*** be careful you don't loose or cut your fishing line while cutting around the circle of tulle.
Now comes the fun part ***this is easier with the help of a friend*** but I have done it solo too. Get both ends of the fishing line and tie a loose knot – as you pull tighter on the knot the tulle will start to bunch and gather – keep tightening the knot as much as you can and then do a double knot to secure it in place. ***don't cut the fishing line- you will use this to hang your finished PomPom.
Lastly you'll just need to remove the cardboard & 'fluff up' your pom pom until it's evenly round (you can trim any stray tulle pieces if needed).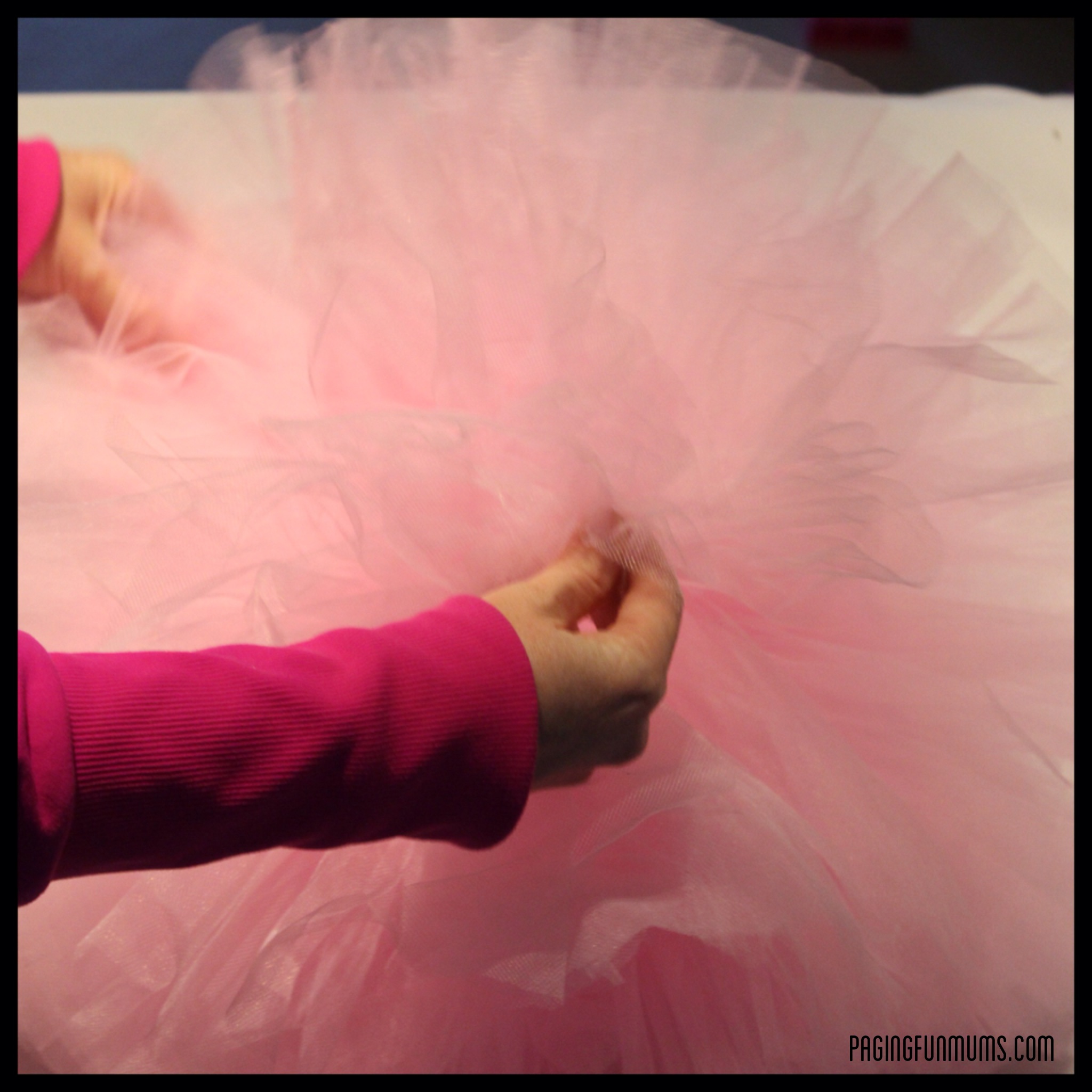 There you have it – a lovely addition to any kids room or party!
At time of publishing these cost under $5 each to make!!!
** Click here to find the store we purchased ours from.
We would love to hear of any Australian Suppliers of this product.
If you liked this idea, you may also like our:
If you want to become a Fellow Fun Mum Member & receive all of our fun craft, recipes & activities as well as special offers & promotions – click the button on our home page : )