Mason's 1st Birthday – Hot Air Balloon theme.
I struggled to decide on a theme but after consulting with Jenni we decided a Hot Air Balloon theme would be perfect! I had wanted to do a mini balloon photo shoot with Mason so I decided to do this first and use the pic in the invitation.
All we needed for this photo shoot was a bunch of helium balloons, a basket big enough for Mason to sit in and the camera – luckily we have a giant park behind our house which is perfect for outdoor photo shoots.
I then jumped on Etsy to find someone to do the graphic design for the invites. 'Design Bug Studio'
http://www.etsy.com/shop/DesignBugStudio
… they were able to create this simple wording to go with my picture. I love the chalkboard design!
Hot Air Balloon Table display
I ordered some great pintables from Printastic Design Shop www.printasticdesignshop.com .  Including a personalised A4 name printable for the table. I framed a few using some cheap frames I found at Spotlight for under $9 each. It was just a matter of printing, cutting and sticking on all the labels.
I wanted to add some more height to the display so I placed the cake on an upturned basket (from my local $2 shop) and used two matching smaller baskets filled with Styrofoam &  for the cake pops. These woven baskets matched the cake and Hot Air Balloon theme perfectly. I was also lucky that it was Easter time too so I found some fake green grass (also from the $2 shop) to add some texture and colour to the table and food displays.
You can follow this link to see how we did the ruffle tablecloth –http://wp.me/p2Uher-1Gw
The Cake
I loved the idea of a Hot Air Balloon Cake but wanted to keep it simple. You can find out more info about how I made the cake here –http://wp.me/p2Uher-1FW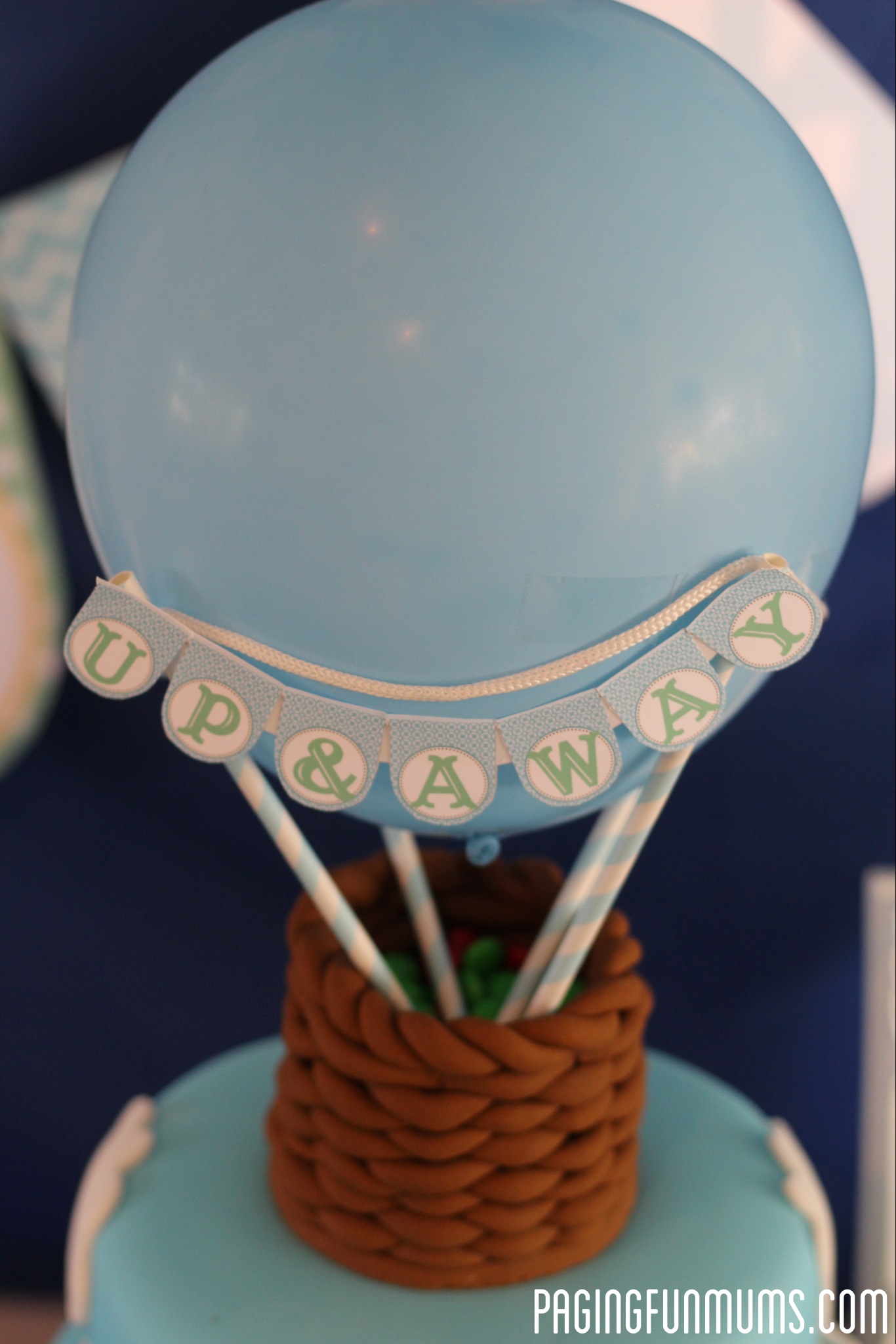 Party Food
I wanted to keep in the theme as much as possible with the food…you can find out more info including recipes here –http://wp.me/p2Uher-1FZ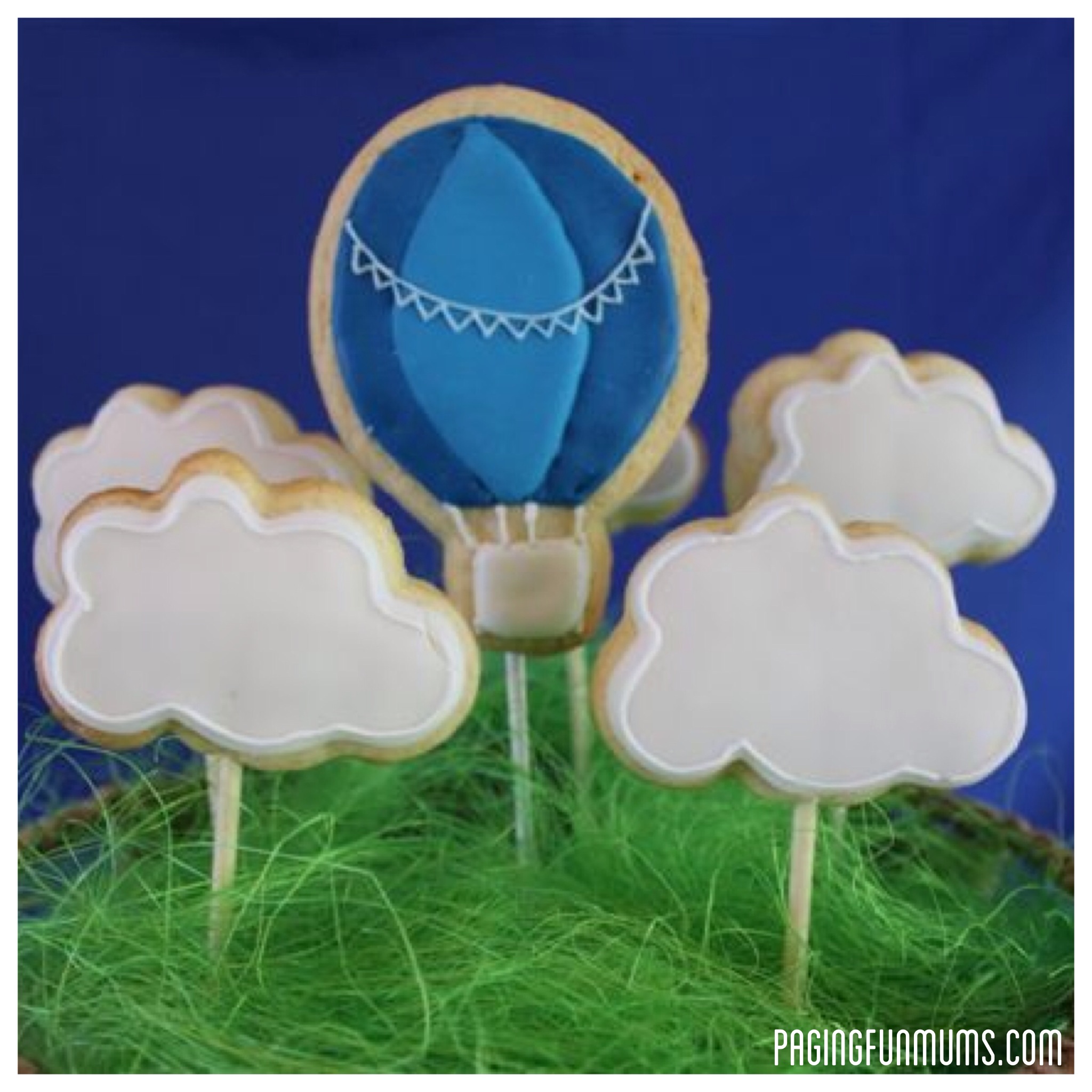 The above moulds can be found at
http://www.inspiredbychocolate.com.au/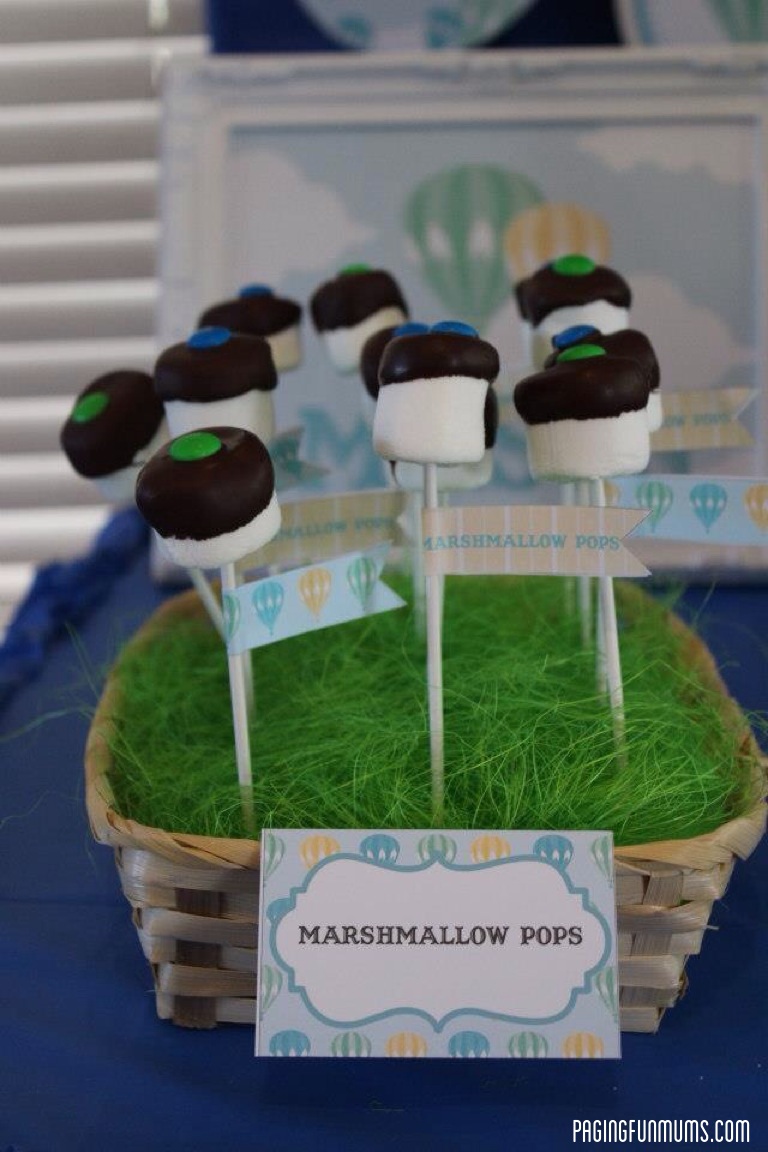 Hot Air Balloon Photo Prop.
Anyone who knows me, knows I LOVE taking photos! Therefore I thought it would be cool to make a Mini Hot Air Balloon photo prop/booth for the kids to play and pose in at the party.
All the kids loved posing for photos in the Hot Air Balloon basket – it was a HUGE HIT! I'm going to print the individual photos of each guest to include them in our thank you cards.
You can find out how I made the Prop here –http://wp.me/p2Uher-1Gy
And you can purchase those cool Goggles from https://www.facebook.com/pages/Cheeky-Chops-Shop/136660683095821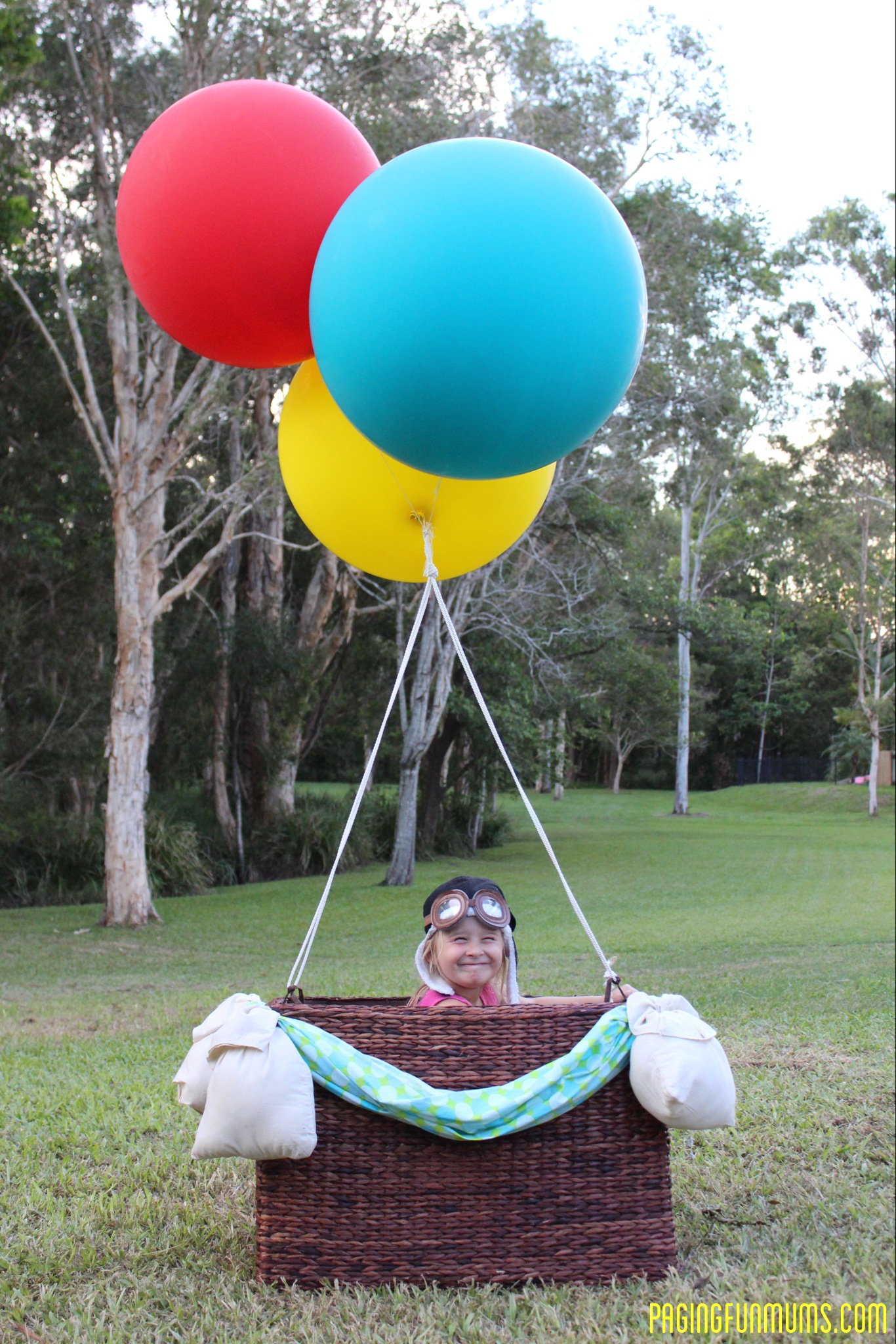 Hot Air Balloon Craft table –
What party is complete without a craft table (great for the kids to have a little quiet and creative time). I ordered these fantastic plaster moulds from Candy's Plasters
https://www.facebook.com/CandysPlasterCreations
– she has a massive range of plaster kits and can cater for any sized party! Very reasonable prices too – make sure you check her out for your next party!
Up, Up & Away – Birthday Guest Fingerprint Memento
This was a super cute idea! Follow this link to learn how I did it :). –
Thank you for checking out Mason's Party. I hope you have found some inspiration for your next party! Don't forget to find us on Facebook & Pinterest.
You may also like our:
If you want to become a Fellow Fun Mum Member & receive all of our fun craft, recipes & activities as well as special offers & promotions – click the button on our home page : )