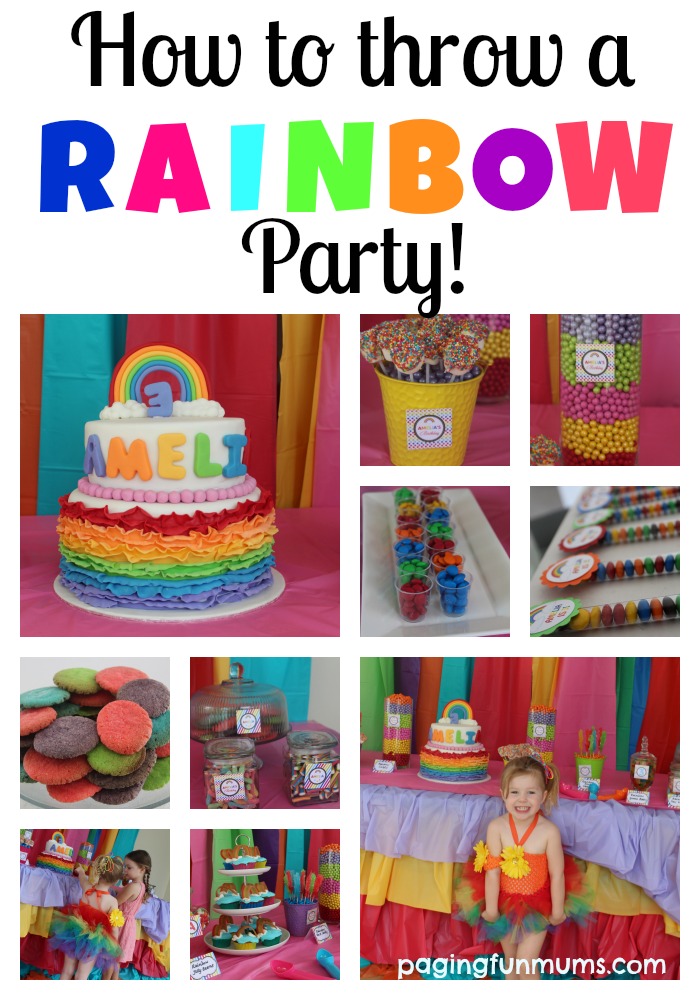 My gorgeous little girl has had 'Rainbows' on her mind for the past year! She decided that she wanted a Rainbow Party for her 3rd birthday so I got to work! I really enjoyed planning & putting together this party. The brightness of this party really epitomised my little girl. Lively and full of colour! I would like to show you how to throw your own Rainbow Party!
My best friend & I – 'Pinterest' set up a meeting and we came up with some wonderful inspiration for this party ; )
I wanted to set the stage for this party with a beautiful invitation. I knew exactly who to contact for this and that is the lovely Talya from Made with Love Cards and Crafts. It's just so special to have a personalised handmade invitation.  Talya is so talented & I was honoured and proud to post off these gorgeous invitations. She has so many more beautiful invitations, cards and more at her Etsy store – come check them out here.

Aren't these the sweetest invitations ever! I love them as they really were 'Made with Love'!
In the past we have made our Ruffled Tablecloths but I wanted to try my hand at something a little different this time around…hence my 'Ruffled Rainbow Tablecloth' came to life. Head here to learn how to make it yourself and also learn how we made the Rainbow Coloured Back Drop too!
I found the birthday girl's gorgeous dress on Etsy and just fell in love, isn't it BEAUTIFUL! I got this from the divine Willow Lane Boutique. They have an amazing range of gorgeous kids clothing including Tutu Dresses, Pirate Costumes, Hair accessories and more! Head here to purchase this gorgeous Rainbow Tutu Dress for your little one!
No Rainbow Party would be complete without a RAINBOW LOLLY BAR! I knew I had to enlist someone fantastic, so I called on the people at Big Lolly to supply these fantastic treats! They were so wonderful to work with & I was really surprised at the mountains of different kinds of lollies they had! I can't recommend them enough!
I got a little crafty and made my own Rock Candy & Hundreds & Thousands Marshmallow Pops. Head to the highlighted links on how to make them (soooooo easy!). I also made these very easy 'M&M shots', the kids loved them! All you need to do is buy some small plastic cups/shot glasses, separate your M&M's into colours, then add them to the cups, super cute!
I also had a lot of fun making these Rainbow Jelly Cookies – they were so unusually delicious! Check out how to make your own here!
These gorgeous Printables were supplied by our friends at Vens Paperie. It was so easy to order on line, have them delivered straight to my inbox, then take them down to my local print shop to have them printed. They were super easy to assemble and they really bring the table to life with their vibrancy (and save me hours and hours of work!). If you would like to order your own Rainbow Printables, head here.

These beautifully handmade favours were made by the lovely Michelle at Sweetheart Party Extras. It was wonderful to send all of the little guests home with their own special handmade Treat Tube – Rainbow colours of course! It was so special to have them look so professional and personalised! Make sure you check out the Sweetheart Party Extras Facebook Page for other great party favour ideas!
For our entertainment, we had none other than the amazing Nickleby the Magician! We were so excited to have him & he was super AMAZING!
Head here to learn all about his fun antics (that kept both the kids AND the adults highly entertained!).
We were very lucky to enlist the help of the beautiful Carly from Sublime Cakes and Sweets to make the amazing Rainbow Cake! I had an idea in my head of what I wanted and she completely and utterly made it come to life! Isn't it divine! She had a chocolate mud layer for the kids and a super indulgent French Vanilla & Caramel layer for the adults. Not only did it look amazing but it tasted amazing too! We were lucky enough to get Carly to do a guest blog for us and teach us how to make these amazing Fondant Clouds! Check that out here.
I just love this image of my two having fun together!
I love the sweet innocence of this pic of two little friends!
An (almost) perfect family photo : )
I hope you enjoyed my tutorials as much as I have enjoyed providing them for you. Happy partying!
For other party ideas i.e: decorations, food, theme ideas & games head to our 'Kids Parties Ideas' section!
If you want to become a Fellow Fun Mum Member & receive all of our fun craft, recipes & activities as well as special offers & promotions – click the button on our home page : )