I had a great time planning this party for Master 5! The ideas for robots are endless! Considering most things were made from recyclables, it was reasonably inexpensive to make most of the decorations and the Robot costume! I hope you find some great ideas for your next Robot Party!
The gorgeous invitation was done by Sammy Bruton at Winston Press. Sammy has done invitations for me in the past & also did the birth announcement for my daughter, which was just divine!
The invitation really sets the tone for the party so I wanted it to look great…which of course is what she did.
Here is my handsome Robot Birthday Boy! You can find out how I made his Robot Costume here.
Learn how I made the 'Ruffle Table Cloth' here.
Party Food
I themed all of the food to tie in with anything 'Robot i.e.: 'Computer Chips', 'Nuts n Bolts', 'Ball Bearings', 'Battery Cells' etc.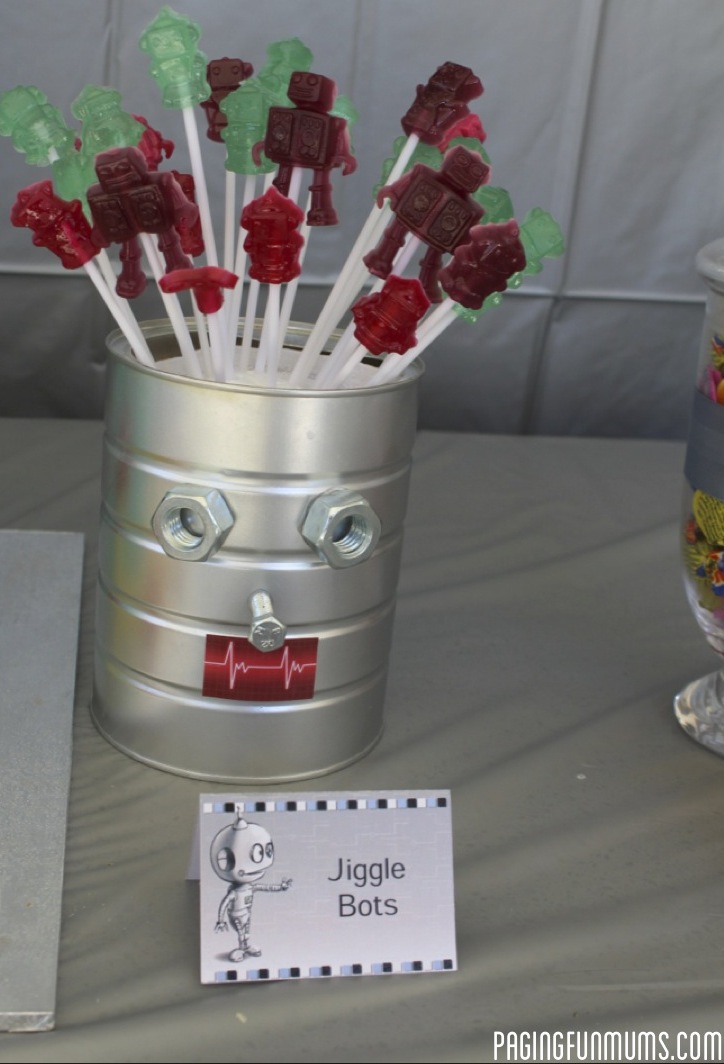 You can find out how to make these 'Jiggle Bots' here.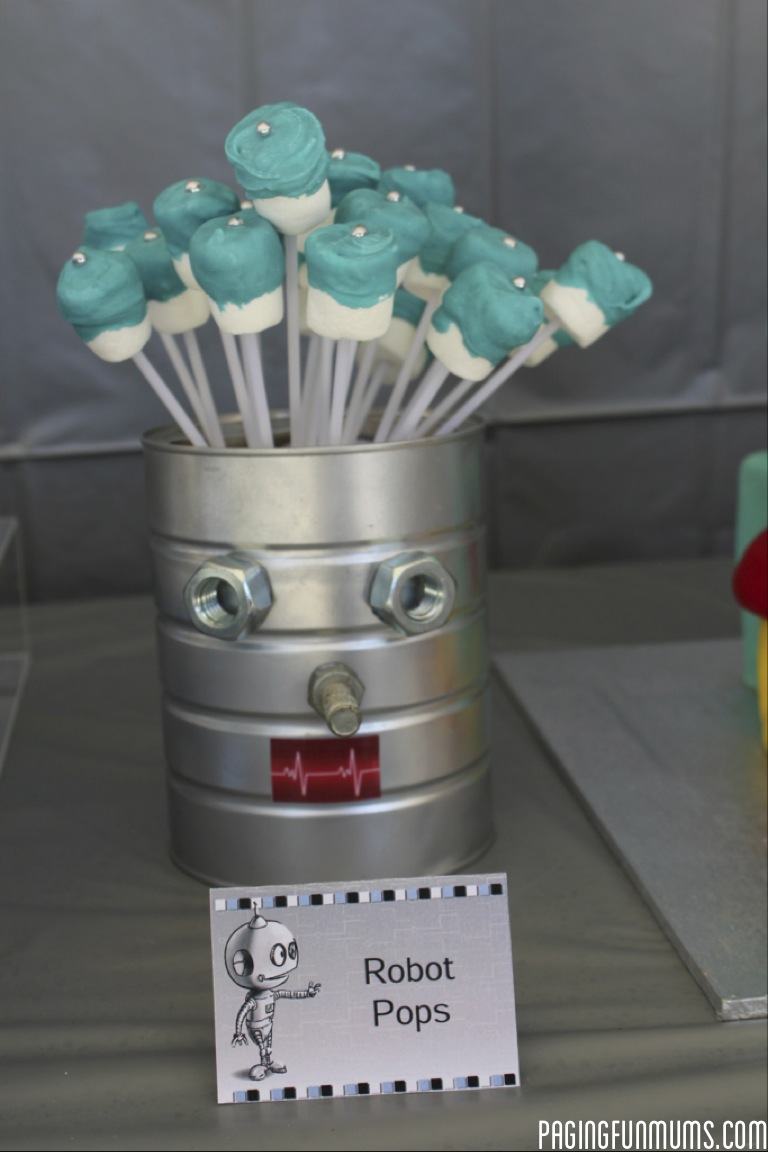 You can find out how to make these Robot Pops (Marshmallow pops) here.
I have done a separate tutorial on how to make all of the party decorations. You can find that here.

I think this is one of my favourite things from this party! He is just so adorable! You can see how I made this 'Robot Cutlery Holder' here.
I found the gorgeous printable package over at Piggy Bank Parties which included food labels, water bottle labels, banner & more.
These gorgeous lolly pops were provided by Party Carousel. They looked AMAZING and they were the first things to disappear off the table! We also had some gorgeous party treats to give to each child at the end of the party – again by Party Carousel. Wendy Coppo is the owner and founder of Party Carousel and not only is she completely LOVELY she is very talented. She hand makes banners, cake toppers, party tags etc and on top of all of that Party Carousel is your one stop party styling and design boutique. They can construct any and all aspects of your event from beginning to end. I highly recommend them for any or all of your party needs! Thank you Wendy!
No child's party is complete without cupcakes! Of course we had to do a 'Robot' Cupcake stand! You can see the full DIY details on how I made this here.
These 'Fruit Pop's were delicious and the kids really enjoyed them. I always like to try and supply some healthy treats amongst all of the sugar! You can find out how to make these here.
Party Games
We had a 'Robot Dance off' where I played Robot Dance Music & when the music stopped, everyone had to freeze in the position they were in and the last one to move is out (they got a freddo frog so there were no sore losers). The last child standing is the winner! The kids thoroughly enjoyed it (and they were  burning off sugar and they didn't even know it ; )
I also had a 'Treasure Hunt' so whilst the dance game was happening, my husband was in the front yard hiding all sorts of goodies! I had a craft table set up for when the kids arrived so they could decorate their own Treasure Hunt Bag with cool Robot Stickers.
I had some fun making these Robot Heads for the kids to try on! Just a few cardboard boxes, milk bottle lids, slinky and spray paint!
Miss 2 wasn't 100% sure on which way they went on bless her : )
Cake
This AMAZING cake was made my the very sweet Louise of Bespoke Lane and Sweetheart Cake Designs. She truly is so talented! I showed her an image of what I was after and she replicated it EXACTLY! If you ever want a beautiful cake I can highly recommend Bespoke Lane and Sweetheart Cake Designs. They also have an online store with all of the cake making supplies you will ever need! Thank you Louise, you made our family so very happy with this cake! Not to mention all of the kids that wanted more and MORE!
Mmmm chocolate mud cake!
I hope you enjoyed your visit and got some ideas!
You may also like to check out our:
How to Train your Dragon Party
How to build a Sandcastle Cake
If you want to become a Fellow Fun Mum Member & receive all of our fun craft, recipes & activities as well as special offers & promotions – click the button on our home page : )