I LOVE Dory (almost as much as I love Ellen Degeneres). I am so excited for the new Finding Dory Movie that I wanted the kids and I do some Finding Dory Inspired Crafts.
To make this Paper Plate Aquarium/Porthole Fish Craft you will need:
Two paper plates
Green tissue paper
Shells
DIY Glitter or Sand
Finding Dory images printed on cardstock
Blue Cardstock or paper
Sequins or diamante stickers (for the bubbles)
Silver pen
Plastic (I used an A4 plastic binder sheet)
Sticky Tape
Glue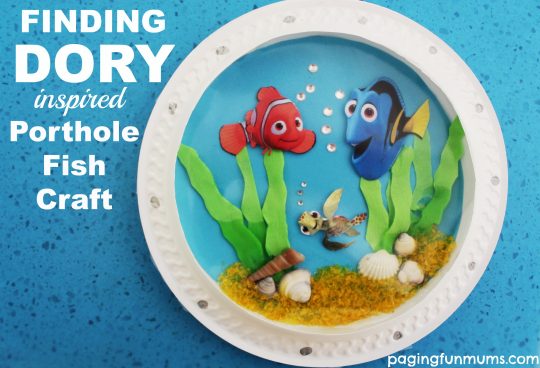 Step 1
Cut a hole in the first plate (as seen above) and tape it to the back of the plate (this step is for the porthole craft)
Step 2
Cut out your blue paper/cardstock to fit to the other plate and glue on
Step 3
Cut out seaweed shapes from your tissue paper and glue in place
Step 4
Finish decorating the plate by gluing on your Finding Dory characters, shells and glitter/sand and adding the 'bubbles'
Step 5
(If you're making the porthole) Glue on the other plate with the plastic, onto the second plate using your glue
Step 6
Add silver dots around the plate to make your porthole look more life like!
And you're done!
Jen x
If you liked this craft, you may also like our:
Sharpie Art Coasters made by kids
If you want to become a Fellow Fun Mum Member & receive all of our fun craft, recipes & activities as well as special offers & promotions – click the button on our home page 🙂 
We also have some fun video tutorials for you to view on our YouTube Channel.