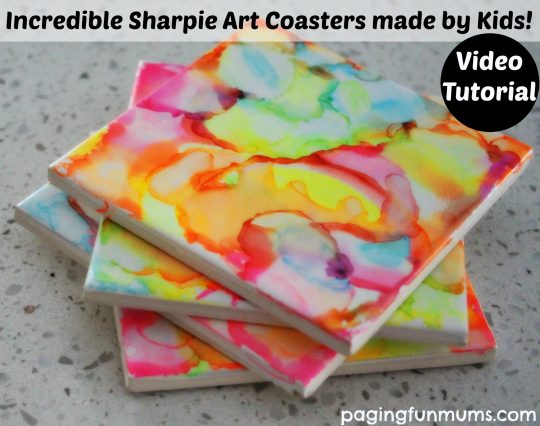 These are so simple and easy to make- they make a fantastic keepsake and also a perfect gift for any occasion – Mother's Day, Father's Day, Teacher Appreciation, Christmas Gifts you name it! The best part is – it will cost you next to nothing to make tonnes of them!
Check out our simple video tutorial at the top of this post!
To make your own, you will need:
White ceramic tiles (I got mine from a hardware store for $0.50 each
Isoprophyl alcohol (also from the hardware store)
Clear finish spray (found in hardware & craft stores)
Sharpie Pens – we used come cool neon ones for ours!

Step 1
Colour in your tiles using the sharpies pens in random format
Step 2
When completely covered, add small droplets of the Isoprophyl alcohol to your art and watch as it magically marbles (this is great for the kids to watch!)
Step 3
Let that dry for at least an hour
Step 4
Spray with the clear finish spray
If you liked this craft, you may also like our:
Sand Footprint Craft
If you want to become a Fellow Fun Mum Member & receive all of our fun craft, recipes & activities as well as special offers & promotions – click the button on our home page 🙂