How to fill a healthy lunch box in under 5 minutes (that kids can even make)
This post is Sponsored by Woolworths.
We are all busy Mums and anything that can save us time is always a blessing! The lunch box is something that can't be avoided but we've come up with ways to prepare ahead of time so that you can make a delicious, nutritious & wholesome lunch box for your kids every day in under FIVE MINUTES!
We have also included a FREE printable that you can stick to your fridge to help your kids eventually do it themselves. Our children are getting to that age where they are capable of doing so and we think that promoting independence in children at an early age is only but a good thing.
Here are some tips and tricks to get you prepared for the busy school morning!
Prepare all of your vegetables ahead of time. Chop up carrot, celery & cucumber sticks on Sunday nights and store them in an air tight container in the fridge. Then simply add a handful to the lunchbox in the morning
Do the same with fruit, chop up watermelon, rockmelon, strawberries etc into small pieces and store them in a handy-towel lined airtight container in the fridge. Again, grab a handful to add!
Save time on chopping and give your kids whole pieces of fruit – bananas, apples, mandarins etc
Pre make healthy lunches and have them in the freezer ready to go! Here are some healthy  ideas that you can use: Savoury Muffins, Chicken & Quinoa Rissoles, Mini Quiches, Leek, Bacon & Veggie Frittata & Chickpea & Mango Chicken Balls. If you have a child that doesn't like sandwiches head to our Blog '20+ Lunchbox ideas for Kids who don't like Sandwiches' for some ideas!
Buy pre prepared healthy snacks that you can buy at the store such as the NEW Macro Muesli Bars from Woolworths. They all have a 4-5 health star rating, contain whole grains and are made using simple, wholesome ingredients! Just throw them in the lunchbox – ready to go!
Have a 'snack station' in your cupboard. Add healthy snacks that the kids (and yourself) can grab and go!
When making dinner, make a little extra – pasta salads & other meals are great the next day!
You can make sandwiches ahead of time (with simple spreads such as Vegemite & Peanut Butter) and freeze them. Simply put them in the lunch box the morning of and by lunch time they have defrosted and super fresh!
Buy packs of yoghurt and/or cheese sticks that you can grab and place in the lunchbox.
Here are some examples of what we add to our kids lunch boxes!
Click here to download your free printable to get your kids motivated to pack their own lunch boxes.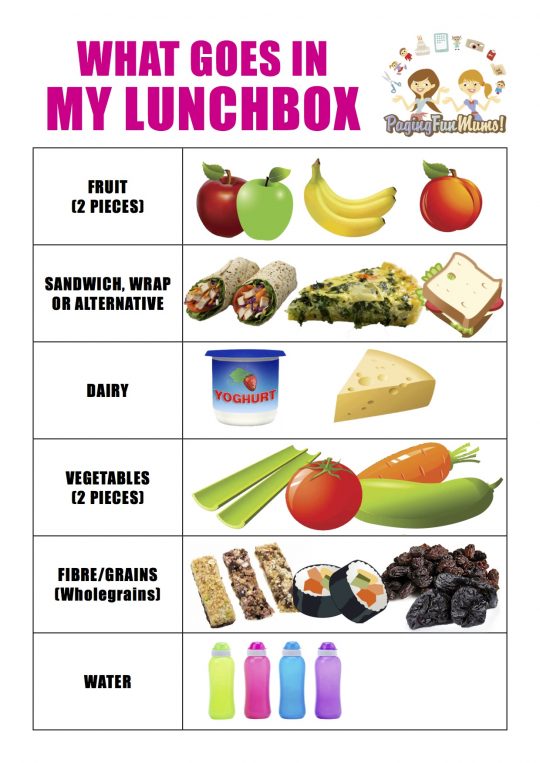 What goes in my Lunch Box FREE Printable
We recently wrote a post entitled 50 Healthy & Delicious Snack Ideas for Kids. It gives you some great snack ideas if you are feeling a little lost!
Our kids LOVE the new Woolworths Macro Muesli Bars! Their favourites are the Cranberry & Vanilla & the Apple & Honey. I don't blame them either, I take the Apple & Honey Muesli Bars with me in my handbag for those times when I am rushed! I now always have a yummy (& healthy) snack I can just grab out that tastes amazing! (Thank you Woolworths).  I love the Macro philosophy aswell, they believe 'it's what's inside that counts' and that's exactly what I believe too! I've always strived to give my kids healthy, nutritious, tasty and full of goodness foods. I'm so glad that now I can grab something from the store that I don't have to make from scratch but I know is good for my children. These are only available in selected Woolworths stores and are located in the Healthier Bites section.
Have you tried the new Woolies Muesli Bars at home yet? We'd love to hear what your kids think of them! Add your comments below.
If you want to become a Fellow Fun Mum Member & receive all of our fun craft, recipes & activities as well as special offers & promotions – click the button on our home page 🙂 
We also have some fun video tutorials for you to view on our YouTube Channel.