These Christmas Tree Waffle Cones are so much FUN to make! No baking is required and the kids can do it all themselves (if you don't mind a little mess).
Ingredients – 
3 cups of Shredded Coconut
Green Food Colouring (gel or liquid works great)
Store bought Waffle Cones (we used the mini variety from Woolworths)
Royal Icing (I use this recipe with Meringue powder)
Piping bag
Zip lock freezer bag
Sprinkles or mini m&ms for decorating
Method – 
Simply place the coconut into a zip lock bag and mix with green food colouring (a little goes a long way). Ice your cones, roll them in the coconut and allow them to set before you pipe some more royal icing and decorate as you wish.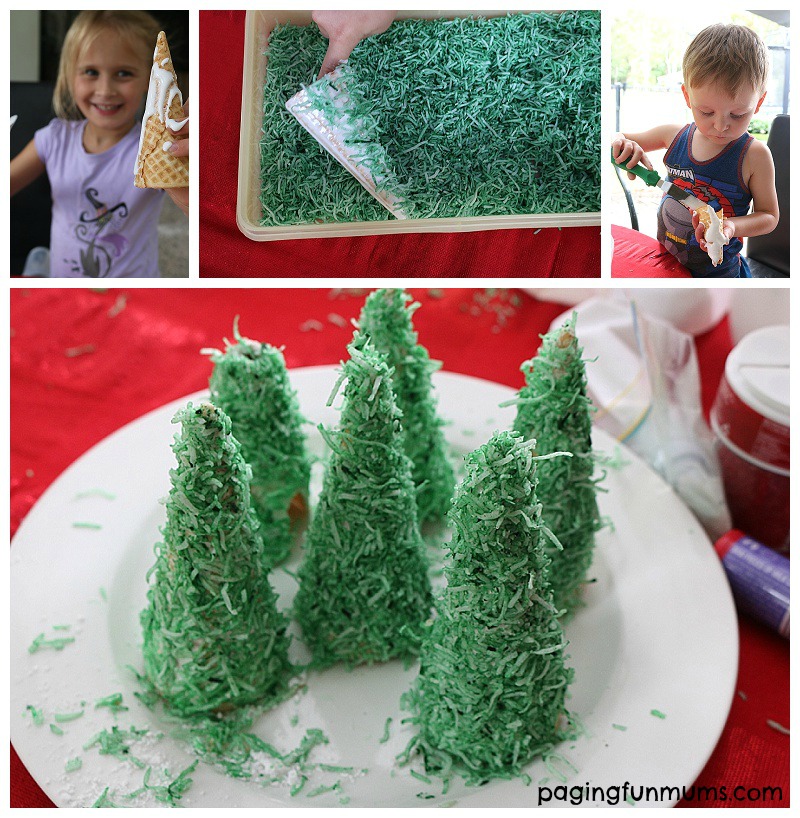 We really enjoyed this activity and ended up sharing one with some vanilla ice cream – YUMMY!! The inspiration for this came from our Princess Castle Birthday cake seen here.  
You might also enjoy some of the Christmas Crafts and Recipes found here. 
Louise x
If you want to become a Fellow Fun Mum Member & receive all of our fun craft, recipes & activities as well as special offers & promotions – click the button on our home page  
Oh, and why not pop over and 'like' us on Facebook OR perhaps Twitter is your thing. . You can also find us on Pinterest & Instagram too!