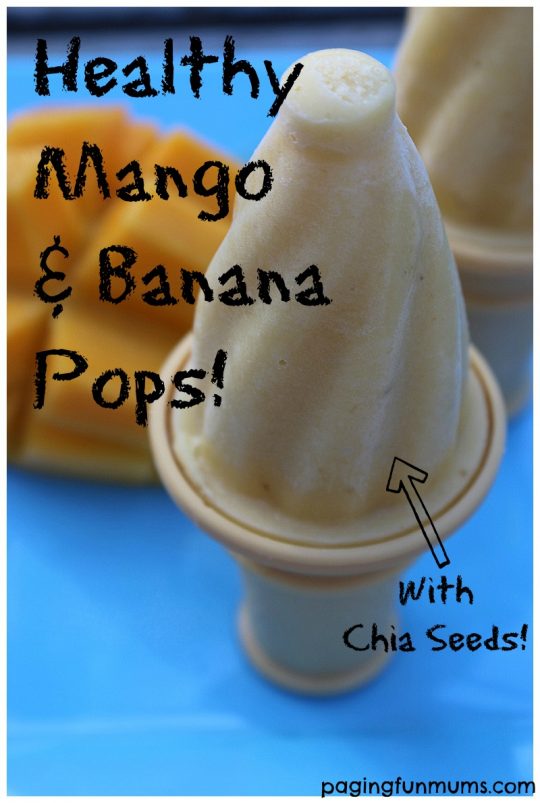 Here's a FUN way to pack some extra fruit and nutrition into your children's diet! These Mango and Banana Smoothie Pops are both easy to make and YUMMY to eat!!
Ingredients –
Flesh of one Mango (Frozen or Fresh)
1 ripe Banana
170ml of Yoghurt (we used Coconut flavoured but plain is fine)
 1/2 tablespoon of Chia Seeds*
Method –
Start by blitzing the Chia Seeds in your blender to make a fine powder, add the rest of the ingredients and blend. Pour into some Ice Pop Moulds and freeze. This recipe filled 4 pop moulds (around 2 cups).
*Chia Seeds can be found in your local healthfood store and are a great source of Omega 3, plus it's packed full of protein and fibre! Some children don't enjoy the grainy texture of Chia Seeds, you can soak them in the yoghurt overnight (refrigerated) prior to blending – this will give a much smoother consistency to the smoothie. Chia Seeds are also often used to replace egg in some recipes as seen here.
Did you know that one Mango will provide you with three times the recommended dose of Vitamin A & C! You can read more interesting facts about Mango here.
We purchased our FUN Ice Cream Pop Moulds at House for $9.95 – I have been unable to find them online but I'm sure if you contact them they can help you order some.
We hope you and your family enjoy this recipe! You can find all of our yummy recipes here.
Louise x
If you want to become a Fellow Fun Mum Member & receive all of our fun craft, recipes & activities as well as special offers & promotions – click the button on our home page 🙂