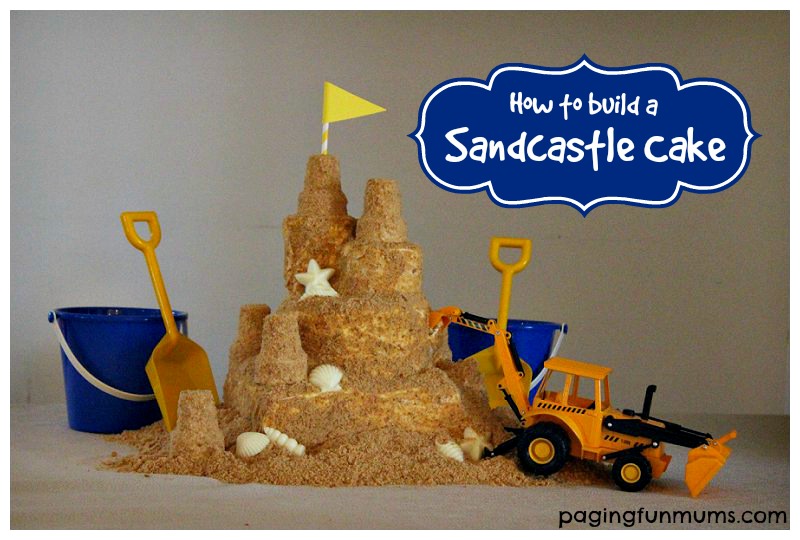 My family spend a lot of time at the beach, it's no surprise that my baby boy's favourite pastime is building and destroying Sandcastles…with his trusty digger in tow! When we tried to think of a suitable cake to celebrate his second birthday we thought of exactly that…a Sandcastle Cake…with a digger too!
Here's the easy instructions on making this cake…shortcuts and all!! It truly was the cheapest and easiest cake I've ever made (decorated).
What I used – 
Cake base –
we used a double rectangle slab of sponge, a 10″ round slab and a 4″ Sponge Roll (I cheated and used store bought sponge and a store bought jam roll).
Mini Icecream Cups
Decorating –
Buttercream Icing for the cake
Royal Icing for the cones (I use a packet mix)
2 x 250g packets of Scotch Finger biscuits
2 x 250g packets of Gingernut biscuits
Shell Chocolate moulds and white melting chocolate
Plastic (clean) digger
Paper Straw and Flag
Instructions –
Melt some white chocolate and fill your chocolate moulds – set aside until set hard.
Blitz all the biscuits in a food processor until fine (we used a combination of light and dark biscuits to get the crumb resembling the same colour of sand).  
Grab your Iceream cones and spread with Royal Icing, roll in the 'sand' mixture and set aside to dry.
Whip up some easy buttercream icing.
Stack the cake to determine a suitable castle shape – remember this doesn't need to be perfect (no sandcastle is perfect). Once you have a design you are happy with you can start to layer the cakes with buttercream frosting in-between each layer, then spread more buttercream to cover the entire cake.
Using your hands, gently press the 'sand' mixture all around your cake – starting at the top and working down until all areas are evenly covered. Then place the pre-covered cones on top of the cake (I inserted a straw into the top cone to make a flag).
Decorate the cake using the chocolate shells and get the digger into position (you may need to add some more 'sand' mixture to the place you have removed with the digger bucket).
My son just LOVED his Sandcastle Cake and was happy to devour it with a clean spade lol! You can see some video of him enjoying his cake via our Instagram account here & here.
We hope you enjoyed this easy Cake Tutorial! You might also enjoy these cool cakes and Kid's Party Ideas:
If you want to become a Fellow Fun Mum Member & receive all of our fun craft, recipes & activities as well as special offers & promotions – click the button on our home page : )