My Mum (Granty) made these amazing Bird Wings for my daughter last week – she knows how much Miss M loves to dress up and pretend play.  'Granty' was nice enough to take some photos and notes as she made them for us to share with our fellow fun mums…or their sewing fun grandmothers ;).
 Miss M has spent hours flying all over the house and backyard in them.
How to make Felt Bird Wings
What you'll need –
Material for backing
Felt material for 'feathers'
Pinking Shears
Sewing Machine with cotton thread
Measure your child from the center back (Just below neckline) to their wrist. Then measure from the center back (just below neckline) to their waist. Draw a semicircle from these two points, add three inches and make a secondary semicircle. Then cut off the outside three inch strip.
Cut the 'backing' fabric x 2 (twice) using the semicircle as your template and set aside for sewing the feathers on. ..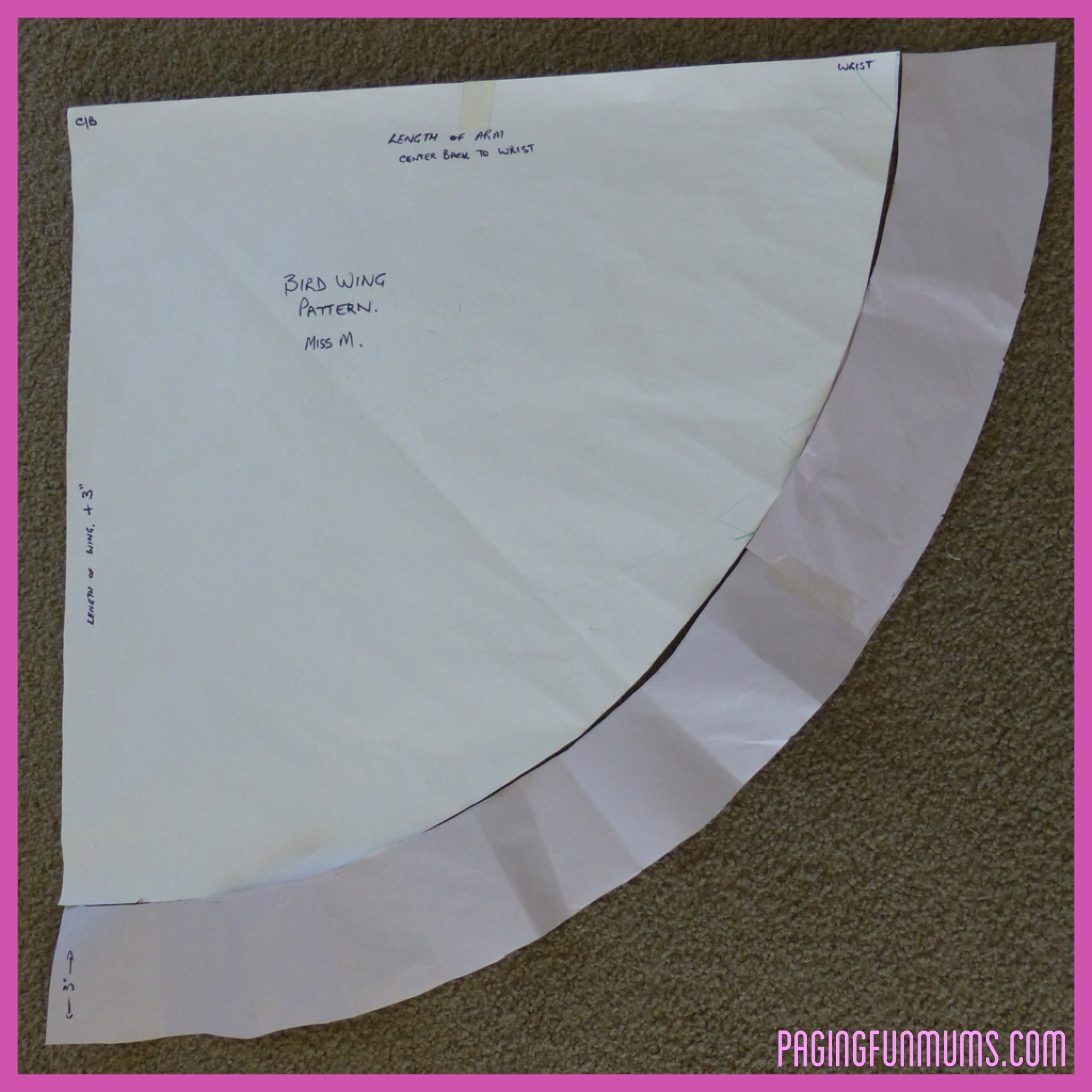 Fold the three inched strip like an accordion (as if making paperdolls) cut the folded paper into a scalloped shape and unfold – This will be your feathers template and will save you from having to gather the felt to stitch around the semicircle shape.
Using your feather template cut two sections of felt to make your first row. Then sew this row along the bottom of the wing shape backing (on the wrong side of the backing fabric).
Cut two more 'feather' rows (in a different colour if you're using multi coulours). Then align this so the scalloped/pointed edge is in-between the inward point along the feather rows. Then repeat this process until you reach the top of each wing. Your 'feather' rows will be getting shorter and shorter as you get closer to the top (you can adjust this on your pattern as you go). Don't worry too much if the 'feathers' don't match up perfectly when you get top the top.
When you have added all the feathers you can finish the sides with either an overlocker or just cut down them with the pinching shears to avoid fraying.
Sew an elastic loop either side about where the child's armpits are, and a loop for each wrist.
We then used a large safety pin to attach the center wings to the center of a plain pink top to keep the wings from falling down while she was running. Mum had originally used some Velcro but that wasn't strong enough for my energetic flapper lol!
I hope these instructions are easy enough to follow – please feel free to comment below if you have any further questions and I can pass them onto my Mum 😉
If you liked this craft, you may also like our:
If you want to become a Fellow Fun Mum Member & receive all of our fun craft, recipes & activities as well as special offers & promotions – click the button on our home page : )