Easy DIY – Popsicle Stick Bangles
I found this craft doing the 'rounds' on pinterest and had to try it out myself…
All you'll need is a packet of large sized wooden popsicle sticks (like tongue depressors from the Doctor). I purchased ours from our local $2 shop…for you guessed it…$2!!
Place them in a medium pot of boiling water and gently boil them for 1 hour (keep an eye on the pot, you may need to add more water as it boils).
Then very carefully remove them one by one and place them in a paper towel to gently dry, bend them into a round shape (while still warm and damp) & place them inside an aerosol can lid *see pic*. I would recommend boiling twice the number you ultimately need as some do split while bending.
We placed them outside in the sun and they were dry by the end of the day.
Then it's just a matter of decorating them…the possibilities are endless…or you can just rub them with some plain old olive oil to get a nice timber bangle.
We decorated ours using these two methods –
Using Paper –
Waht you'll need –
Scissors
Fancy scrapbook paper
double sided tape
Mod Podge
Paint brush
Popsicle bangles
We cut strips of fancy scrapbook paper by using the sticks as a stencil. We then used double sided adhesive to adhere the paper to the outside of the bangle. You may need to trim a little extra off using some sissors.
Lastly we gave them a coat of Mod Podge to help 'seal' them.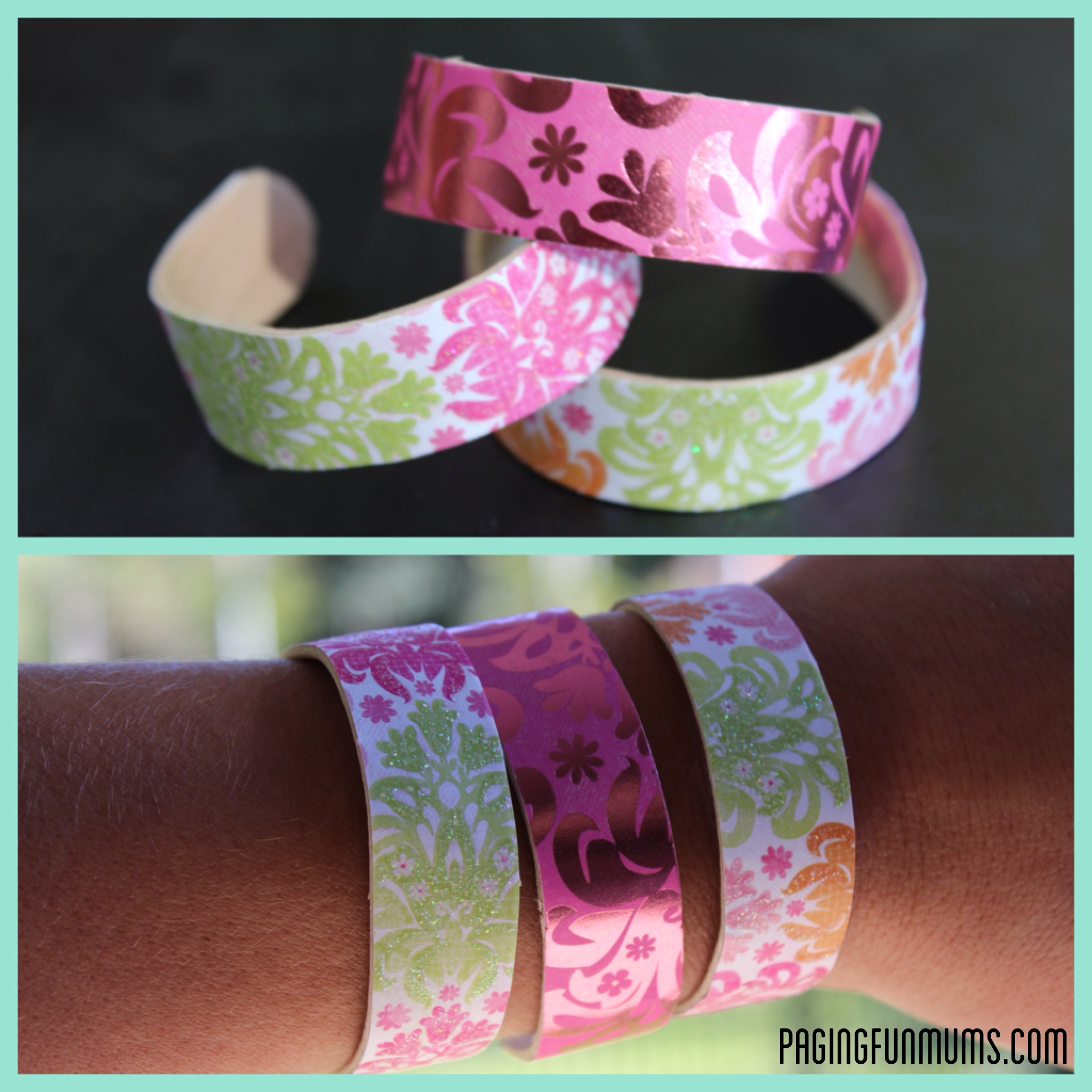 Using frayed cotton
What you'll need –
Frayed cotton wool thread
double sided tape
popsicle bangles
I've had this cotton laying around waiting for a craft project to come along. It was purchased at our local craft/sewing store. I used the double sided tape on all areas of the bangle (inside and out) then I wound the frayed cotton around and around. It gives the bangles a cool fury effect.
We will definitely be doing these again – next time I want to cover them with cool fabric off-cuts…or maybe glitter and Mod Podge…I can't wait!
If you liked this craft, you may also like:
If you want to become a Fellow Fun Mum Member & receive all of our fun craft, recipes & activities as well as special offers & promotions – click the button on our home page : )