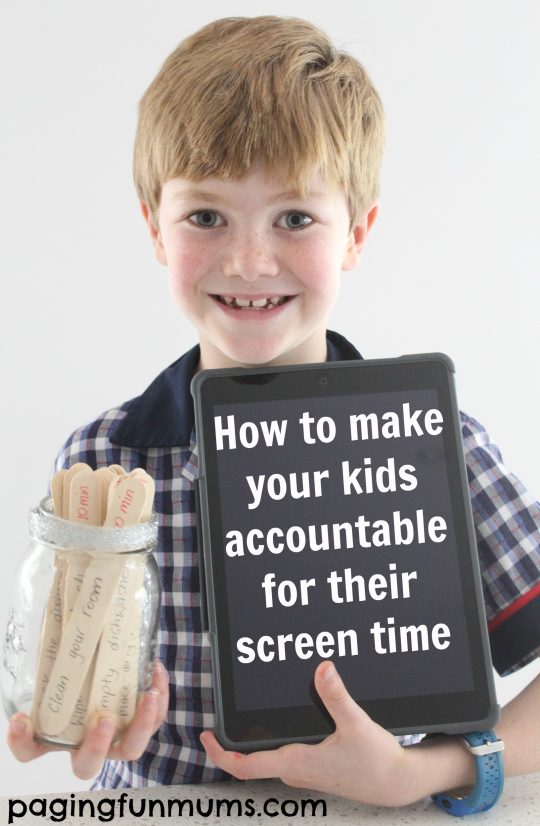 We all live in a world now where screens are becoming a part of regular family life. I heard a recent statistic that an average Australian household has 6 devices in their home! I was shocked at first, but when I counted ours up (including TV's) that is bang on!
My son is of the 'Minecraft' and 'Terraria' phase and he just LOVES them. He talks about them at school with his friends, watches YouTube tutorials and genuinely enjoys them. I am ok with that…however, I do believe that screen time should not only be limited but in my opinion, should be earned. I started to get annoyed with him coming home from school and the iPad be his first point of call for entertainment. We've always got Playdough, Silly Putty, Colouring Books, Toys and plenty of other things to amuse him in the house. I finally decided to do something about it.
I made these paddlepop sticks and when he completes a chore, he can have his device for the amount of time that is allotted to that chore!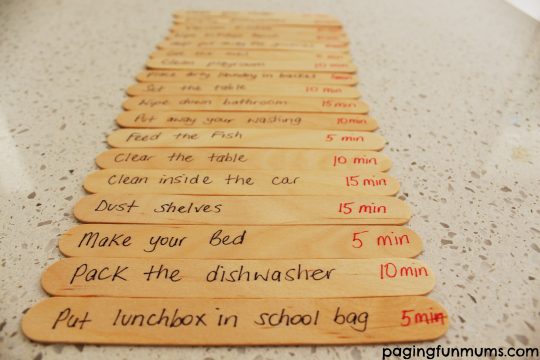 Both of my kids now WANT to do chores! It helps me immensely and the kids are enjoying it because they know they are going to 'earn something' in return. It's a win/win!
To make your own simply purchase some large Paddlepop sticks from you local $2 or Craft Store, get yourself a permanent marker and write down some chores you'd like your kids to do and allot some time.
So easy and OH so effective!
I put down some age appropriate chores for my kids, but you can put anything you like!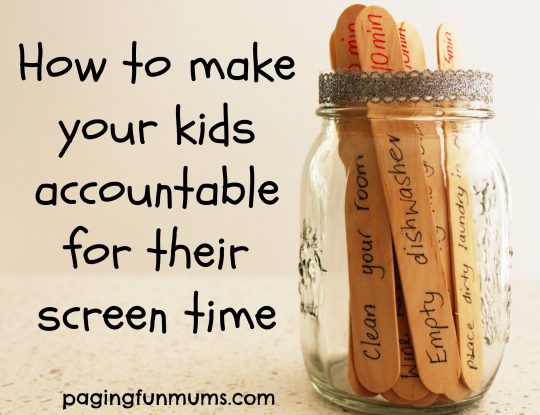 You can learn more about Age Appropriate Chores for Kids by visiting our lovely friend The Organised Housewife's site here.
We all hear we should protect our kids online but very rarely are we shown exactly how to do it.
Earlier this year I had a chance discussion with Colin Dunkerley – The iPad Man, as our daughters do Nippers together. He teaches seniors how to use the iPad… imagine that! (He must have the patience of a saint!). Anyway we got onto a story about an experience he went through with his older daughter online and all I could do was think about what if that happened to me.
He had others stories too, about what his friends and neighbours had gone through where their kids were the ones ruling the house with technology because the parents didn't know what to do.
When asked to help Colin would find multiple adult Apps like "101 Sex positions" – yes they are on the App Store! Just type "sex" in the search bar of the App Store (I never thought to do this and was blown away at the results!) and history of the kids watching porn on their devices.
I was genuinely concerned about the lack of control I had on my own kids devices and I knew I had to do something about it so asked if Colin could build a course for all our Mums (and Dads).
That course is now ready and we have convinced The iPad Man to do a special deal on it for you. It will normally sell for $49 but for a limited time EXCLUSIVE to Paging Fun Mums readers you can get it for only $10. He is also throwing in a "How To Use The Notes App" course valued at $49 for free.
The course is broken down into many short, step-by-step videos making it easy to follow and more importantly, implement.
I wish you could have seen our reaction when we watched it. The amount of features we did not know about and all of these things we could be doing to protect our kids and weren't made us feel like bad mums!
As Colin says, don't wait for something bad to happen to your kids.
Be proactive and invest a small amount of time and money, grab this course now to make sure your kids are protected.
Thank you for investing in your child's safety!
Jenni & Louise xx
DISCLAIMER: This course is for Apple iPads, iPhone & iPad Touches only. It has no instructions for Android devices. Whilst this is not a sponsored blog we may be paid an affiliate commission on any sales.
Jen x
If you want to become a Fellow Fun Mum Member & receive all of our fun craft, recipes & activities as well as special offers & promotions – click the button on our home page 🙂 
We also have some fun video tutorials for you to view on our YouTube Channel. 
SaveSave
SaveSave
SaveSave