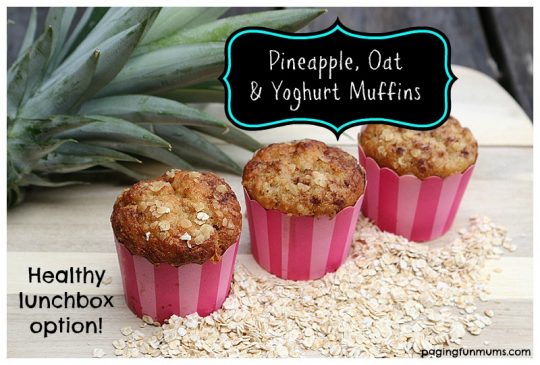 We've been loving all the Summer fruits these school holidays…Pineapple has definitely stood out as a favourite with my children! The even enjoy playing with their fruit *see 'Spike' pictured below! My daughter created him and they spent hours talking and playing with him in the pool…yes, she even took him in our swimming pool!  I'm a bit sad to report that 'Spike' met the knife after a couple of days…but all is not lost, he was sweet and delicious! Thanks to Spike we now have this yummy and healthy muffin recipe to share!
These muffins are super tasty and very moist on the inside.
Ingredients – 
2 cups Wholemeal Self Raising Flour
1/2 cup of Brown sugar + extra for sprinkling
3 eggs lightly beaten
1/3 cup of vegetable oil
1/2 cup of Greek (natural) yoghurt
1 teaspoon of vanilla essence
1/3 cup of Rolled Oats + extra for sprinkling (I prefer the 'quick' oats as they have a finer texture)
1 cup of pineapple pieces (we used half a fresh Pineapple. I'm sure tinned would work too)
1/2 teaspoon of cinnamon
Method –
Preheat oven to 180°C (350°F). Place the flour, sugar, egg, oil, yoghurt and vanilla in a bowl and mix until just combined. Wizz the Pineapple pieces in a blender (not for too long – you still want small chunks of pineapple in your muffins). Gently fold through the pineapple and oats (be careful not to over-mix). Divide the mixture between 12 large muffin tins lined with paper cases. Sprinkle with extra oats, sugar and cinnamon, bake for 25–30 minutes or until golden and cooked when tested with a skewer. Allow to cool.
These will keep for three days in an airtight container or they can be frozen for up to three months. Simply place the frozen muffin into your child's lunch box in the morning and it should be thawed in time for morning tea!
We hope hope you enjoy these yummy muffins next time you have a little leftover Pineapple!
Louise x
If you want to become a Fellow Fun Mum Member & receive all of our fun craft, recipes & activities as well as special offers & promotions – click the button on our home page 🙂