We sure do love us some sand activities here at Paging Fun Mums! We've done Magic Aqua Sand, DIY Coloured Sand , DIY Sand Imprints & plenty more! 
This Sand Foam has such a smooth, slimy, grainy texture that makes for a great sensory activity that my kids love! We live by the beach and they still want me to get this recipe out again and again! The best part is, it's very inexpensive AND easy to make! Yayness (yup, still a word!).
To make your own you will need:
Sand – approximately 3 cups
Shaving Foam – x 1 can 250g (approximately)

To make your lovely Sand Foam, simply pour your sand into a tub (we use the clear storage boxes for Sensory Play)
Then pour in your shaving foam – mixing as you go – the kids LOVE this part!
Keep mixing and adding the shaving foam until you are happy with the texture.
There are so many ways to play with it:
1. Dinosaur Play – add in some plastic dinosaurs for imaginary play
2. Beach re-creation using shells and building little castles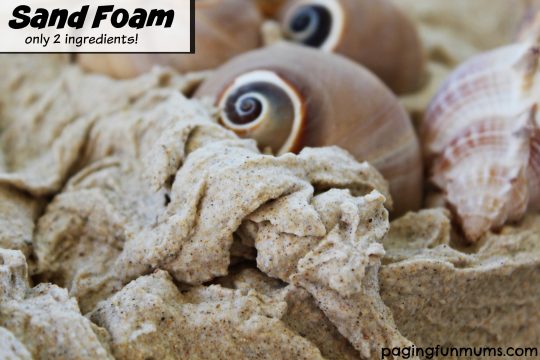 3. 4WD track…drive cars through the sand, it makes cool tracks (and the kids make cool noises)
4. Just get your hands in and slop it all about!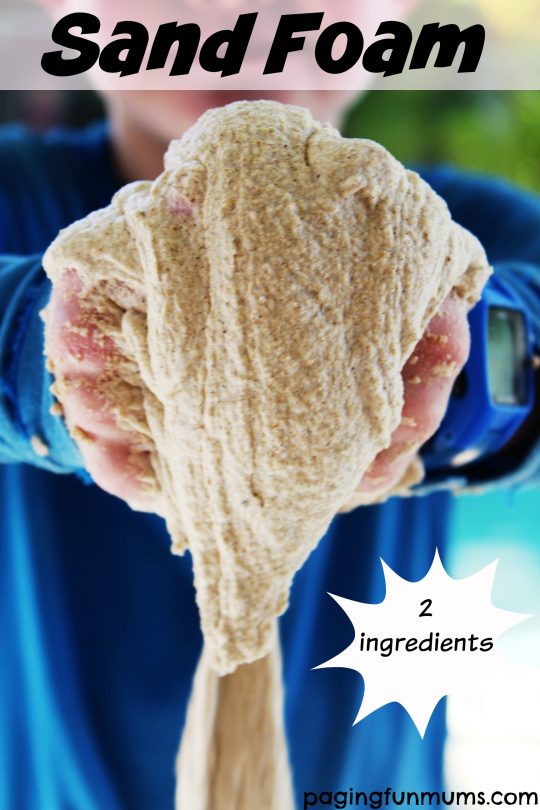 Can you think of any other ways to play with Sand Foam? We'd love to hear your thoughts below!
If you liked this post, you may also like our:
If you want to become a Fellow Fun Mum Member & receive all of our fun craft, recipes & activities as well as special offers & promotions – click the button on our home page 🙂 
We also have some fun video tutorials for you to view on our YouTube Channel.