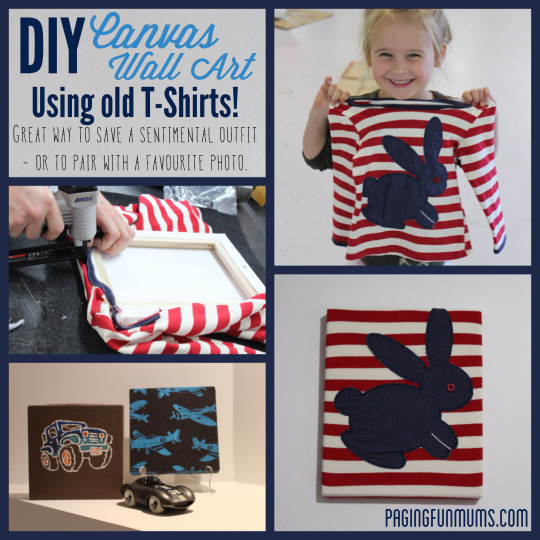 DIY Canvas Wall Art – using old T-shirts
I don't know about you but there are certain pieces of my kids clothing that hold a special place in my heart – it could be that I have a really cute photo of them wearing it, or maybe it was the person that gave us the outfit as a gift? Either way I find it very difficult to throw these out or even hand them down to my friends (that's what I usually do with the outgrown clothes).
This is an awesome and relatively cost effective way to keep those sentimental clothes – or maybe just a cool way to decorate your kid's bedrooms?
All you need to do is find a cheap canvas frame from your local discount store and beg, borrow or steal a nail gun ;).
It's so simple – just cut the back, stretch it over the canvas & nail it in place.
Cut the excess from the back – we used a sharp Stanley knife but you could use a good pair of scissors too.
Some of the baby shirts were hard to fit to a canvas the right size…they aren't perfect and we did have to stretch one a bit far to make it fit on the canvas – but I still love it!
I paired one up with a favourite photo I have of my son wearing the T-shirt – it reminds me of the holiday we were on at the time.
If you want to become a Fellow Fun Mum Member & receive all of our fun craft, recipes & activities as well as special offers & promotions – click the button on our home page : )