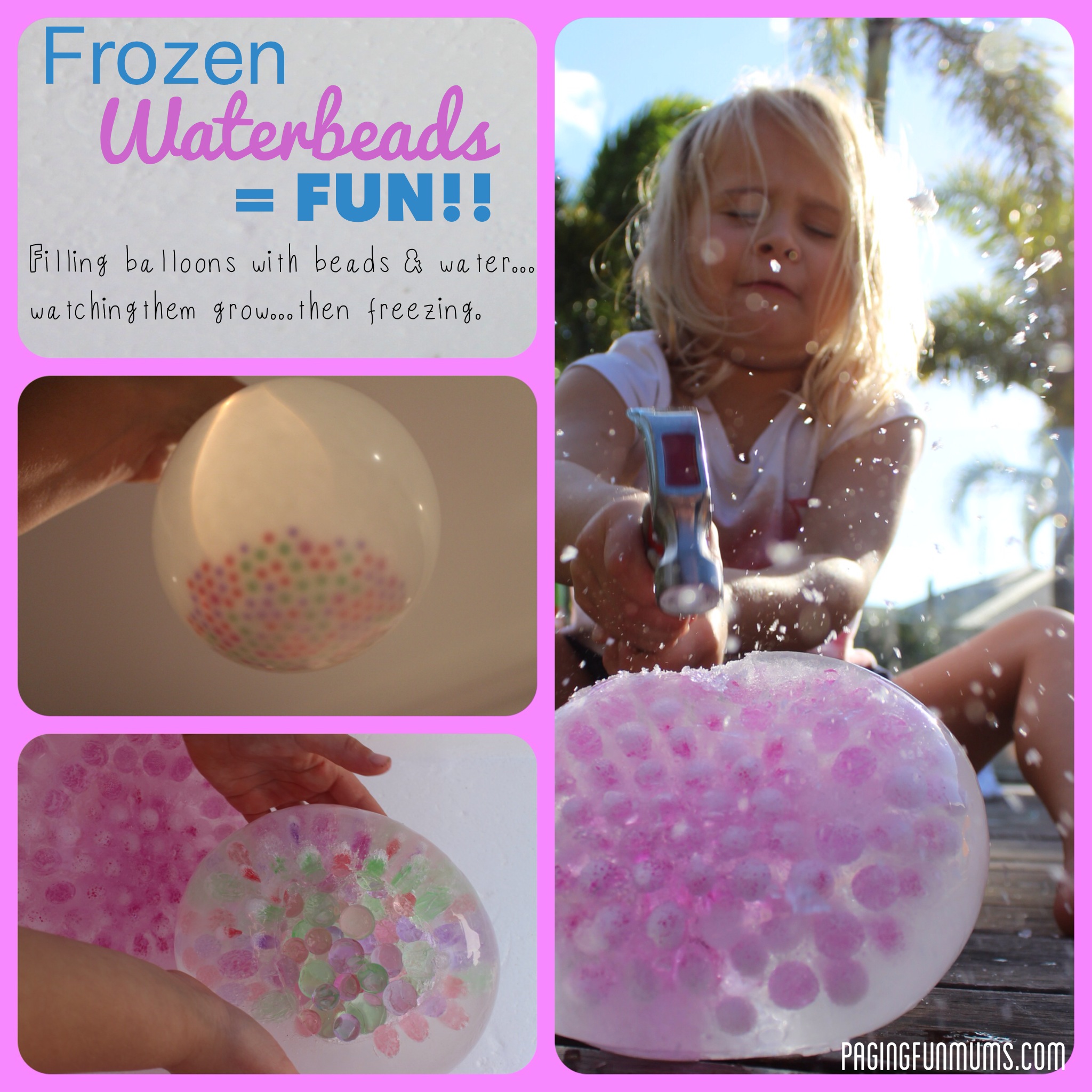 I'm always trying to come up with more fun ways to use one of our faourite play items – Waterbeads!!
My daughter loves playing with ice, why hadn't I thought of this earlier? It was so much fun and super easy too!
What you'll need
– regular balloons (we used white so we could see what was happening inside when we held the balloon up to some light.
– waterbeads (un- used ie. not grown)
– a soda bottle end (this acts as a funnel to help fill the balloons)
– water
– freezer
– hammer – this is optional of course!
We did this activity over two days – the first day was spent 'growing' the beads inside the balloons and then let freeze overnight, the second day to observe, experiment and play with the frozen waterbeads.
The process
We started by attaching the balloon to the open end of the soda bottle and filled with some water beads. Remove the balloon from the bottle and place over a tap to fill with water. Tie the balloon and place on a bench for 8hours to watch the beads grow inside the balloons (this was almost as much fun as the finished product) in a bowl in the freezer and left overnight.
Once frozen solid they were taken outside in an old Styrofoam tub with a hammer. We also introduced a bucket of warm water to experiment with melting the ice around the beads.
The pictures say it all I think – so much FUN, but a bit messy…nothing a hose doesn't fix ;).
Hope you give this a go at home.
You might also like these fun ideas for using your Waterbeads – Monster slime.
Louise x
***Please note – you need to be very cautious that children or animals don't swallow the waterbeads & protective eyewear is also a sensible suggestion when using the hammer. Definitely a supervised activity – lots of fun for parents to be involved in.
If you want to become a Fellow Fun Mum Member & receive all of our fun craft, recipes & activities as well as special offers & promotions – click the button on our home page : )