Whootastic Pinecone Owls
We are very fortunate to have a family of 'Owls' (Tawney Frogmouth – Nightjars) call one of our palm trees home. They roost there all day before going to hunt at night. Our neighbour on that side also loves them – so we decided to make these as a gift for her.
They were so easy and so much fun to make!
All you'll need –
3 Open Pinecones (if they're shut just place them in a low heat/warm oven to open)
White craft stuffing (cotton wool would also do the trick)
1 sheet of brown felt
Large googly eyes
Scissors
Glue Gun
A stick (if you want them sitting together on a 'branch').
Start by 'stuffing' in-between the spikes on the pinecone, we used a small stick to jam the stuffing in.
Cut a pair of wings for each Owl using some felt and also cut a single triangle out for each nose.
Using the glue gun carefully attach the wings to each side, the eyes and finally the nose. Once these have dried add some glue to the stick and hold the owl in place until it dries.
There you have it, Three Wise Owls…now we just need to name them…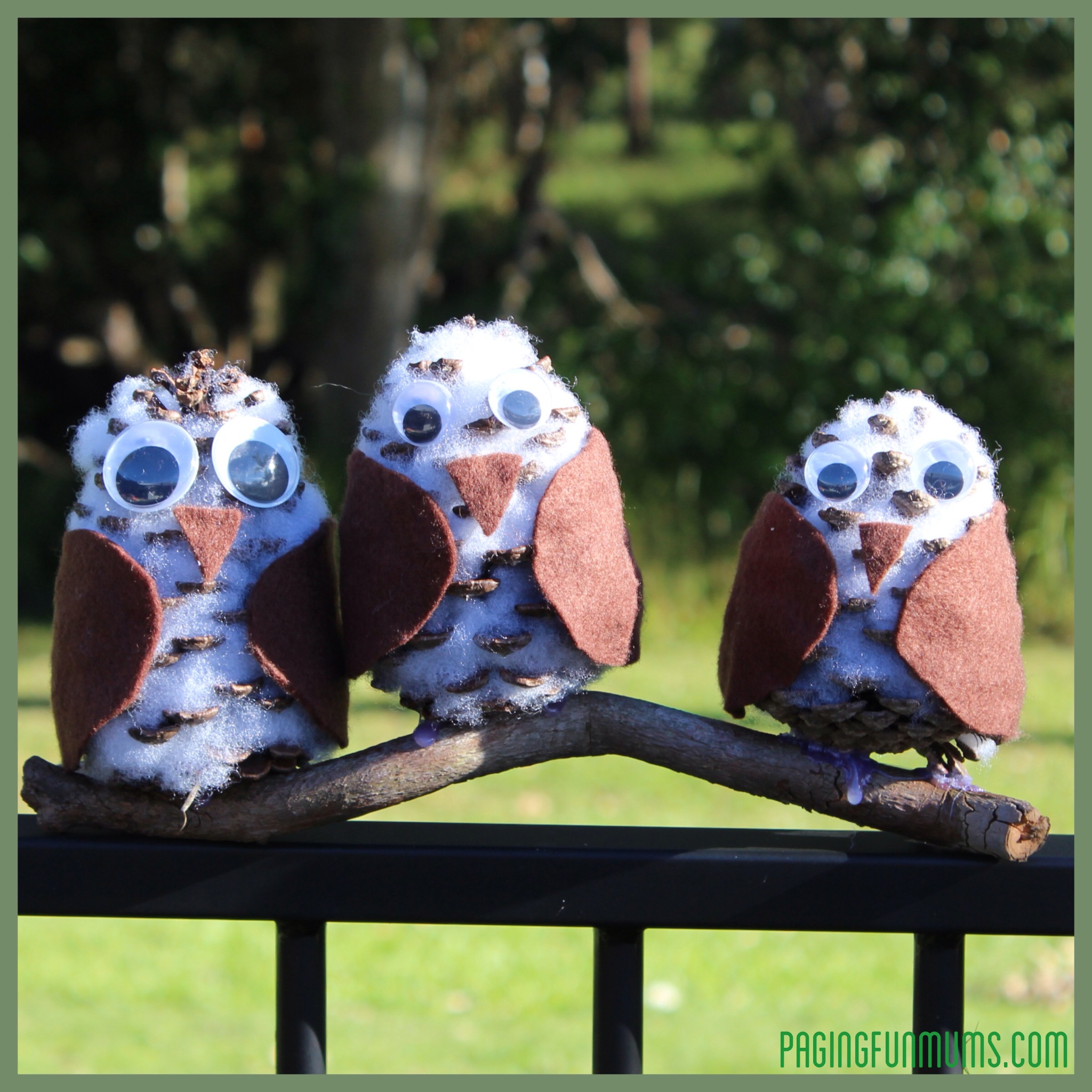 And these are our real 'owls'…
If you love Owl crafts be sure to check out these cute Papercraft Owls made by our very talented Jenni –
Louise x
If you want to make sure you receive all of our fun crafts, activities, recipes & ideas, be sure to subscribe to our blog & we'll email you! 
Oh and why not pop over and 'like' us on Facebook OR perhaps Twitter is your thing. You can also find us on Pinterest & Instagram too!