My little 4yo boy is obsessed with Dinosaurs and bones, so when I saw this brilliant idea at 'That Artist Woman' we just had to give it a go! It's the start of all things 'Dinosaur' at our place! We've also created these cool DIY Dinosaur Eggs which the kids were egg-cited about!
This craft requires a 'salt dough' recipe (below) which is then kneaded, cut into circle shapes, imprinted with DINOSAURS (bought at a $2 shop), then baked and painted to look like Dinosaur Fossils. There are so many elements to this craft that the kids enjoyed! This is also very inexpensive craft too (my husband loves those).
Ok, so first, you will need to make your Salt Dough. For this you will need:
4 cups flour
1 cup salt
2 cups water
Combine all of the ingredients – my little man liked this part (he considers himself a little bit of a 'Master Chef' ; )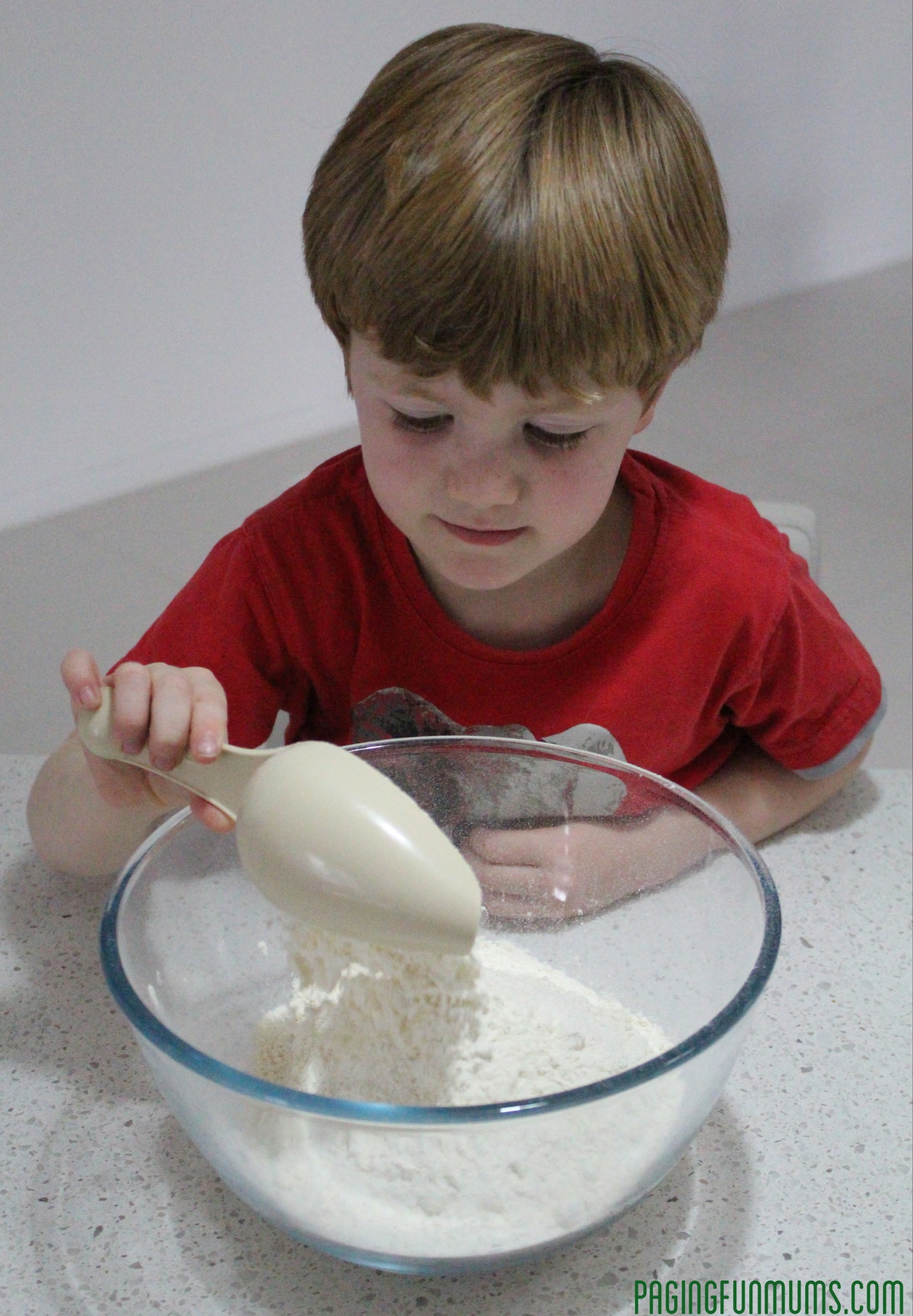 And Mix
Then knead your dough and roll out with a rolling pin to make it flat and about 1cm thick.
Then cut out your circle shapes – we used a glass for this (a good little tip is to dip your glass/cutting tool in flour first, this makes for easy removal).
We also used a small bowl to fit a larger dinosaur.
Take your dinosaurs and place them onto the dough & push down (hard enough to make a good print & not too hard so you push through to the bottom). Again, dip your dinosaurs in flour before imprinting too!
The pack of Dinosaurs we bought, had some cool little plants too, which make some great prints!
Place all of your 'fossils' onto a baking tray lined with baking paper and bake for about an hour at 180 degrees – this will make your dough nice and hard.
Cool thoroughly on wire racks.
Then it's time for the kids to get painting. We used acrylic paint & watered them down. 'Earthy' tones work best! I mixed some black & white to create a cool grey colour, then used an army green colour which looked great too. I wish I had of had brown paint on hand but we are going to make these again so I'll use brown then : )
Then blot your painted fossils with paper towel this gives them a great look!
Then let dry completely before play.
You can also opt to paint yours with Modge Podge to seal your fossils.
This was a great activity that the kids really enjoyed. We talked about each 'fossil' and spoke about what each dinosaurs name was & whether they were a carnivore or herbivore.
If you liked this activity, you may also like our:
If you want to become a Fellow Fun Mum Member & receive all of our fun craft, recipes & activities as well as special offers & promotions – click the button on our home page : )