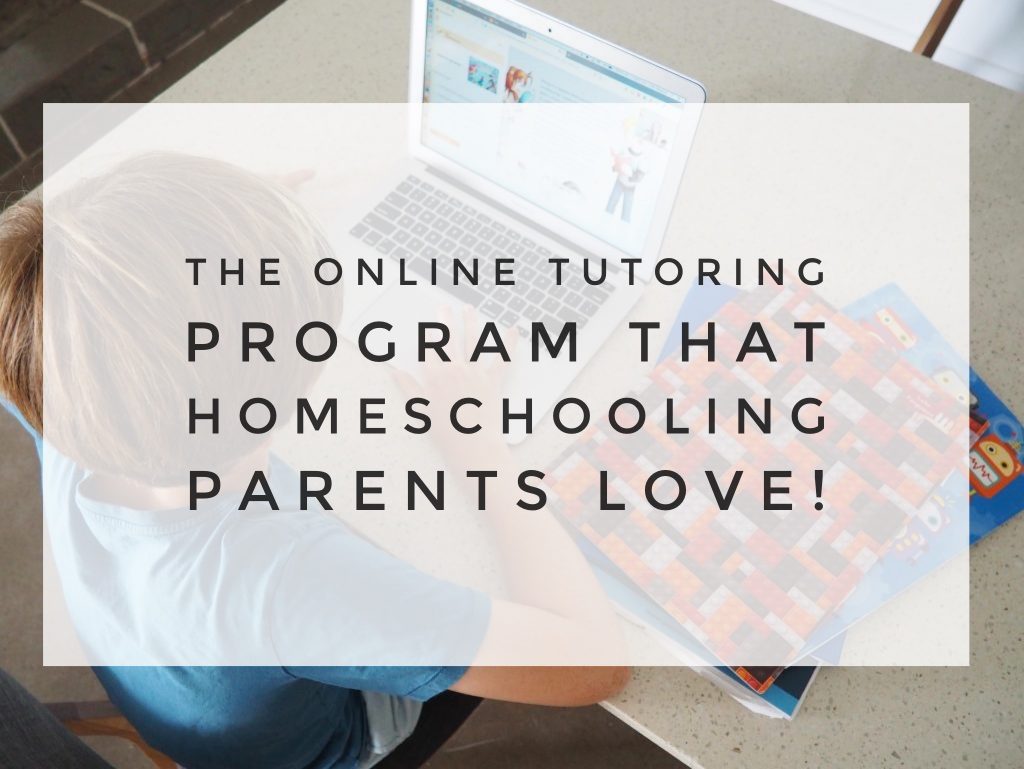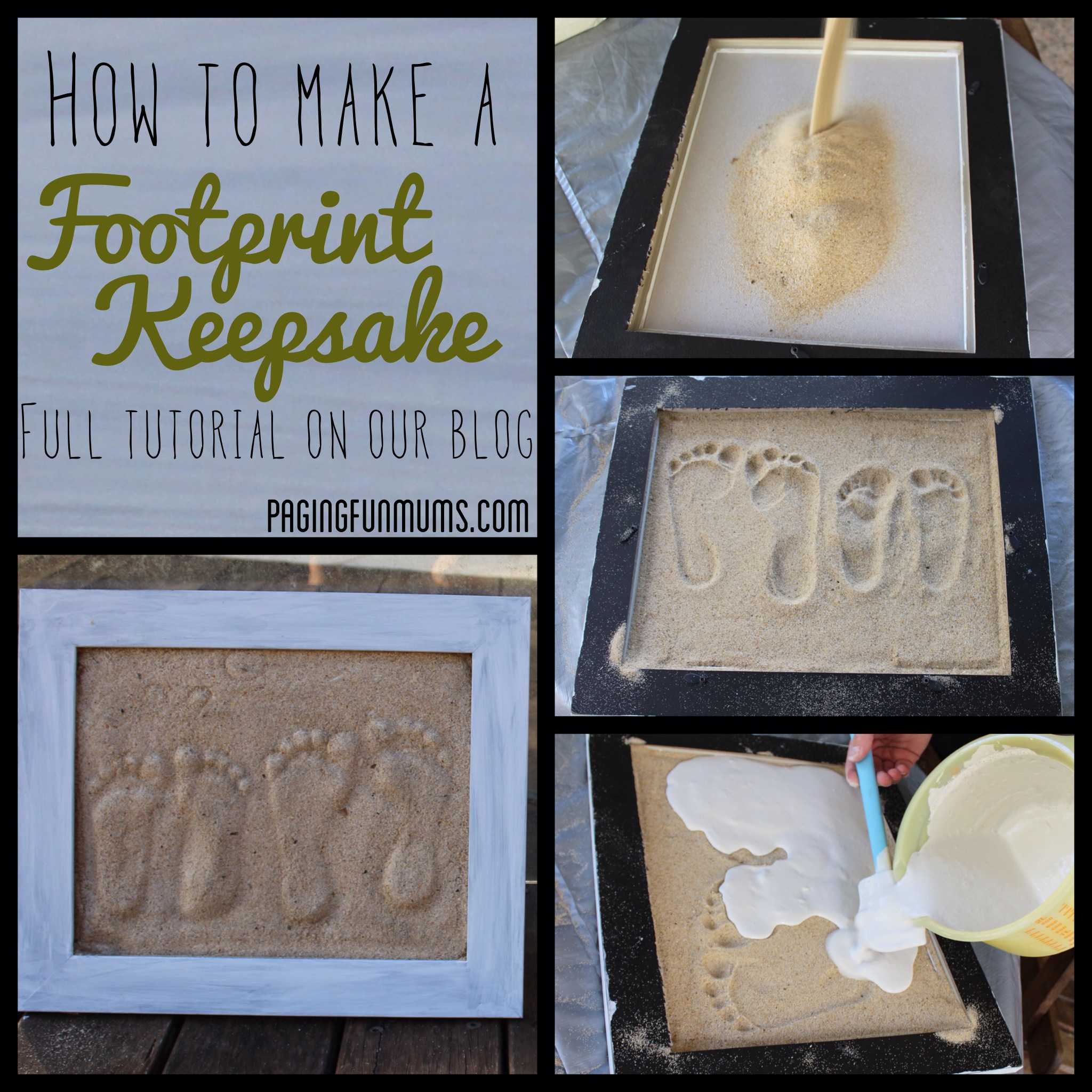 Summer is my family's favourite time of year – we're very blessed to live 5mins away from many beautiful beaches. It's not surprising to know we spend nearly every weekend during summer at the beach.
I wanted to do a beach themed craft to celebrate the amazing summer we've just had. I thought it would be cool to do something that could mark this particular summer and try to 'freeze it in time'. This is what I came up with –
We have added a Video tutorial using a handprint which you can view below.
We look forward to trying some other designs in the sand – maybe some writing or paw prints would be fun :).
Please let me know if you make one…we love to hear feedback on our crafts :). Have fun!
Sand Footprint moulds – using just a Photo frame, sand, plaster of paris and some shells for extra decoration.
Exactly what you'll need –
an old sheet or plastic tablecloth (to protect your work surface).

A photo frame big enough to fit the number of prints you wish to use. (A small frame with just one print would look great too).

Sand

Plaster of Paris (you can find this at most craft & discount stores). I used a 1kg bag to do this sized frame and it cost $4.95.

Water for making the plaster

Cardboard to use to smooth the sand (we just used some from our recycling)

Spray on sealer

Glue gun

Sea shells for decoration
Start by covering your work surface with something to catch the sand and any drips of plaster – we used an old tarp.
Remove the cardboard backing off the frame and carefully discard the glass from the frame (this will not be needed). Place the cardboard backing over the front of the frame and flip it over – this will create a nice box that you will then fill with sand. I used a flat piece of cardboard to smooth the sand out level with where the glass used to sit (the first inside groove).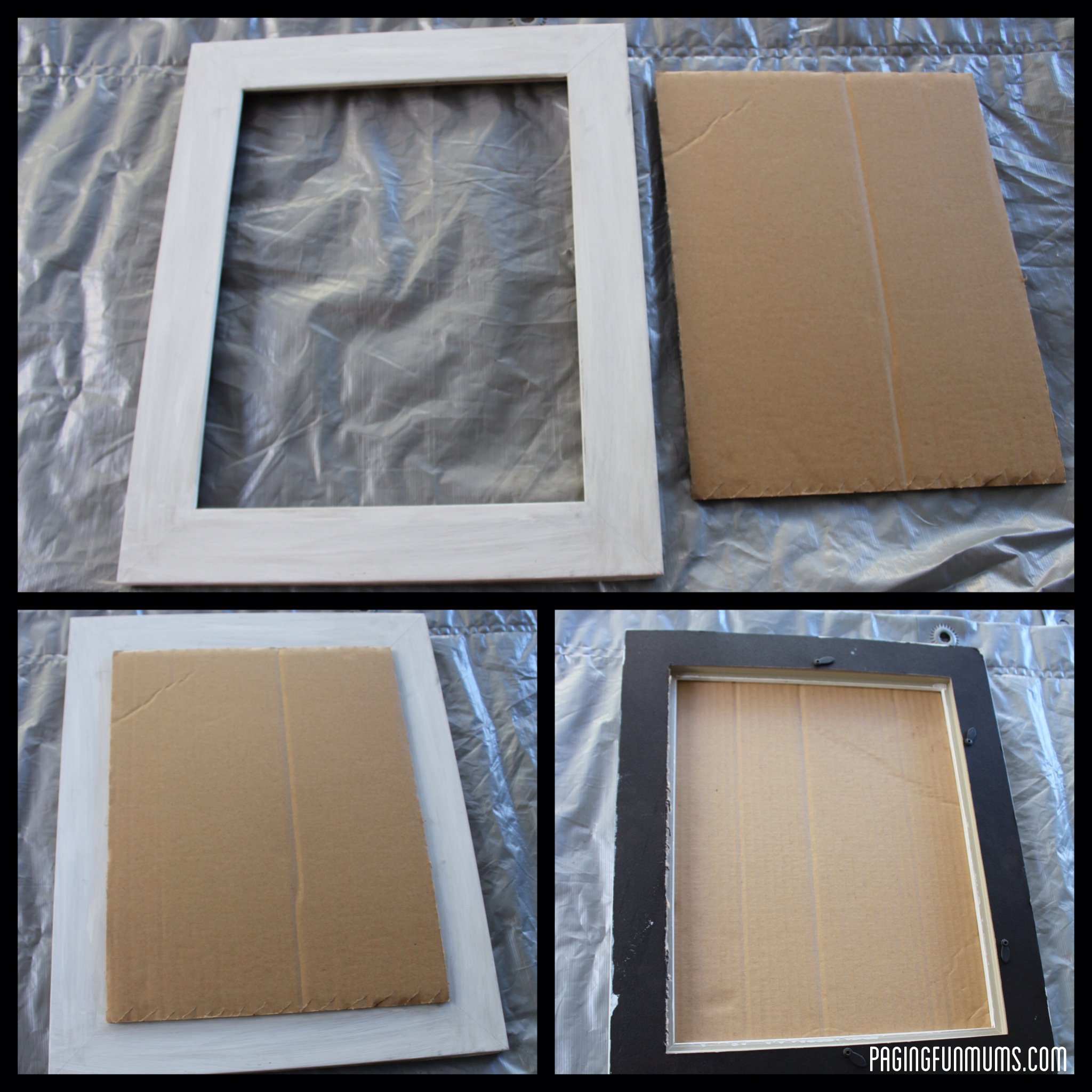 Carefully stamp each foot into the sand to make a nice impression – we had to re-do this part a few times with my 1 year old – he just wanted to squeeze his toes into the sand. Once I was happy with the imprints I set about mixing the plaster of paris as per the packet instructions.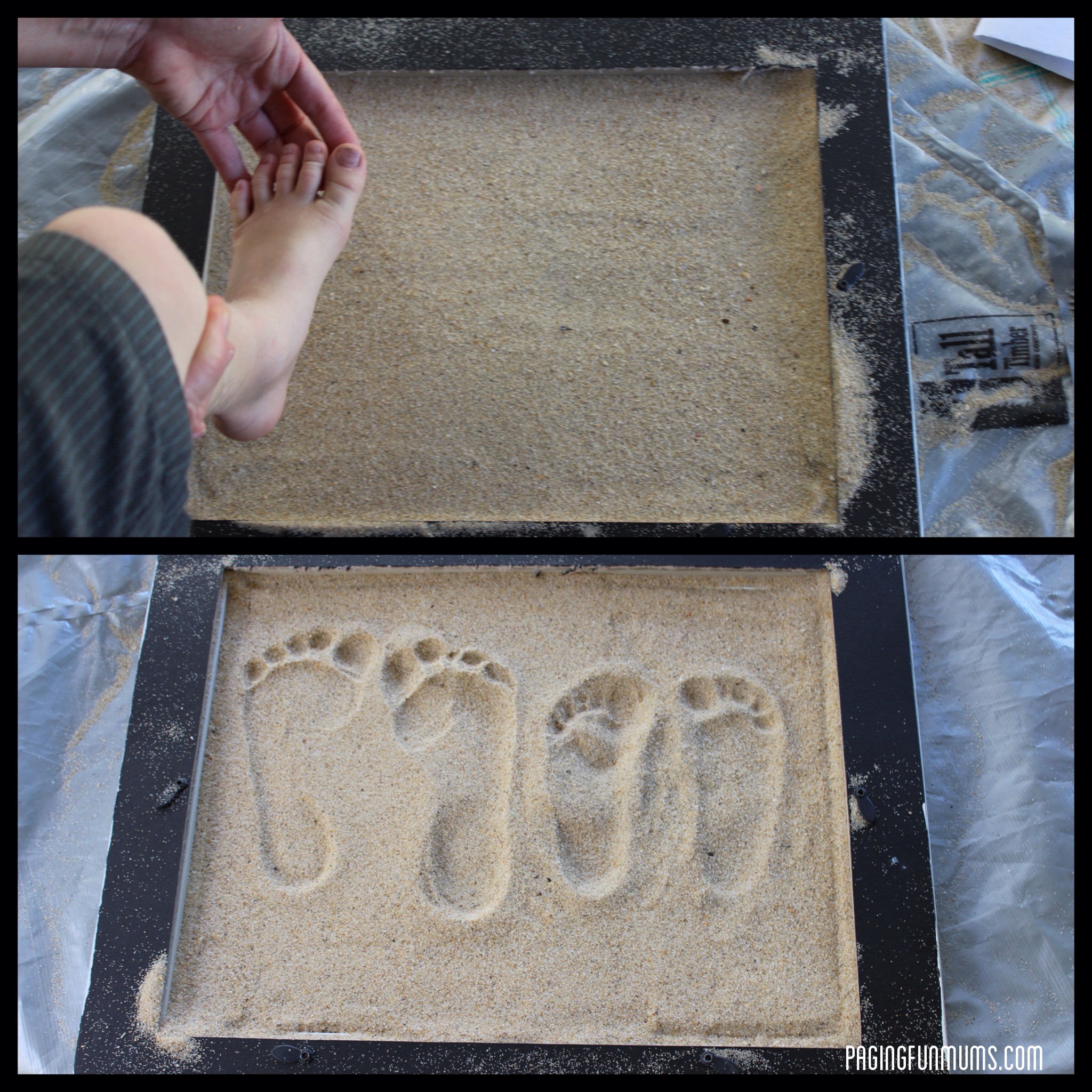 Then gently and slowly pour the mixture over the sand, starting in one corner and covering the whole inside of the frame then using a piece of cardboard level the mixture GENTLY – don't press down too firmly.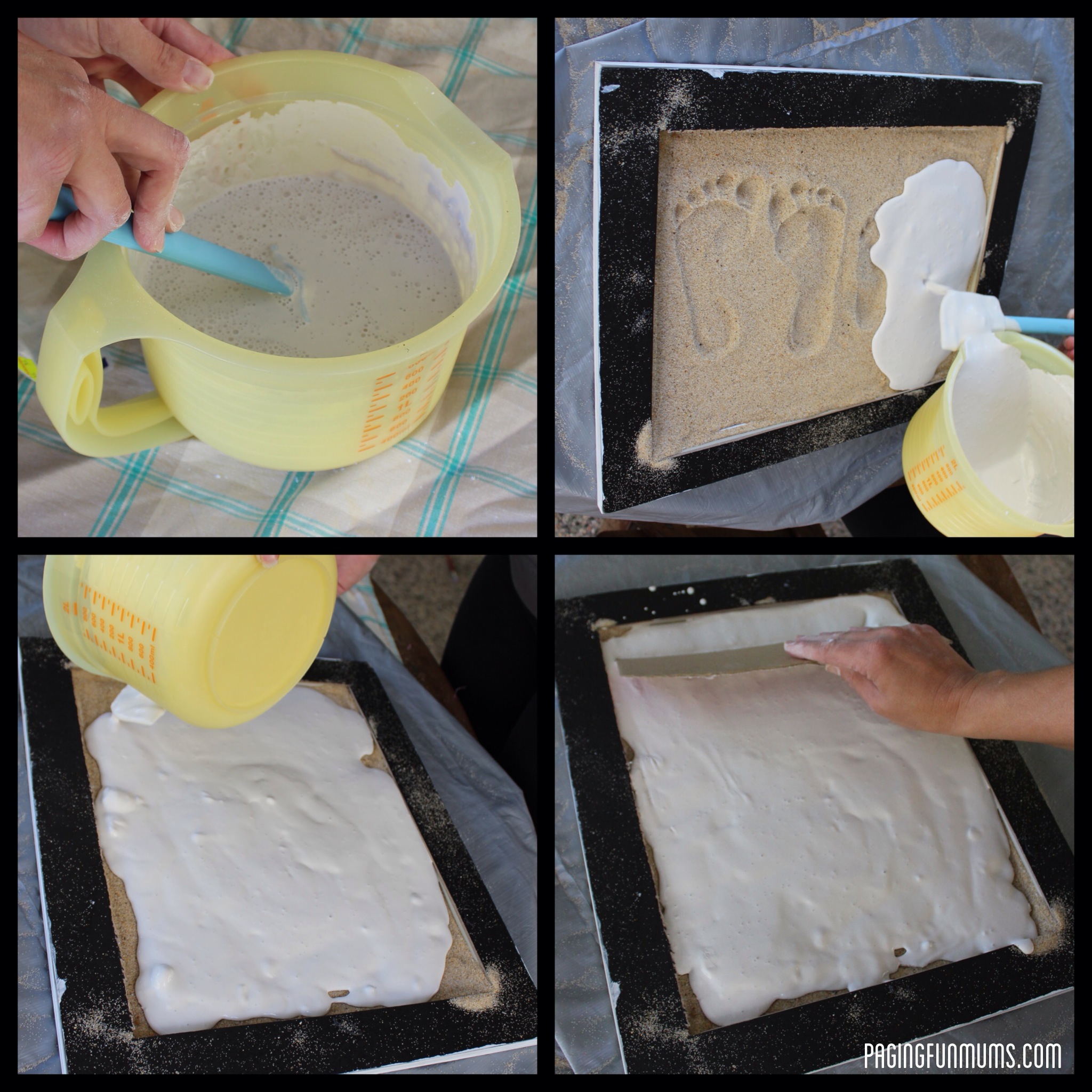 As you can see in these photos it can get a bit messy but this is the back of the frame anyway.
Leave plaster to set as per directions on packet – mine was hard after 5 hours – it was a hot and dry day though.
Once you're sure your plaster has set you can remove the cardboard from the front, tip the frame over and dust off the excess sand. I then gave it some more drying time in the sun before spraying with a sealer. This will help glue and seal any loose sand.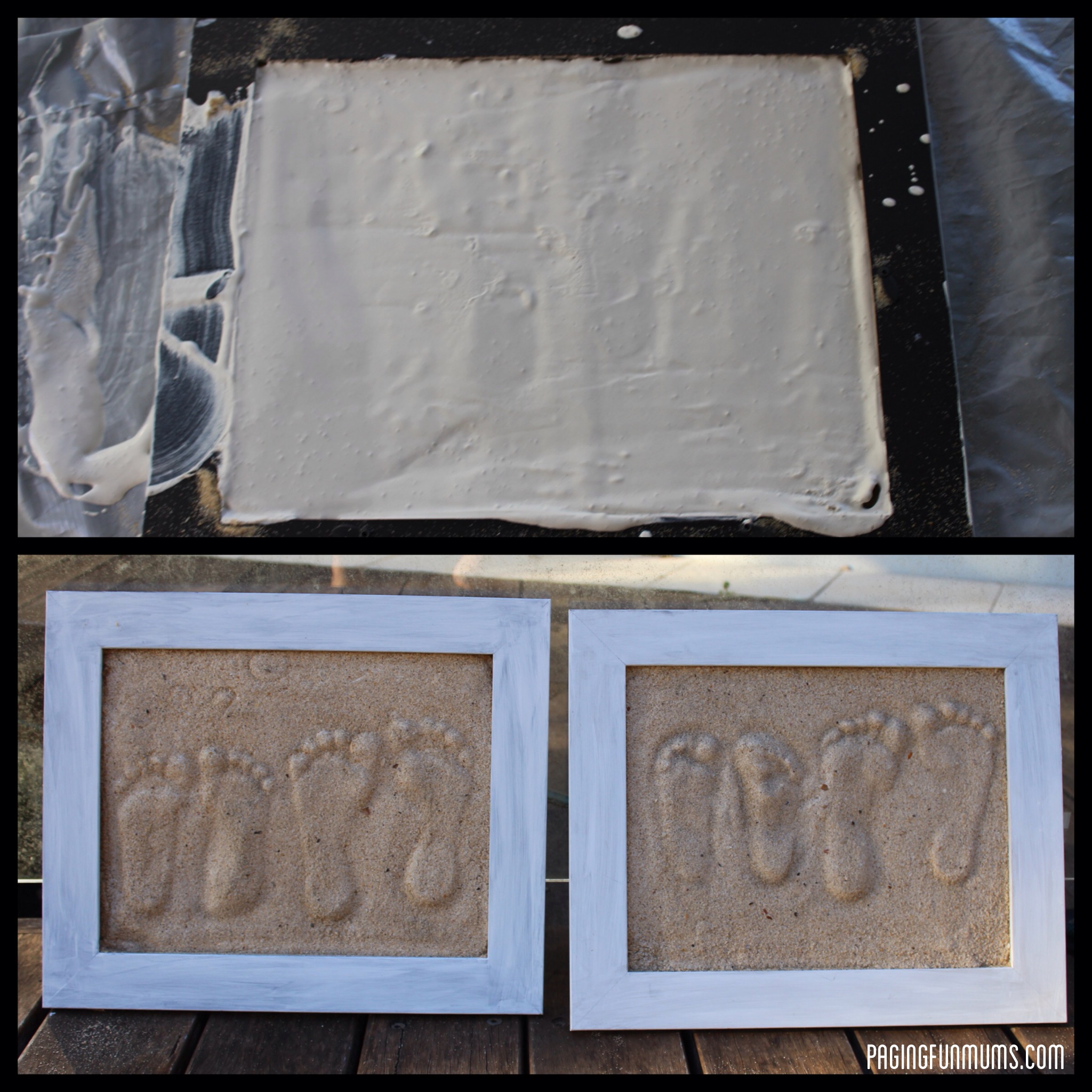 I then used a glue gun to attach some tiny shells around the picture to add some extra detail. I also wrote "Summer 2013" on the back with a little blurb about all the fun things we did over the summer.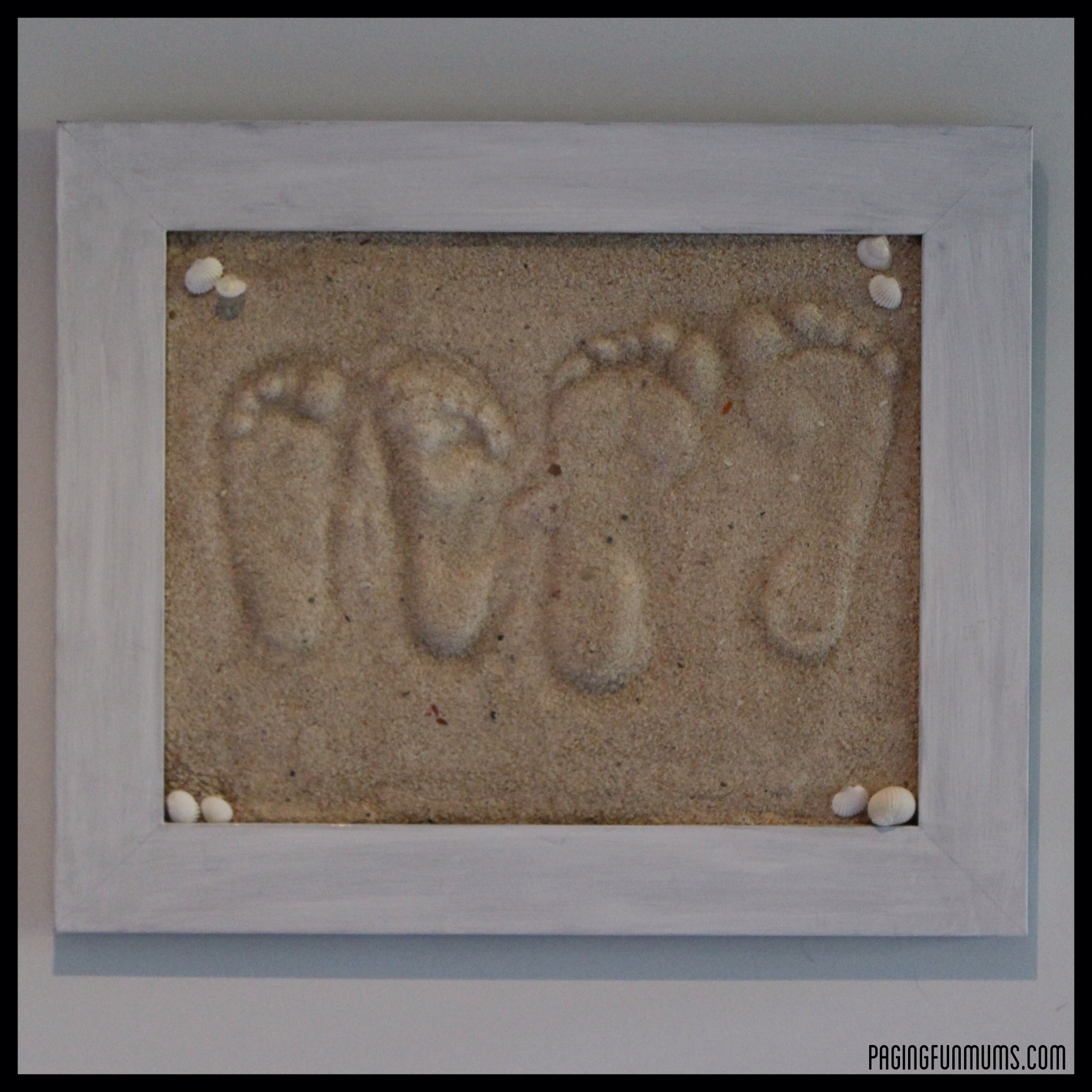 You might also enjoy watching our other videos on our YouTube Channel.
If you want to become a Fellow Fun Mum Member & receive all of our fun craft, recipes & activities as well as special offers & promotions – click the button on our home page : )