This post is sponsored by ALDI
We recently visited ALDI and were amazed by all of the fabulous Christmas products they have this year. What delighted us the most was the value for money…as they say 'The More the Merrier'. By shopping at ALDI we were able to put more on the table for less money!
You can watch us browsing through some of their Christmas range in the Facebook LIVE video below.
Today we're sharing some of the recipes and FUN ideas for your family this Christmas.
We've covered everything from entree to dessert, games and place cards – all of these ideas are quick and easy and most of it can be made ahead of time, so not only will you be saving money, you can save time and spend more of it playing games with your kids rather than stuck in a hot kitchen. By following our suggestions, you can have the perfect Aussie Christmas for less!
We were able to fill our shopping trolley with everything we needed (including everything listed below and some gifts) for under $200!
Entree
Garlic Prawn Festive Wreath Salad
We love the idea of having some fun with our food, especially at this festive time of year. We're literally in love with the Ocean Royale Frozen Butterflied Herb and Garlic Prawns ($12.99) from ALDI. They come pre butterflied with the garlic butter so all we need to do is pop them on a tray and pop them in the oven! It was a no brainer then to use the prawns as an entree…and we made the salad into a wreath! It looks gorgeous and it's super simple to make. You can change up your ingredients to suit your taste but we used:
Kale
Cherry tomatoes
Mango
Pomegranate seeds (Dried cranberries can also be used as an alternative)
Ocean Royale Frozen Butterflied Herb and Garlic Prawns
Mango, chilli & lime dipping sauce
Check out our stop motion video below to see how easily it all comes together!
Main
Mango Glazed Ham
Christmas isn't Christmas without ham! We made a delicious tropical glaze this year and it was such a hit!
Here's the recipe:
Ingredients
1 cup of It's Really English Provenance Mango Chutney
2 tbs Merryfield Brown Sugar
Juice of one lime
Berg Deli Half Leg Ham
Method
Combine all of the ingredients together and mix well
Score your ham and stud with cloves
Cover the whole ham with the glaze
Bake the ham in a preheated oven (180 degrees) for 20 – 30 minutes until golden!
We found the ALDI Berg Half Leg Ham ($6.49 per kilo) to be not only very affordable, but so moist and tasty! We picked up some beautiful silver ribbon from ALDI too and used that to decorate our ham after it was cooked. It's the little things that make all the difference for a beautiful Christmas table.
Sides
Star Sweet Potato Stacks
Our families love sweet potato so we decided to create something a little more festive with this FUN and healthy side dish. Your kids will love helping you making them and that means they're more likely to enjoy eating them too! Winning!
Ingredients
2 large sweet potatoes
2 tbs Remano Olive Oil
Stonemill Salt & Pepper
Freshly chopped rosemary
Method
Thinly slice your sweet potato before cutting star shapes using a cookie cutter.
Stack your stars, drizzle with olive oil, season and sprinkle with Rosemary.
Bake them in a preheated oven (180 degrees) for 15 minutes or until golden and cooked through.
Here's a short video showing the process.
Green Bean Stacks 
These green bean stacks are such a great side to your Christmas feast! The kids will love helping to wrap them, making this a great side that they can help prepare. They can also be prepared ahead of time.
Ingredients
100g of Berg Sliced Prosciutto
500g of green beans
2 tbs Remano Olive Oil
Stonemill Salt & Pepper
Freshly chopped rosemary
Method
Gently roll each bunch of beans in a slice of prosciutto, sprinkle the fresh rosemary and drizzle with olive oil. Season with salt & pepper.
Bake them in a preheated oven (180 degrees) for 10 minutes or until the prosciutto is crispy and the beans are tender.
Here's a short video showing the process.
Dessert
Mini Pavlova Wreaths
Everyone loves pavlova at Christmas, it simply wouldn't be an Aussie Christmas without it! This year, we wanted to do something extra fun!
Using ALDI's Cake Stall Mini Pavlova 4pk ($3.99), we hollowed out their middles to create wreath shapes and decorated with cream, chopped strawberries, mint leaves and strawberry coulis. The kids loved getting involved with the making of these…especially piping the cream.
Check out the video below and see how easy they are to make!
Decorations
Paper Plate Angel Place Cards
We love to get crafty and have something handmade on our Christmas table. This year we made some super cute personalised place cards using paper plates from the ALDI Christmas Range. You can find the free template for this craft here, we decided to add a photo of each of our children too.
Watch how easy the paper plate angel place cards are to make in this video.
We love the silver and white theme when it comes to Christmas! We used ALDI's 25th Avenue Jumbo Wrap 20m ($3.99) as a beautiful table runner, then added on white plates, ALDI's 25th Avenue Deluxe Christmas Silver Bon Bons 6pk ($12.99) a few silver Christmas tree centrepieces and made sure we used different types of white & silver platters for serving – including cake stands which gives your table some height.
Drinks & Treats
Champagne Cocktails

We were able to get our hands on some ALDI Monsigny Premier Cru Champagne, priced at $25 per bottle this makes Christmas drinks more affordable than ever. We love a good sip of bubbles and this champagne didn't disappoint. Its lovely on it's own or mixed with some other in-season fruits from ALDI. Here are a couple of FUN drink ideas we made for our festive celebration.
Champagne Pops! 
We all know how HOT an Aussie Christmas gets, why should the kids have all the fun enjoying their frozen treats (just don't let them get their hands on these ones!!). We created some delicious combinations; strawberry, pomegranate, mango and peach. Watch the video below to see how easily they're made. You can mix the strength of your Pops to your liking but we used equal amounts of frozen fruit to ALDI Monsigny Premier Cru Champagne with a dash of vodka for a little extra kick.
Frozen Strawberry Champagne Daiquiri 
This recipe is the same as above but served straight away in all of its slushie goodness. The perfect way to kick off your Christmas party!
KID'S FESTIVE REFRESHMENTS
We wanted to create some festive & healthy drink options for the kids too. These frozen strawberry cubes add a little extra FUN to a glass of sparkling water. We simply froze some pureed strawberries and a little honey into some Christmas themed ice cube trays. You'll find the kids will love eating them straight from the freezer too!
Games
For us, Christmas is all about having fun with family and friends. We all know how special this time of year is to children and we like to make sure they have plenty of fun games to do! Minute to win it games are super popular right now…and for a good reason! We've put together a bunch of simple games that you can prepare ahead of time that will entertain the kids…and of course the adults! We bought most of the items we use in these games at ALDI ahead of time – organisation is key people!
Jingle Bell Junk
Wrap a tissue box in some festive wrap (we used ALDI's 'Jumbo Wrap') and attach the box to the player's waist with a ribbon (we used ALDI's gorgeous silver and white ribbon). Fill the box with non breakable ornaments (again, purchased at ALDI). The player then has one minute to shake, dance & jump out as many balls as possible.
Christmas Tree Wrap
Players are paired off and each team has one minute to dress their partner as a beautiful Christmas tree…using nothing but a roll of toilet paper and some tinsel! This is a hilarious game that's equally as fun to watch as it is to play!
Candy Cane Grab
Place a pile of Candy canes in the middle of the table. Each player gets their own candy cane that they hold in their mouth. Players have one minute to pick up as many candy canes as possible!
Ornament Roll
Set up a finish line (we used some ALDI Christmas ribbon). Each player has one non-breakable Christmas bauble. Using their nose, players have to push the bauble across the finish line. The first one to cross the line wins!
Pom pom & straw challenge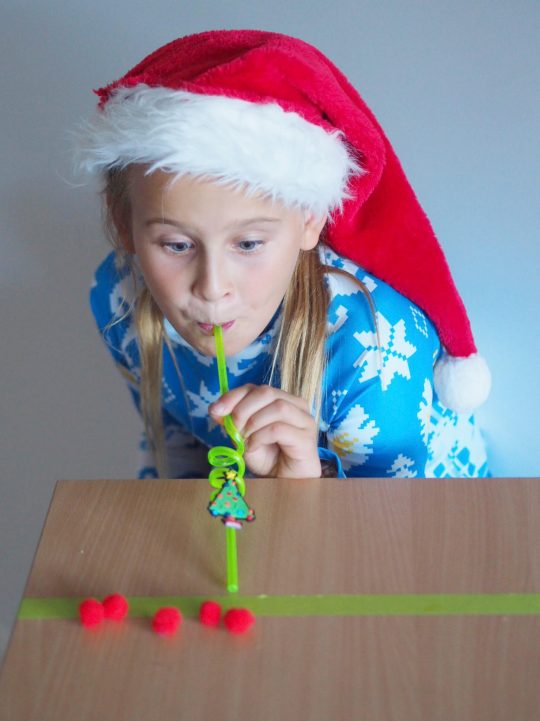 For this game you will need some tape, some festive pom poms and a straw. Create a finish line using the tape. Players have to use the straw and blow as many pom poms across the finish line as possible. The player with the most pom poms after one minute will win!
Chocolate Stack
Players are given a pile of wrapped chocolates each. They will need to stack as many chocolates as they can in one minute. This can be a difficult one, so anyone can win!
We hope we've managed to give you some helpful tips and tricks to make sure you have a happy, tasty, pretty, fun and affordable Christmas!
ALDI has everything you need for the perfect Aussie Christmas no matter what your budget is. Make sure you pop in store to get all of your Christmas needs sorted. You can take a look on the ALDI website to see what is on offer ahead of going in store.
Jen & Lou xx
If you want to become a Fellow Fun Mum Member & receive all of our fun craft, recipes & activities as well as special offers & promotions – click the button on our home page:
Oh, and why not pop over and 'like' us on Facebook OR perhaps Twitter is your thing. You can also find us on Pinterest & Instagram too!        
We also have some fun video tutorials for you to view on our YouTube Channel.