This post is sponsored by Warner Bros. Consumer Products.
We were beyond excited to be given the opportunity to host a DC Super Hero Girls themed party for my daughter's 9th birthday! Mikayla loves watching the DC Super Hero Girls episodes on YouTube and role playing the characters with her friends at school, because let's face it, who doesn't want to be a Super Hero?!
I so wish DC Super Hero Girls had been around when I was a child. I was always getting in trouble for stealing my brother's action figures to play with. I clearly remember making plastic bag parachutes and tossing them off our veranda. So I think it's brilliant to see such an empowering brand for girls…especially their incredible DC Super Hero Girls LEGO sets!
I headed in to Big W to check out their party section (yes, they now have a MASSIVE section of their store dedicated to party supplies!) It didn't take me long to locate their vast range of DC Super Hero Girls themed party gear. They have EVERYTHING covered from plates to wall hangings, party bags and everything in-between. The range is bright, colourful and FUN! I was so pleased at how quickly the party table came together on the day, everything was simple to use and before no time we had a table that shouted "Let's get this party started!" You can view the whole party range in-store or online here.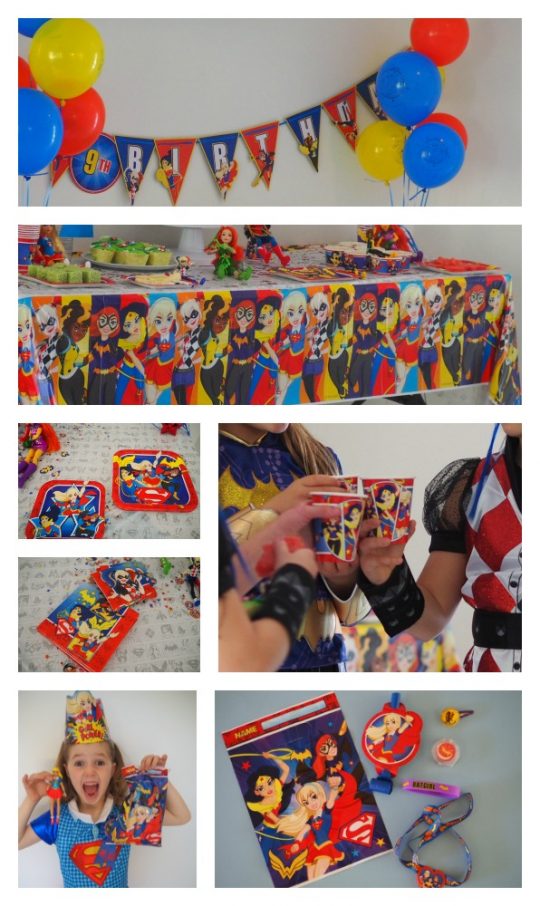 We made a selection of party food based on the DC Super Hero Girl characters with a Wonder Woman themed cake as the centrepiece.
The cake was so much FUN to make using blue fondant to cover the bottom layer and red to cover the second layer. I then decorated it with white fondant stars, gold fondant twisted to represent Wonder Woman's lasso and a gold headpiece also made from gold coloured fondant. I found a Wonder Woman cookie cutter online and used black and gold fondant to create her signature logo. Lastly, I used some gold edible paint to add an extra gold sparkle finish. I was really thrilled with how it turned out as the elements were really easy to put together.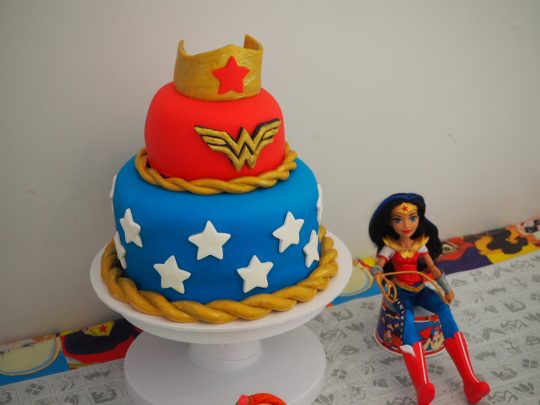 We also made 'Kryptonite' Rice Krispie Treats, Harley Quinn Cheese Hammers, Poison Ivy Cupcakes, Batgirl (no-bake) Cookies, Bumble Bee Popcorn Cups (with yellow and brown surprise M&M's to match her outfit) and Starfire Watermelon Stars!
Thanks to Mattel, we used a variety of DC Super Hero Girls dolls to add more Super Hero FUN to the table. You can find both the 12″ & 6″ dolls here at Big W and all other major retailers.
Warner Bros. Consumer Products kindly gifted us a range of DC Super Hero Girls dress up costumes for our guests to wear at the party. The girls were so excited to transform into DC Super Hero Girls when they arrived! The costumes had some great details and they really set the mood. The girls were suddenly in character and automatically started to role play and use their imaginations to start having FUN! You can find them all at Big W here.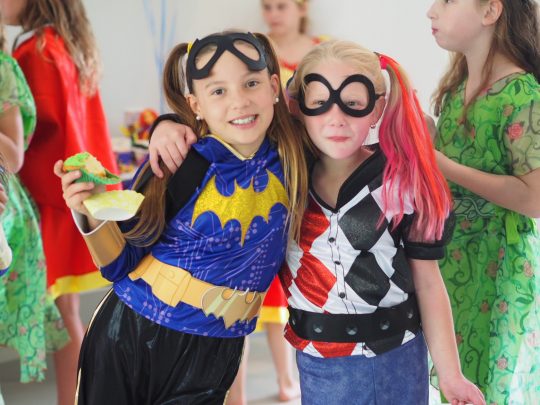 Once all our DC Super Hero Girls were ready, we headed into the backyard for some party games! These were all a HUGE hit and had the girls working as a team to complete the games. I really love how all the costumes gave the girls more confidence and it's almost like they were gifted Super Powers whilst wearing them!
You can check out the LIVE Facebook video we filmed during one of the party games below. This video features the awesome DC Super Hero Girls Super Hero High School zip line toy that can be found at all major retailers!
Here's a list of the FUN Super Hero Girl themed party games that we played on the day.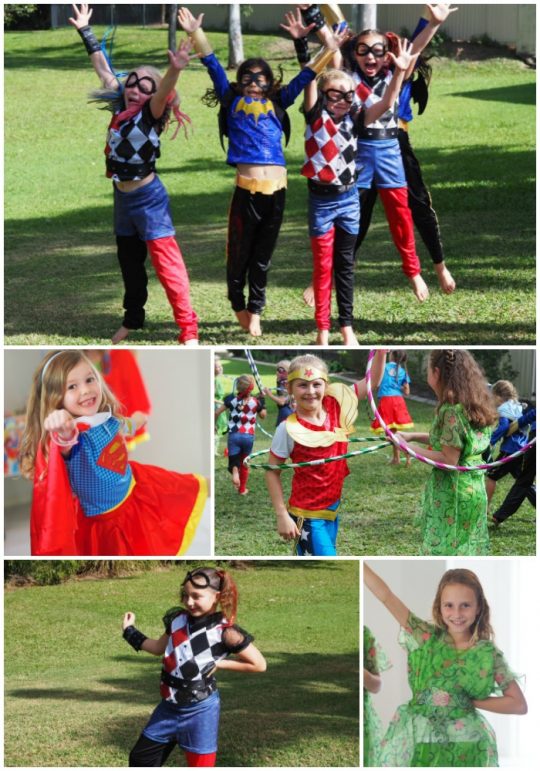 DC Super Hero Girls Tiggy– a fun spin on the classic game, where one DC Super Hero Girl must freeze in position when tagged and strike a Super Hero pose. To be free, someone must crawl through their legs.
Catch a Villain– Mum will play the villain in this game! She must run around whilst the DC Super Hero Girls try to catch her with their Lasso (a hula hoop). Once caught the Villain throws a couple of small prizes to 'buy' her release. The game continues until all the prizes are won.
Tug of War– this classic party game gives your DC Super Hero Girls a chance to show off their awesome strength.
Joker's Trap! In this game you need to keep your cool and not laugh at your opponent's jokes or funny faces. The person who can keep a straight face for the longest wins.
DC Super Hero Girls statue dancing – the girls will need to quickly strike a Super Hero pose when the music stops and freeze. Each player will be eliminated until they're the last person moving.
LEGO Party Games!
As I mentioned earlier, it's so refreshing to see the DC Super Hero Girls LEGO sets sold in major retailers! My daughter loves building with LEGO and these sets really allow her to use her creativity and imagination, as well as being able to look up to the female characters. The Wonder Woman Dorm is by far her favourite set as she loves how the invisible motorbike spins on the workbench. They have an amazing range including the DC Super Hero Girls 'Super Hero High School' – we're still working on putting this one together but we'll be sure to share it on Facebook as soon as we do!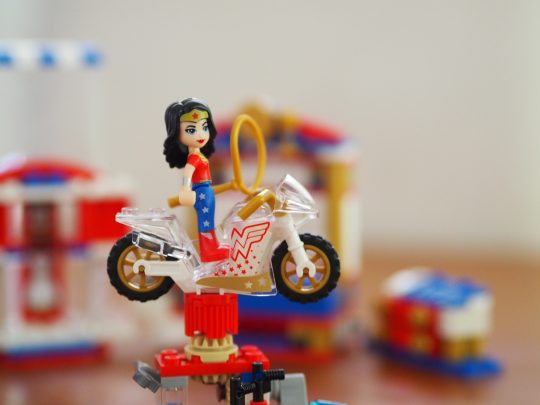 We decided to incorporate some LEGO games into the party. We ended with the LEGO building challenge and that gave the girls a good break from all the active outside games!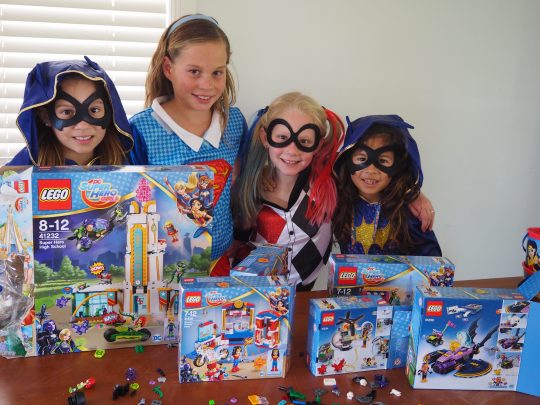 LEGO DC Super Hero Girls Relay! Why not add some LEGO challenges into your classic backyard obstacle course! For this game we set up hula hoops, skipping ropes, cones and had the girls race through in a relay. They had to quickly piece together Wonder Woman's invisible motorbike midway through.
LEGO Balance Race A spin on the classic egg and spoon race. Simply replace the egg with a Mini DC Super Hero Girls LEGO Figurine! It's harder than you think! And if you drop the figurine you have to go back and start again.
LEGO Treasure Hunt! We hid DC Super Hero Girls LEGO figurinesaround the backyard and the girls had to work as a team to rescue them all before they were rewarded their prize!
LEGO time challenge We set up two DC Super Hero Girls LEGO sets (that were the same difficulty) and had two teams race against each other to see who could complete the set first. This was not an easy challenge as the girls really needed to really work well as a team in order to win. Communication and delegation is key! They quickly put one team member in charge of sorting the LEGO, one in charge of reading the instructions and finally one person to clip the pieces together. It was so cool to see some leadership qualities emerging and the girls confidently constructing the awesome sets…in case you're wondering, Team Wonder Woman won this event!
This party was the BEST party we've ever thrown! We created a FUN video to showcase the action below (we've seriously watched it 100+ times at home). The best part is watching those HUGE beaming smiles of our mini DC Super Hero Girls whilst they worked as a team and built their confidence. The DC Super Hero Girls theme really captured the ideals that we want our girls to adopt – teamwork, friendship, individuality and discovering your full potential. These girls aren't going to be princesses that need to be saved, they'll be strong, independent Super Heroes!
You can find all of the DC Super Hero Girls products showcased either in-store or online at Big W and other major retailers across Australia.
Thanks again to Warner Bros. Consumer Products for making this part a reality! You've transformed 12 happy girls into DC Super Hero Girls and given them memories they'll never forget.
Lastly, you can catch us all singing Happy Birthday to Miss NINE via our Facebook LIVE video. I seriously don't know where the years have gone. I'm so proud of her leadership skills, confidence and positive energy! Mikayla is a real DC Super Hero Girl in my eyes.
Louise x
If you want to become a Fellow Fun Mum Member & receive all of our fun craft, recipes & activities, as well as special offers & promotions – click the button on our home page 
Oh, and why not pop over and 'like' us on Facebook OR perhaps Twitter is your thing. You can also find us on Pinterest & Instagram too!        
We also have some fun video tutorials for you to view on our YouTube Channel.