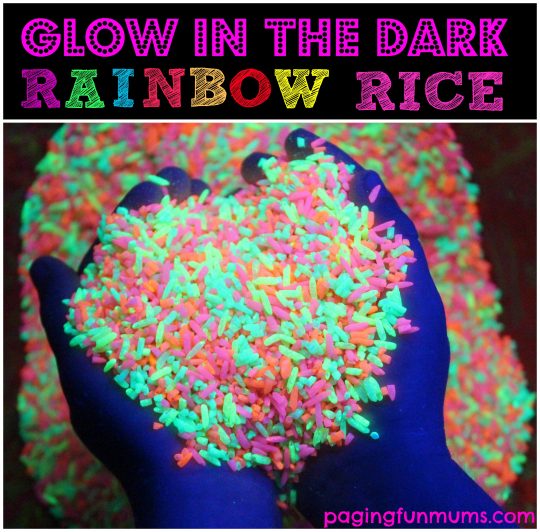 We love anything that glows! We've made Glow in the Dark Slime, Glowing Chalk Paint, Glowing Bath Paint, Glow in the Dark Fairy Jars and the list goes on!
This activity is super simple and SUPER fun. It doubles as a Sensory Activity too which is really important for early childhood development.
To make your own you will need:
Rice
Resealable Sandwich bags
Fluro Paints (we got ours from our local $2 shop)
Black Light
Step 1
Add the rice (about 1 cup) to separate resealable bags (depending on how many colours you would like). We did, yello, green and pink.
Step 2
Add a few squirts of the fluro paint into the bags, seal them up and squish around the paint until all the rice is covered.
Step 3
Empty the bags out onto a tray to dry (about an hour).
Step 4
Turn off the lights, turn on your black light and enjoy the show! The kids LOVE playing with this, it lights up so well and feels lovely!
Let us know by commenting below if you've tried one or more of our fun glow in the dark activities 🙂
Jen x
If you want to become a Fellow Fun Mum Member & receive all of our fun craft, recipes & activities as well as special offers & promotions – click the button on our home page 🙂 
We also have some fun video tutorials for you to view on our YouTube Channel.