I am in love with this idea and I will continue to do it over and over again! It's a wonderful keepsake for your own family, but it also makes for a beautiful thoughtful gift!
Check out this easy follow to video to learn how to make your own below!
To make your own you will need: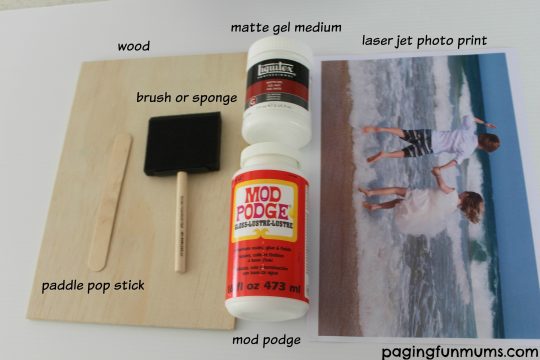 A printed photograph (using a laser printer) onto regular printing paper MUST BE LASER PRINTS, NOT INKJET
A piece of wood – I used a thin ply wood, but you can use any but make sure it's nice and smooth
Mod Podge
Gel medium
A brush/sponge
A wet tea towel
A smoothing tool (I used a large paddle pop stick)
Step 1
Paint your gel medium onto the FRONT of your image. Spread it nice and evenly
Step 2
Place the photo FRONT side down onto your wood and smooth out any bumps or lumps using your smoothing tool
Step 3
Let this sit over night
Step 4
Using your wet tea towel, gently rub onto your paper in a circular motion and slowly remove the backing of the paper (the gel medium will adhere your image to the wood)
Step 5
Once all the paper has been removed, finish your project by painting a generous (but even) layer of Mod Podge over the top to seal it!
Step 6 (optional)
Decorate with embellishments – I used seashells as it went well with my image
So beautiful and so simple!
*note – when you place the image down on the wood it will come out reversed (or mirrored), so before you print out your image, make sure you flip it on the computer so that it will come out correctly on the wood.
We have some other fun video tutorials for you to view too! You can check them out here.
We have plenty of other beautiful DIY keepsake ideas that you can check out here.
If you want to become a Fellow Fun Mum Member & receive all of our fun craft, recipes & activities as well as special offers & promotions – click the button on our home page 🙂