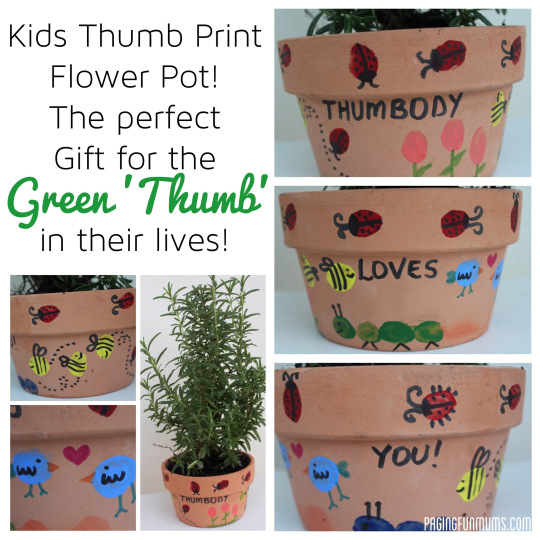 My Mother loves gardening – flowers, plants, herbs, you name it, she LOVES it. The kids and I wanted to make her something special for Mother's Day so we thought a 'Thumbprint Pot' would be perfect! We especially love the message "Thumbody Loves You" too cute!
You will need:
Paint (we used acrylic)
Paint brush
Pot (we have used a terracotta one here, but you can use whatever you like)
Spray adhesive (we used Craft Smart matt spray)
Permanent pens
Potting mix
Plant/flower or Herb of your choice
Some cute little thumbs!
A great little tip is to paint their tiny thumb rather than dipping it into the paint – this ensures a smoother print (and more importantly…less mess!).
So paint your little thumbs and print them all over your pot.
I already had a 'garden' theme in mind, so I wanted lady bugs, flowers, bees, caterpillars and birds. Co-ordinate your colours to match the creatures you want to create & have a basic plan in your head of where you would like everything to go : )
Once you have made all of your prints, let it dry completely (we left ours overnight, but I imagine it would need at least 2 hours). Then you can draw in the remaining parts with the permanent pens. We added spots for the lady bugs, stripes for the bees, beaks & feet for the birds etc – you get the drift ; )
We also added the cute little message 'Thumbody Loves You"…cute touch right  : )
Then spray your project with your spray adhesive – this will ensure your prints lasts longer & will be a little more water resistant!
Now you have finished decorating your pot, add your potting mix and choice of plant!
I know my Mother will love this & it will be something she will cherish…there's nothing sweeter than the cute little thumb prints of your Grandchildren!
If you do this project, we would love to see some photos! Post them in the comments below : )
You may also like our:
If you want to become a Fellow Fun Mum Member & receive all of our fun craft, recipes & activities as well as special offers & promotions – click the button on our home page : )