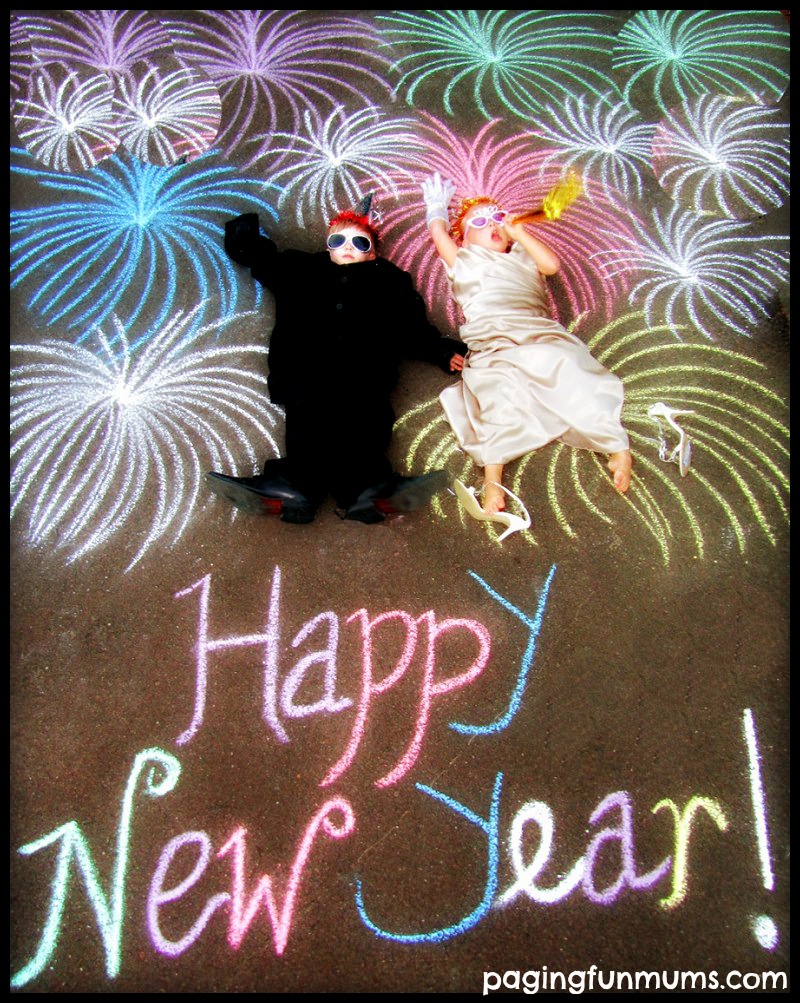 We took to the street again this week for some more Chalk Fun! With New Years Eve right around the corner, we thought this would be a great inspiration! We had the idea to dress up the kiddies in formal attire to make it look as though they were heading out to a fancy New Years Eve Ball! An old Suit and Bridesmaid Dress did just the trick! We then hit the $2 store for some party gear – party hats, sun glasses, gloves, and of course party whistles and horns! The kids loved dressing up – don't they all! They just looked so adorable in their giant clothes! I think we managed to wake a few neighbours with the blowing of the horns & whistles too!
There are so many fun activities to do with the kids on New Years Eve! Why not try making your own party poppers? Just take some toilet paper tubes, fill them with confetti, glitter and little lollies (if you wish), wrap them in tissue paper, tie off each end with a ribbon and voila personalised party poppers! (you might want to do this little activity outside ; )
Another nice idea is to create a 'Time Capsule'…this activity would involve kids of an older age – I'd say from about 6 onward.  Get all the family together and fill a shoebox or Mason Jar with photos, drawings, art work etc that represented your highlights for the past year. You could even add a list of 'favourite' things for each child. For example: favourite song, favourite food, favourite toy. They can then look back each year and see how their taste has changed.
It's also nice to ask each child what their New Years Resolution is! They might want to conquer writing their name, or climbing that big mountain, or learning to ride a bike. It's lovely for them to have a goal and to accomplish it!
We wish you all a very Happy New Year from us here at Paging Fun Mums!
If you love 'Chalk Art' you will also love these Photos,  Teacher Appreciation Chalk Art and our Back to School Art.
If you want to become a Fellow Fun Mum Member & receive all of our fun craft, recipes & activities as well as special offers & promotions – click the button on our home page : )