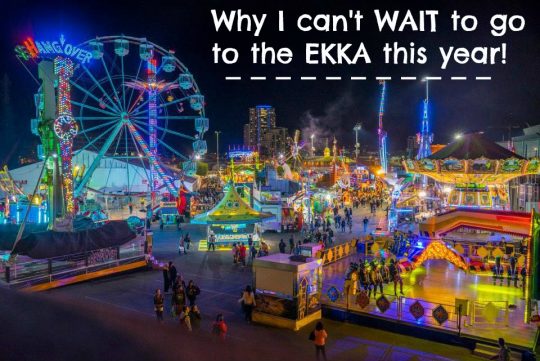 Another year has rolled around and it's finally Ekka time! As you know, I LOVE the Ekka and have done ever since I was a little girl. Every year, we were lucky enough to go, get 3 showboats, 3 rides a Strawberry Ice cream and of course the quintessential Dagwood dog! My Dad used to go every year as a child too and has happily passed down his love of the Ekka to me.
Look at the size of the bad boy! You can get 'footlong' Dagwood Dogs now! That's exactly what we did! If it's not bigger than your head, then it's not big enough.
The family Ekka baton has been handed across to my kids and they share the same joy and nostalgia for it that I do and that of my Daddy-o!
This is my daughter at her very first Ekka…not much has changed!
The trick to get everything you want from the Ekka is to plan! Click here for the map of grounds so you can see where everything is located this year.
There is so much on! Plenty of rides at Sideshow Alley, The Wood Chopping Shows, the animals, the Showbag Pavilion, the music…I could go on and on by you may as well pop on over to the Entertainment Guide here. The best tip I can give you, is to make sure you get a ride on the Ferris Wheel first, this gives you a great view of where everything is located and gets the kids super excited for what is ahead!
I mean look at it!
There are so many cool photos ops this year!
You may come across some very cheeky goats!
You NEED to get a Strawberry Ice cream – I mean, have you even been to the Ekka if you haven't? Make sure you upload your Ice Cream pics and tag @thecommongood and use the hashtags #thecommongood #theekka to get featured and to spread the word about the amazing work they are doing! Check them out on Instagram!
Check out some more images of our day on our Instagram page. You can check out a bunch of cool stories whilst your there too!
What is your favourite part of the Ekka?
Jenni x
If you want to become a Fellow Fun Mum Member & receive all of our fun craft, recipes & activities as well as special offers & promotions – click the button on our home page 🙂
We also have some fun video tutorials for you to view on our YouTube Channel.