This post is sponsored by Crock-Pot.
We all know the pressures of providing healthy home cooked meals for our family, throw in afternoon extracurricular activities like swimming, music, dance…the list goes on! Just the mental pressure alone with thinking of what to cook, what groceries you need and how the heck you're going to have it cooked in time so your kids can get to bed on time (let's face it, that's usually a welcomed time of the night for us parents!). Well we have great news! Jenni and I were recently sent the new Crock-Pot Express Crock Multi-Cooker to test out and it has been a major game changer for us!
The Crock-Pot Express Crock Multi-Cooker is jam packed FULL of awesome features! It's seriously a one pot wonder! Not only has it saved us time in the kitchen but it's also saved us a lot of washing up!
The Crock-Pot Express Crock Multi-Cooker is 5 appliances all rolled into one, it can slow cook, pressure cook, brown/saute, steam & cook perfectly fluffy rice! It has 7 one-touch meal settings OR you can manually set it for any recipe you desire. I love the keep-warm setting because once the timer finishes on your meal it automatically switches to keep-warm (unlike my old slow cooker).
Let's talk about the pressure cooking feature. Most people would have heard about a pressure cooker (or even have one in the back of their cupboard). I myself had never used one before and I can't believe how much of a game changer it has been for me! It cooks food around 70 times faster…that means I can whip up healthy family meals in under 15 minutes…using the ONE pot! And did I mention it's dishwasher safe and can hold 5.7 litres? That means you can do a DOUBLE batch of dinner and have enough for the next night too. Winning! The bowl itself has a round shape which makes it so much easer to fit inside my dishwasher (unlike my bulky old slow cooker).
We've been cooking up a storm and can't wait to share all the delicious recipes with you over the coming weeks! Like the one pictured below (Soo's Moroccan Lamb! – HUGE hit with the whole family!). Find the full recipe here.
Or this easy Pressure Cooked Beef Stew! Recipe coming soon!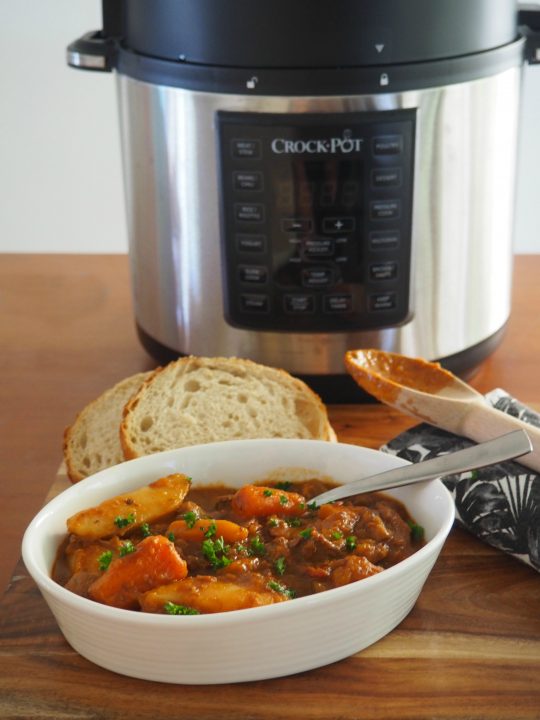 In the meantime, do yourself a favour, take the pressure out of your weekly meals and purchase The Crock-Pot Express Crock Multi-Cooker – the recommended retail price is only $149.00 AUS. I think that it excellent value for money and have been super impressed with how well it cooks and how much time I've saved. Find all the details for The Crock-Pot Express Crock Multi-Cooker here including some of their own fabulous recipes.
We've also started a new Pinterest Board LOADED with great meal suggestions (you can follow it here.
Lou & Jen x
If you want to become a Fellow Fun Mum Member & receive all of our fun craft, recipes & activities as well as special offers & promotions – click the button on our home page 🙂
Oh, and why not pop over and 'like' us on Facebook OR perhaps Twitter is your thing. You can also find us on Pinterest & Instagram too!        
We also have some fun video tutorials for you to view on our YouTube Channel.