My son just turned 10 and when we were researching present ideas we came across the amazing Spacetalk Smartwatch. My son had been hounding me for a watch that counts his steps (as all kids seem to do these days), but when I came across the Spacetalk Smartwatch I knew this was the watch for me…erm him. As it turns out, this watch is more of a present for me. He of course, was beside himself with excitement at the prospect of a watch that can step count, receive text messages and make calls, but for me the sheer level of safety and comfort this product offers me as a parent is beyond any of that.
Let me walk you through exactly what this amazing Australian designed watch can do!
Tracking: The watch is synced directly to the AllMyTribe App which is downloaded directly on my smart phone. Using the Telstra 3G network and GPS tracking I can see in real time exactly where my son is at all times! I can even set up 'safe zones' via the app which alerts me when my son has (or hasn't) arrived at a particular location. I can track my son's whereabouts via the 'location on demand' feature. I simply request it and it sends me my son's exact location when I ask for it. I can also message him and he can send me his location from where he is.
Step Counter: All active kids these days love to see how many steps they've done each day and often compete with each other at school. The Spacewatch does this…and keeps a history on my app. I can see just how active he was (or wasn't) during his day.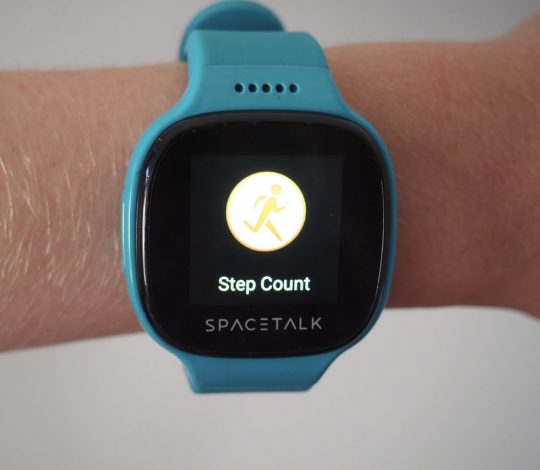 Send and receive calls and messages: This is such a wonderful feature to have. If I'm running late for the school run, I can simply send him a message to let him know. I can also call him if need be. You can put the watch into 'school mode' which will make the watch vibrate when called so as to not disturb class time. Only people that I load into the app can contact my son – I've added the Grandparents and a select few friends and family members. Any 'unauthorised' calls are alerted to me via the app. My son can call the pre loaded contacts at any time too (although I've made sure that he needs to ask us first unless it's an emergency). Also, all of my son's data is stored with high grade security in Australia under strict Australian privacy laws. (this is often not the case for some of the cheap watches you may come across online). My son's data is obviously really important, so it's great to know it's extremely safe and secure.
With the message feature – he can only reply back with pre loaded messages that I've added in via the app. This is great because we all know the urge for youngsters to get on the social bandwagon. That's another great feature of this watch too – he won't have access to any social media or internet. I know what he sees is controlled by me and he's not getting drawn into the vortex that is the internet. It's like having a mobile phone without the distraction.
Stop Watch:
The stopwatch function comes with a lap timer so my son can measure his progress for competitions etc. He actually uses this function for his flute practice in the evenings…he has to do 10 minutes per night so he uses the stop watch feature to time it.
SOS Feature: This is another super smart feature. If (heaven forbid) my son is ever in a situation where he feels unsafe ie: he is lost, he feels threatened etc, he simply needs to press his SOS button on the side of the watch and anyone that is on the 'Emergency Contact' list will be alerted. We can access the app and track his whereabouts and of course call him to make sure he's ok.
Alarms – I can set as many alarms as I like to remind my son of things to do throughout the day. For example "don't forget to bring home your flute", or "you have band practice today", or "meet your sister at her classroom". Just another thing to take off the 'mental load' list of a parent. It also helps the kids to be more independent and responsible.
24 hour battery life: The Spacetalk Smartwatch comes with an adorable magnetic charger which attaches to the back of the watch. Your child can charge it every night ready for the next big day ahead. If you wind back the Auto GPS updates to hour intervals your battery life goes up to 40 hours! This makes safe zones less effective but it's a choice of what's important to the user.
There are plenty of other cool little features too – like adding individual photos to contacts names – he loves it when my silly face flashes up when I call. You can change the watch face and wallpaper at any time – he's currently sporting a 'Beyblade' image. He loves this feature.
He's the coolest kid in the playground too. Never would I have thought that we would have the type of technology that Dick Tracey had – remember he had a phone watch and we are all so mesmerised. Well it's no longer a TV show myth, it's in real life and it's such a great tool for the safety of our family.
This really is a smart product that has become a real game changer in our family. I can feel more confident in letting my son do more things such as walk to his friends house – things that I wouldn't normally be comfortable with but because I can track exactly where he is, I can now help foster some independence within my son and let him experience what it was like in the 'good old days' as a kid – remember when we were told to come home when it was dark!
As I mentioned, Spacetalk is designed in Australia – it's been specifically designed to work with the Telstra network so the coverage really is amazing. Let's face it, if we're tracking our kids, we want to make sure they're on the best network available.
The Spacetalk Smart Watch is splash proof, dust proof and built with kids in mind. It is made really well, it's super easy to set up AND is also very user friendly.
Using this watch is a breeze, simply download the AllMyTribe app and sign up for your subscription. It's only $5.99/month for 2 devices or up to 5 devices for $8.99/month. The watch works wonderfully on the Telstra Network (it's not advisable to use the Optus or Vodafone networks as they use a different band so coverage can be affected). I have set up our watch with the $10/month Belong Plan – it provides us with a sim with 1G of data – plenty for my 10 year old. So for the cost of a few coffees a month ($15.99), I know my son is safe, I have peace of mind and access to a quality service.
We are giving YOU the opportunity to get this amazing watch at a discount! Simply head to this link and use the code
FUNMUMS30
to get $30 off! (Expires – 28th of September 2018).
There are no discounts running for this watch ANYWHERE at the moment so this is your chance to get in, grab a bargain and get your family safe in time for Christmas! (There's also free express delivery!)
You can check out a little video I have put together on this amazing product below:
I cannot tell you how impressed I am with this product. I can't fault anything about it. It has given our family peace of mind, some more independence for our 'tween' AND a cool son that looks like a real life Dick Tracey! What's not to love?
Head on over to AllMyTribe to order yours now. This product will change your life and keep you connected, safe, secure and independent!
If you want to become a Fellow Fun Mum Member & receive all of our fun craft, recipes & activities as well as special offers & promotions – click the button on our home page 🙂
Oh, and why not pop over and 'like' us on Facebook OR perhaps Twitter is your thing. You can also find us on Pinterest & Instagram too!        
We also have some fun video tutorials for you to view on our YouTube Channel.