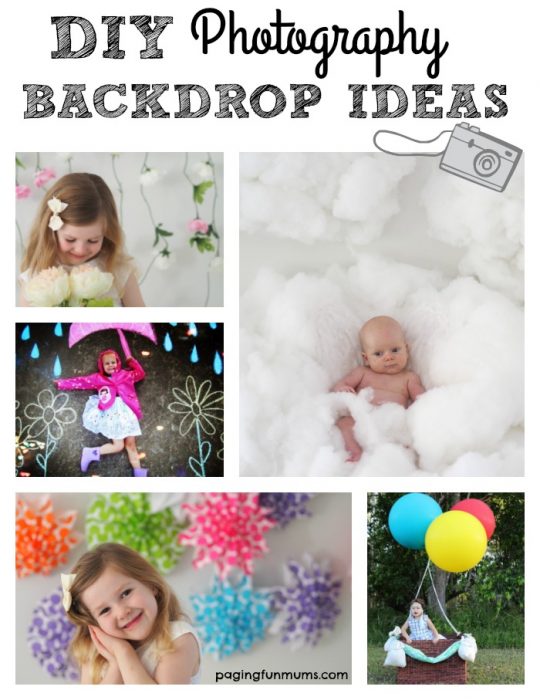 This post is sponsored by Olympus Imaging Australia.
Jenni and I love photography! By no means do we claim to be professionals though, we are just two creative Mums with two very clever cameras – our Olympus OM-D E-M10 Mark II . We became Olympus customers two years ago and have never looked back! We honestly LOVE how easy their cameras are to use and how compact and robust they are, two things that busy Mums need. In fact, all of these photos have been shot in AUTO mode – shock horror. We do like to play around with manual modes but we wanted to showcase these cameras to fellow Mums who might not be as into photography and are just looking for a great camera that can deliver professional results every time.
Recently we invested in a portrait lens for our blog (we made sure to tell our accountant how important photos are for blogging), we did make one BIG mistake, we thought we would easily be able to share the ONE lens between us but that hasn't been working out as well as we had hoped. We currently share joint custody of the lens and neither of us is happy to part with it from week to week!
Don't get us wrong, there is nothing wrong with the kit lens (it takes amazing images and you really couldn't NOT have it) but the portrait lens is AMAZING for capturing beautiful images of children in particular. The clarity and detail in the photos are just so amazing and professional looking!
As soon as we purchased the lens we decided to plan a date to make some fun backdrops and learn to use our cameras a little more, we made a bright Paper Bag Flower Backdrop, Cloud Backdrop and also a Flower Curtain Backdrop – all of which were easy to create and use at home. We aren't lucky enough to have our own personal photo studio so we set these backdrops up in a room filled with lots and lots of natural light and at one point we used a car heat reflector to reflect some extra light onto our subjects.
Paper Bag Flower Backdrop 
This is such a simple and FUN way to add some dimension and colour to a backdrop, whether it's for a photography shoot or birthday party! You can watch the tutorial video below to see how easy they are to create using 10 paper bags and some double sided tape. We used a simple rod suspended from the ceiling using several 3M fasteners and some fishing line to hang the paper flowers.
You can see more of the behind the scenes action on our Facebook video here.
DIY Cloud Backdrop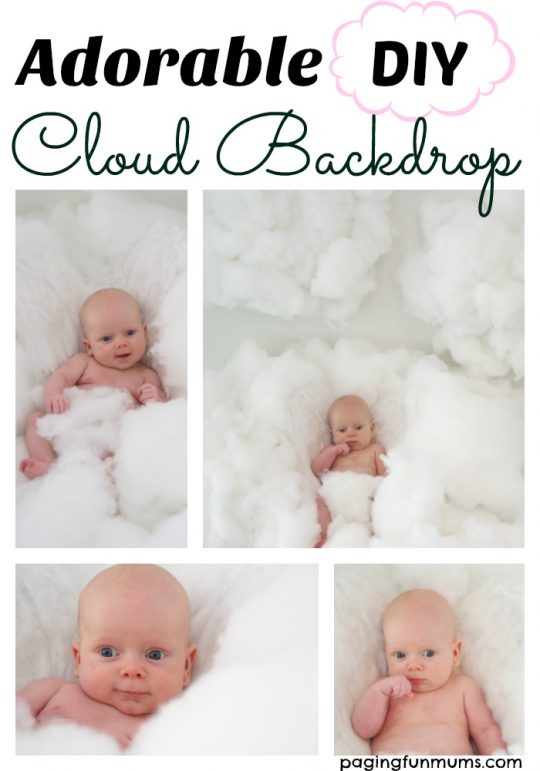 We love the idea of having an 'Angel' photo shoot so we decided to make this simple yet adorable Cloud Backdrop.
To make your own you will need:
Pieces of Corflute or thick cardboard
Hobby Fill (0r as we call it 'Craft Fluff')
A pen/marker
Scissors
Glue Gun
3M wall hangers
Step 1
Draw a cloud shape onto your coreflute/thick cardboard and cut it out
Step 2
Glue on your 'Craft Fluff' in chunks starting around the edges of your cloud and piling up until nice and fluffy
Step 3
Peel off the backing of the 3M stickers to the back of the cardboard clouds and adhere closely together to a wall.
We then used a small child's chair (to prop up our precious bubba), covered it in a white sheet, then covered in the 'craft fluff'. Making sure it was nice and padded.
The results of this photoshoot was just darling! What a gorgeous baby!
Easy Flower Curtain Backdrop 
For this easy backdrop we used some fake flower strings we found at Spotlight. We chose these so we could re-use them for parties or more future photo shoots, we simply attached them to the wall using the clever removable 3M sticky strips. You could use fresh flowers threaded onto some fishing line too. We loved how simple this shoot was to put together and the end results will be adorning our home's walls very soon. We used the  Olympus OM-D E-M10 Mark II with the portrait lens for these images.
Chalk Backdrop Idea!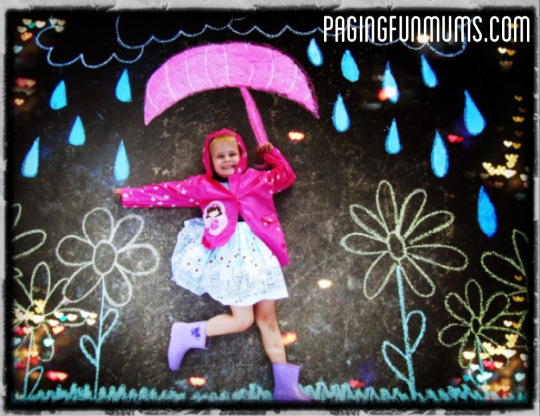 Sidewalk chalk is a fabulous medium to create a huge range of photography backdrops! You're only limit is your imagination. We've shared a whole range of ideas here. For these photos we would choose to shoot with the kit lens as you need the whole canvas and subject to be in focus.
DIY Hot Air Balloon Prop!
Okay, this one isn't technically a backdrop but you can easily use this indoors and it's just too fun not to share!
What you'll need –
Extra large helium balloons
Large wicker laundry basket (we purchased ours from a second hand store)
Rope
Calico bank bags filled with stuffing
Simply attach the balloons to the basket using the rope and hang the calico 'weights' around the outside. Done. We used this as a photo booth for my Son's birthday party and it was a HUGE hit!
We hope you enjoyed these FUN photography ideas and hope they've inspired you to plan and create your own mini photo shoot with some friends or perhaps even your Mother's group. You can find all the information on our Olympus OM-D E-M10 Mark II here  and the additional portrait lens here.
Jenni & Louise xx
If you want to become a Fellow Fun Mum Member & receive all of our fun craft, recipes & activities as well as special offers & promotions – click the button on our home page 🙂
We also have some fun video tutorials for you to view on our YouTube Channel.