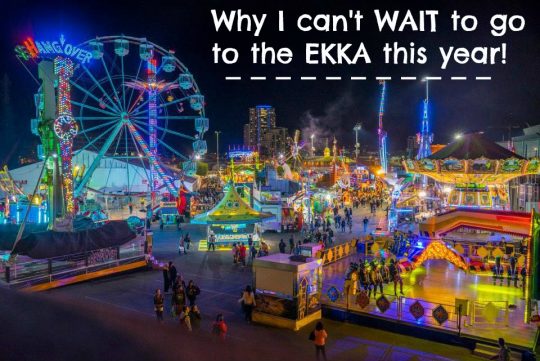 I've been coming to the Ekka ever since I was a little girl. We didn't have buckets of money growing up, but there was always enough to go to the Ekka, have a Dagwood Dog, a Strawberry Ice Cream, 3 rides each & 3 show bags each. I have such fond memories and believe it or not, the smell of cow poo makes me super happy lol!
When I had my first child, my Dad was super excited for him to get big enough to take to the Ekka…it was only two years that went by before he got his first taste. Of course he LOVED it! Especially now they have a little kids area with age appropriate rides including ponies. Then when my daughter came along…she didn't quite get to two before she got her first Ekka hit. Check out the photo of her eating a Dagwood Dog that is practically the size of her head!
My son is now 8 and my daughter now 5. We have missed the last two years of the Ekka due to circumstances we couldn't change..but this year WE ARE ACTUALLY GOING! I can't wait!
The rides, the smell of popcorn, the wood chopping show, the crowds and that feel of my childhood excitement are among just a few things I am looking forward to!
We'll be heading there next Thursday (the 11th of August). I'll be coming to you LIVE on Facebook and dropping some happy snaps on Instagram. Make sure you come along and say hi!
Here's a map of this year's Ekka to help you too!
Head to the Ekka Website to find out what's on! Did I mention I was excited?!
Jenni x
If you want to become a Fellow Fun Mum Member & receive all of our fun craft, recipes & activities as well as special offers & promotions – click the button on our home page 🙂
We also have some fun video tutorials for you to view on our YouTube Channel.