This DIY No Sew Crayon Costume was so easy and FUN to make! It's amazing what one can acheive with some felt, a glue gun, safety pins and some cardboard lol!
We made this for my daughter's Book Week costume however we think it would also make a FUN Halloween Costume! We LOVE the book 'The Day the Crayons Quit' by Drew Daywalt! We've read it hundreds of times so it was an easy choice of costume for this year's Book Week parade at school.
What you'll need –
Long sleeve top and long pants in your choice of crayon colour (these won't get damaged you'll just be attaching some safety pins to the fabric).
Felt in your Crayon colour (we chose pink and used 1 meter – enough to wrap around my 7 year old)
Black felt (we purchased 40cm off a roll at our local Spotlight Store).
Glue Gun and extra glue refills
Scissors
Wide black tape
Box cutter (Stanley knife)
Safety pins
Face paint in your Crayon colour
Large sheet of card stock in your chosen colour (to make the hat)
Masking tape or double sided tape
Elastic
Instructions – 
I started by drawing the 'Crayola' logo onto the black felt using…you guessed it a white Crayola Crayon! I then cut around the logo and glued it using a hot glue gun vertically along the pink felt fabric. I then made the black swirl design by carefully cutting a swirl pattern down the middle of some wide black tape.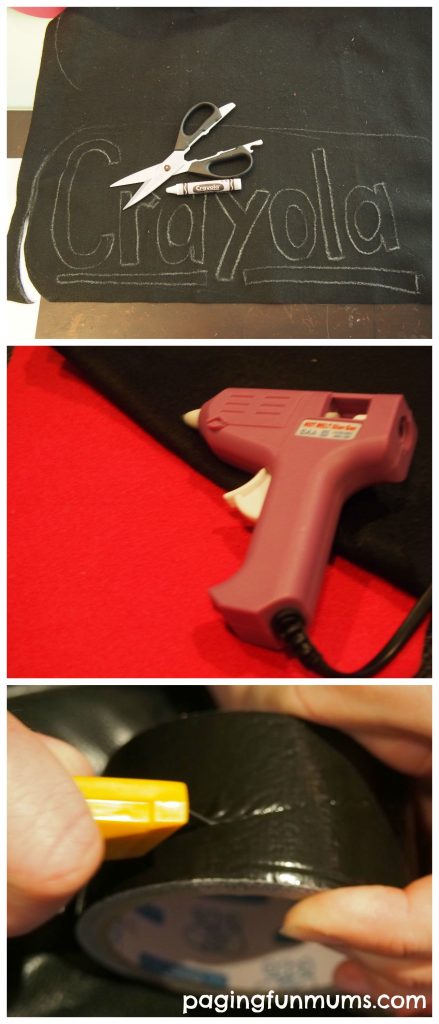 I secured the long pink felt to my daughters top using safety pins and then stuck the swirl tape around the top and bottom to finish the 'Crayon' look. *Tip – we kept the bottom at the back open so she could easily walk…because nobody wants to fall over on their Book Week Parade!
I created the hat by taping the card stock into a cone shape, we then cut the top on an angle and filled it with a circular piece of card. We secured this section to her head with a string of elastic under her chin. Finally we cut a circle to fit comfortably around the top of her head to create a hat that looked similar to the shape of a crayon head. Of course we couldn't help but add some pink face paint lol! (You can see the hat is not perfect from the top but it looked great front on).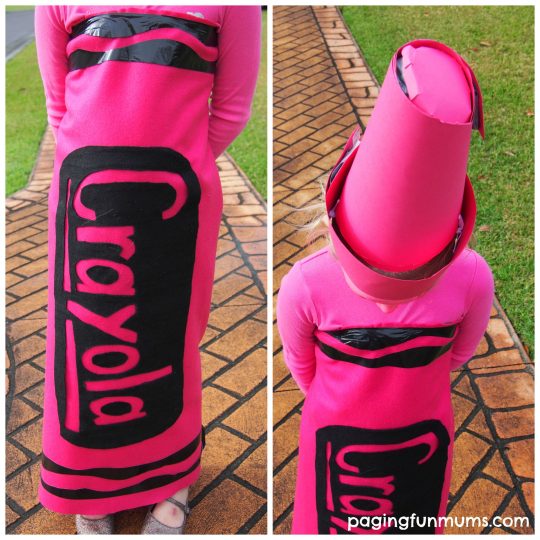 We hope these instructions are easy to follow and you give this a go with your child! We also highly recommend you read 'The Day the Crayons Quit' by Drew Daywalt! Please feel free to ask any questions in the comments section below.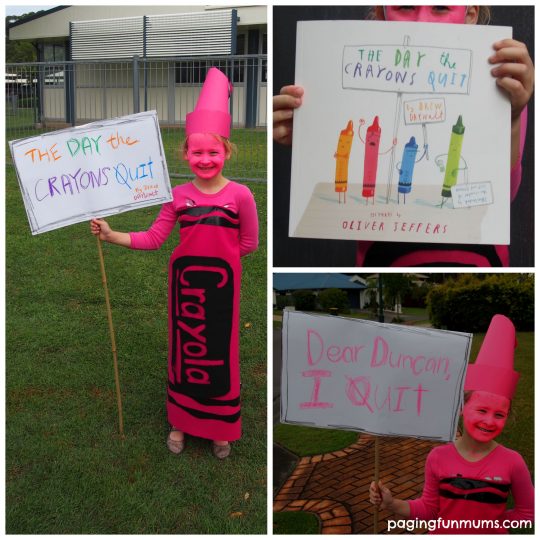 Did your children dress up for Book Week? Why not upload some photos to our Facebook wall or tag us on Instagram so we can check out your awesome costumes!
Louise x
We have some fun videos for you to view too! You can check them out here.
If you want to become a Fellow Fun Mum Member & receive all of our fun craft, recipes & activities as well as special offers & promotions – click the button on our home page 🙂