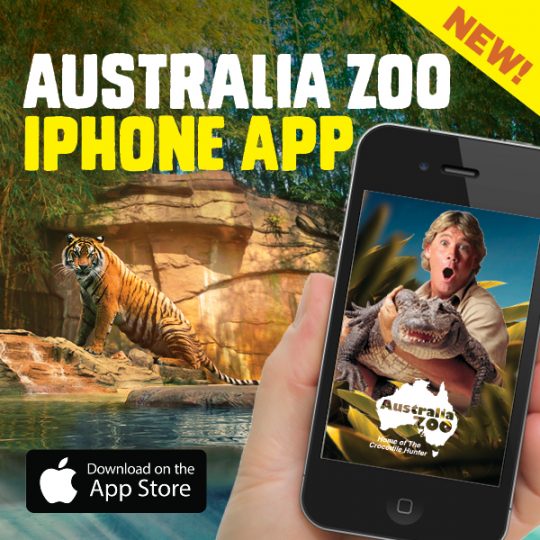 Jenni and I are so lucky to live on the beautiful Sunshine Coast here in Queensland, Australia! One of our most favourite places to visit is Australia Zoo – Home of the Crocodile Hunter!
We recently visited with our combined 4 children over the school holidays and were so impressed with how easy it was to get around, Australia Zoo was built for big crowds!
Little known fact is that I myself worked for Steve and Terri at Australia Zoo for many years before going on maternity leave…I would have returned to work if it had not been for this AMAZING blog that Jenni and I started together. It's such a great privilege to be writing this post and advertising a place that feels like my second home and for people that are still like my close family!
We ran into Frank (the Zoo's General Manager) on our way into the Zoo and he was excited to tell us about their new iPhone app! We immediately downloaded it and were so impressed with all the amazing information and how easy it was to navigate! I even learnt new things and I worked there for years!! It's FREE and a MUST get if and when you plan a visit to Australia Zoo! But it's also a fantastic learning tool for children or anyone who is interested in animals or Australia Zoo! Check out a few screen shots below and download it for FREE here!
Australia Zoo is proud to be the most interactive zoo on the planet, offering up-close animal encounters and wildlife experiences for guests (with over 1,200 native and exotic species). This app further enhances visitors experiences with compelling imagery, with lots of exciting animal facts, exhibit information, show times and locations, as well as hints on how to book an encounter and where to enjoy lunch – plus they've even included a day planner and show reminders to help guide you through your ultimate wildlife adventure! Jenni and I had so much fun on our last visit and were able to share so much more 'extra' knowledge with our children (thanks to this new app – it's like having a personalised tour guide).
We were thrilled to experience some of the close-up action with the Giraffe encounter! We were able to hand feed the Giraffes! Jenni and are both in LOVE with Giraffes so this was such a special encounter to share with our family! Master 3 is usually terrified of large animals but surprisingly even he was thrilled with the opportunity to feed them! You can find all the information on how to book these special encounters here.
The LIVE Crocodile Show was a major highlight for us all and brought back many happy memories for me, I recalled Steve doing the exact same things back in my working days (like the time they did their first ever 'death roll' in the Crocoseum! We're pretty sure all our children want to be a Zoo Keepers at Australia Zoo now!
We look forward to sharing more action and adventures from Australia Zoo in the future! And perhaps even organising a few FUN qiveaways for our readers…watch this space and be sure to sign-up to our newsletter here so you don't miss out!
Check out a few action shots we shared on our Instagram account below!
Meet Freya, a beautiful orphaned Koala and make sure you visit Wildlife Warriors here to learn all about the Australian Wildlife Hospital and what you can do to help them save our Aussie Wildlife!

Jen & Lou xx
We were guests at Australia Zoo and were not paid for this post.
If you want to become a Fellow Fun Mum Member & receive all of our fun craft, recipes & activities as well as special offers & promotions – click the button on our home page 🙂 You might also enjoy our FUN YouTube channel here.