These Breakfast Banana Bites are an easy, different & fun way to serve breakfast. You'll only need three ingredients & you'll have yourself a delicious & nutritious treat that the kids will love (and so will you)! They are great for a brunch, party treats or an everyday before school treat! You can even freeze them and pop them into a lunchbox.
To make your own you will need:
Bananas
Greek yogurt (you can use any yoghurt you like)
Muesli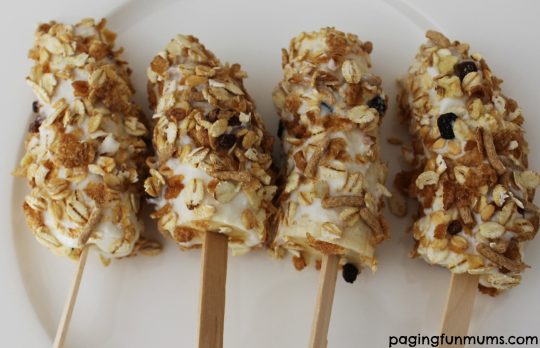 Method
Step 1
Peel your bananas
Step 2
Roll them in the yoghurt (using a plate)
Step 3
Roll that into the muesli
Step 4
Enjoy! So easy and delicious!
Jen x
We have plenty of other recipes for you in our 'Cooking with Kids'  section and we also have some fun videos for you to view too! You can check them out here.
If you want to become a Fellow Fun Mum Member & receive all of our fun craft, recipes & activities as well as special offers & promotions – click the button on our home page 🙂