We love to get creative with our Doodle Magic Mat from Crayola! It's the perfect Art kit with ZERO mess!
The best part is not when the children create their artwork…it's watching their faces light up whilst they spend an equal amount of time making it magically disappear using their Magic Eraser!
Watch this snippet of video of Miss 5 demonstrating here via Instagram.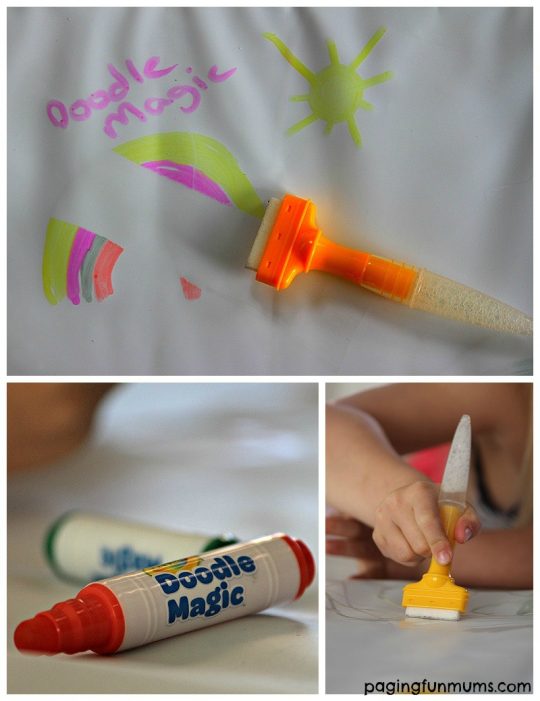 The Doodle Magic Mat is handy to take in the car, or on a plane trip – eliminating the need to pack pencils and an endless supply of blank paper!
It does say NOT to use these pens on painted walls… BUT I couldn't help myself (don't tell my husband OR the kids) I drew on our walls! You can watch my test video here via Instagram. You will never have to worry about mess with these Magic Doodle Markers!
We think this is a great product and excellent value for money – especially because it can be used and re-used again and again! It's a great size for siblings to share so they have plenty of room to create a masterpiece together – first time there was ZERO fighting for space from my kiddos.
You can buy them here in Australia from Toys"R"Us, Selected Toyworld stores and BigW (keep an eye open for their HUGE TOY SALE starting soon too!). Or you can head to Crayola's Website to read more information about this cool product here.
****UPDATED****
We have updated this post to show off the new and exciting Crayola Doodle Magic Travel Packs! These are mini versions of the one shown above making them the perfect addition to any travel journey or a great option when space is limited!
You can watch their Product Video via YouTube here.
Our lovely sponsors at Crayola have kindly given us 12 Doodle Magic Travel Mats to GIVEAWAY!! We thought they would be a great addition to a playgroup or school, so we've decided to give all 12 away to ONE lucky winner! In the hopes they gift them to their local school or playgroup :).
Entry is FREE and easy! Simply click on the image below to answer a quick question and complete your entry details. Good Luck Fun Mums!!
Crayola Doodle Magic Travel Packs

Louise x
If you want to become a Fellow Fun Mum Member & receive all of our fun craft, recipes & activities as well as special offers & promotions – click the button on our home page  
Oh, and why not pop over and 'like' us on Facebook OR perhaps Twitter is your thing. . You can also find us on Pinterest & Instagram too!