We are super excited to see Tie Dye is coming back into fashion! It's so much FUN to create designs with your kids at home. Today on the blog we're sharing this Strawberry Tie Dye Dress as seen on MY KITCHEN RULES!! That's right, in case you missed the BIG announcement – we're on a cooking show!! We would love for you to follow us here on our offical instagram account – @Jennilouiseau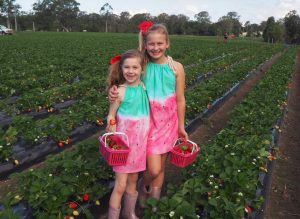 So let's get started with this easy tutorial!
What you'll need –
Plain white cotton dress or skirt.
Green & Red Tie Dye (you can find Tie Dye at any local craft store like Spotlight)
Rubber bands
Rubber gloves
Black Fabric Pen
Instructions –
Start by washing your dress and rinsing it well, you'll want your dress to be damp when you're applying the colours. We tied a rubber band where we wanted our Strawberry 'top' to end and another where we wanted the red to end (knowing that they might naturally mix between the two points).
It's best to lay the dress down on a rack so the dye doesn't pool under and mix together.
Once we applied the dye we actually laid the dresses in the sunlight to set (instead of wrapping them in plastic). The following day we rinsed them under running water until the water ran clear and then washed and ironed them ready for the fabric pen.
Draw your seeds onto the dress using the fabric marker. We drew an oval shape. Follow the instructions on the fabric pen to set the colour and then your dress is ready for action!
Our daughters loved wearing their dresses Strawberry Picking! You can watch them in action here on the My Kitchen Rules page-

Jen & Lou xx
If you want to become a Fellow Fun Mum Member & receive all of our fun craft, recipes & activities as well as special offers & promotions – click the button on our home page 🙂
We also have some fun video tutorials for you to view on our YouTube Channel.