Having kids is not the easiest solution to having a clean and organised car. Let's face it, sometimes our car can look like a war zone! There's car seats, snacks, toys and a myriad of endless things that make our precious vehicle…well not so precious! I've compiled a list of things that can help you put an end to all of that!
Get a Car Rubbish Bag!
These are a great way to store any rubbish whilst you are travelling to keep it spotless. No more food scraps or empty packets on the floor!
Or you can make your own using a plastic cereal container!
2. Ipad Holder/Kick Mat/Car Seat Organiser
If you're kids are into iPads or Tablets, then a Kick Mat/Seat Organiser with a Tablet holder is perfect! Great for keeping dirty little feet of the backs of chairs too!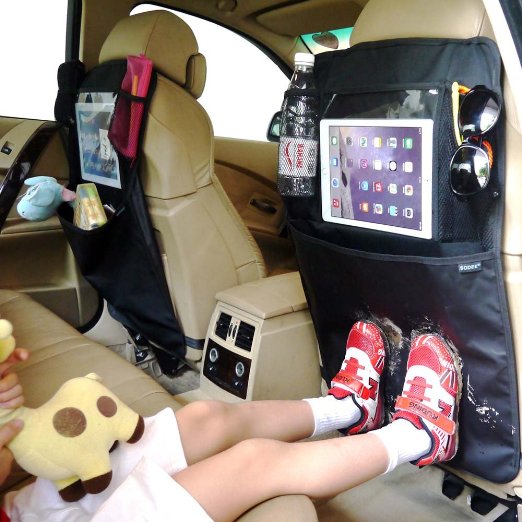 3. A back seat Toy Organiser.
These are a great way to store all of those loose ends that kids like to travel with! It also keeps them close at hand so you're not passing things whilst driving.
4. Car Seat Hanger
There's no need for things to be sliding around your car. You can use a contraption like this to store umbrellas and bags.
5. Visor Tissue Holder
Store your tissues in a holder that can fit on your visor. You can even get adorable plush ones that the kids will love!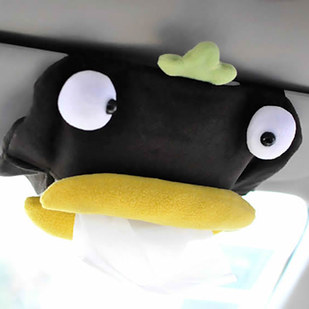 6. Car Clothes Carrier
Keep your clothes wrinkle free and transport multiple garments with a Car Clothes Carrier.  Great for toting school uniforms, dance costumes, sports clothes and more!
7. Organise your Glove Box with an Expander File
Store all of those important documents in one easy file!
Via Simplify 101
8. Side Seat Storage
Use your side seat for extra space with a Side Seat Storage Organiser! It's not being used for anything else, so you may as well keep things off the floor!
9. Use Shower Caddy's to organise your trunk!
You can use inexpensive shower caddy's to house just about anything! Perfect for draping over the back seats to store sunscreen, wipes, first aid kits, bug repellent, you name it!
Via: The Castro Family
10. Use a Remote Holder Under your Child's Car Seat for extra storage
You can run a remote holder like this under your child's car seat and it will hold pencils, snacks, toys,, books and other bits & pieces kids like to take with them. It also helps to protect your seat too!
Via: Ikea Hackers
11. Use an Auto Log
This is a great way  to keep track of auto maintenance and to keep track of everything required of your car!
Via: I Heart Organizing
12. Use an inexpensive Make up Bag to store paperwork and extra items
The bag will fit nicely into glove compartments or consoles or you could simply store it under the seat. You could use this for a first aid kit, make up or an entertainment pack for the kids.
Via: Pedals & Pumps
13. Use a Cup for a Tissue Holder 
You obviously want an unused cup for this, but what a genius idea! Just pop it in your cup holder and you'll always have those ever required tissues at hand. No need for giant tissue boxes floating around the car.
Via: Infarrantly Creative
14. Use a Catch Caddy
You know how you are always losing things between the seats! Well fret no more! Thew cool Catch Caddy's slot right in the crack between your seats so that never happens again.
15. Use Shower Caddy's and attach them to the windows
This is an easy way for your kids to access their things on a road trip.
Via: Grey House Harbor
16. Have on the Go Travel Pouches
You can use simple clear zippered bags to pack everything for your travels. From first aid kids, activity packs to snack packs – you have everything at your fingertips ready to go!
Via: I Heart Organizing
17. DIY Car Book Storage
Kids love books no matter where they go. Make sure your car is organised and books have a special place of their own!
Via: Kidsomania
18. Create your own Emergency Car Kit
When you're a Mum, you never know what you're going to need at any given time. So why not include an 'Mum Emergency Kit' in your car! You can add toothpaste, floss, hand sanitiser, panadol, tissues, cough drops, hair ties, breath mints and the list goes on!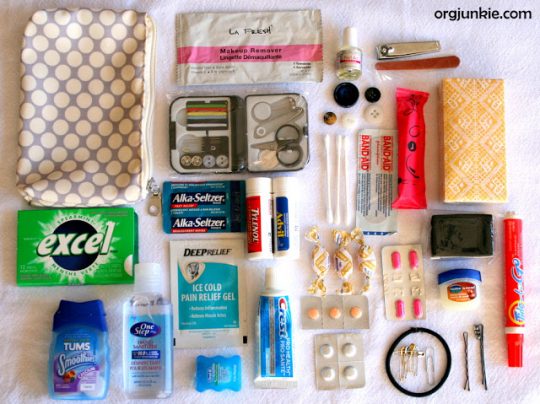 Via: Orgjunkie
19. Get a 'Driver Organiser'
Clip this little guy to your car and store your phone, sunnies and loose change!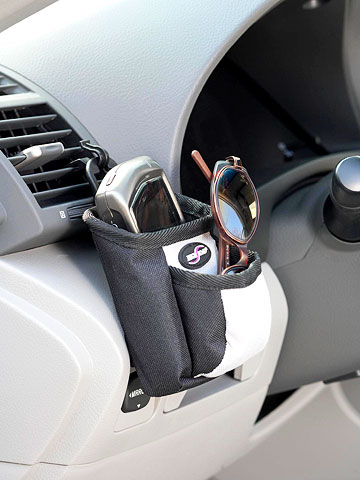 Via: BHG
20. Get your 'Flat Tire Situation' in check
Be prepared for that terrible time when you get a flat. Make sure you have a jack, wrench, tire pump and anything else you think you'll need and store them in your spare tre compartment.
Via: Ask Anna
We hope this had given you a few tips! Can you give us any? We'd love to hear about them in the comments below!
Jen x
If you want to become a Fellow Fun Mum Member & receive all of our fun craft, recipes & activities as well as special offers & promotions – click the button on our home page 🙂 
We also have some fun video tutorials for you to view on our YouTube Channel.