We recently had the pleasure of meeting with the beautiful musician Ben Lee.
Here's us!
https://instagram.com/p/8ZvJpmvUeN/?taken-by=pagingfunmums
Thanks to social media we got to know each other and finally met before his recent gig on the Sunshine Coast. He spoke about one of his many business ventures doTERRA Essential Oils. We were so interested to hear about this organisation as, not only do they have the best essential oils on the market, but they give back to the needy!
We were instantly attracted to Ben's passion for philanthropy, tried the Oils & we were hooked! You can use them for cleaning, cooking, enhancing the health of your family AND (as we were chuffed to discover) they make great additions to play recipes! These Aromatherapy Water Colour Paints are more than just fun to play with. They will actually help in your child's well being! We used Peppermint, Lavender, Frankincense, Oregano & Lemon. I've listed how they help below.
Peppermint – Promotes healthy respiratory function and clear breathing. It also alleviates upset tummies
Lavender – Calms & relaxes. Great for irritated skin. Helps skin recover quickly
Frankincense – Helps build & sustain a healthy immune system. Promotes cellular health. Reduces the appearance of scars.
Oregano – Supports healthy digestion and respiratory function. Is a powerful antioxidant
Lemon – Cleanses the air and uplifts your mood
We used a different scent for each colour. The smell of them all together is amazing!
Ok, so to make your own you will need:
Felt pens/markers
Water
Food colouring
Small jars (one per colour you are making)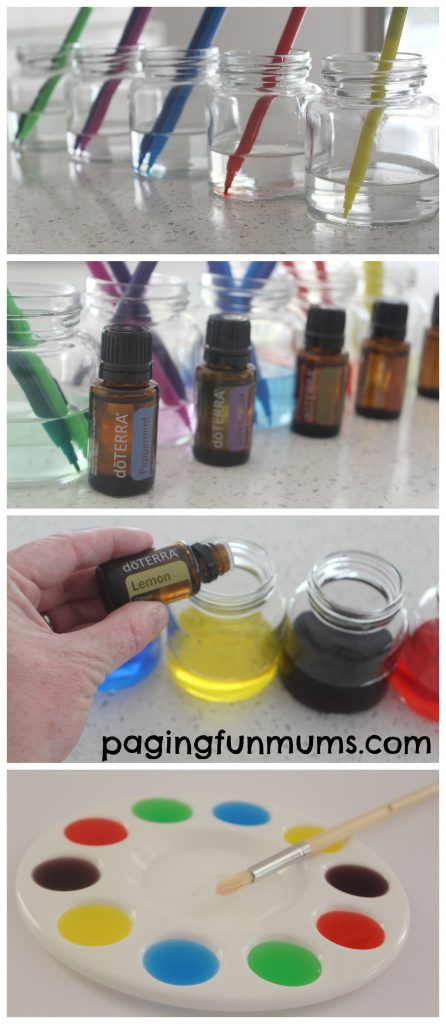 Step 1
Fill some little jars up with about 1cm of water
Step 2
Take the lids of your felt pens & place them upside in the jars so the ink can escape
Step 3
Let them soak until you are happy with the colour (I left mine over night)
Step 4
Remove the felt pens
Step 5
Add a few drops of the essential oils into each jar
Step 6
(optional) transfer your new water colour paints into a container and let the kids enjoy making sweet smelling relaxing art work!
If you liked this activity, you may also like our 20 Homemade Paint Idea Recipe Round up post! It has a fantastic array of different types of paint you can make at home!
If you are interested in doTERRA products and want to know more about the health benefits for your family – aswell as finding out how to make extra income, click here!
If you want to become a Fellow Fun Mum Member & receive all of our fun craft, recipes & activities as well as special offers & promotions – click the button on our home page 🙂 
We also have some fun video tutorials for you to view on our YouTube Channel.