We first used this paint to decorate Marshmallows – as seen here.
We froze the leftover paints and thawed them out to make these MEGA HUGE Father's Day Cookies.
We used our favourite Sugar Cookie recipe that was given to me by my friend Rebecca.
Bec's Sugar Cookies
1 cup unsalted butter (at room temp)
1 cup castor sugar
2 eggs
2tsp Vanilla Extract
3 cups plain flour (sifted)
1tsp baking soda
1/2 tsp salt
Beat the butter & sugar until pale and smooth, then add the vanilla and one egg at a time (beating between eggs). Mix the dry ingredients and fold into butter mixture.
Make a roll of the dough and wrap in cling wrap & refrigerate overnight.
Pre-heat oven to aprox 190 degrees c.
Roll out cold dough on a floured bench to about 4mm in thickness. We made our cookies HUGE but you can use any sized cookie cutter to make them.
Then it was time to paint them using the Edible Paint recipe below –
Edible Paints –
Condensed Milk
Food Colouring
Toothpicks
Paint Brushes
Simply poor out the Condensed Milk into some small containers or an Ice Cube tray and stir in some colour.
Then it was time to decorate our cookies before baking them.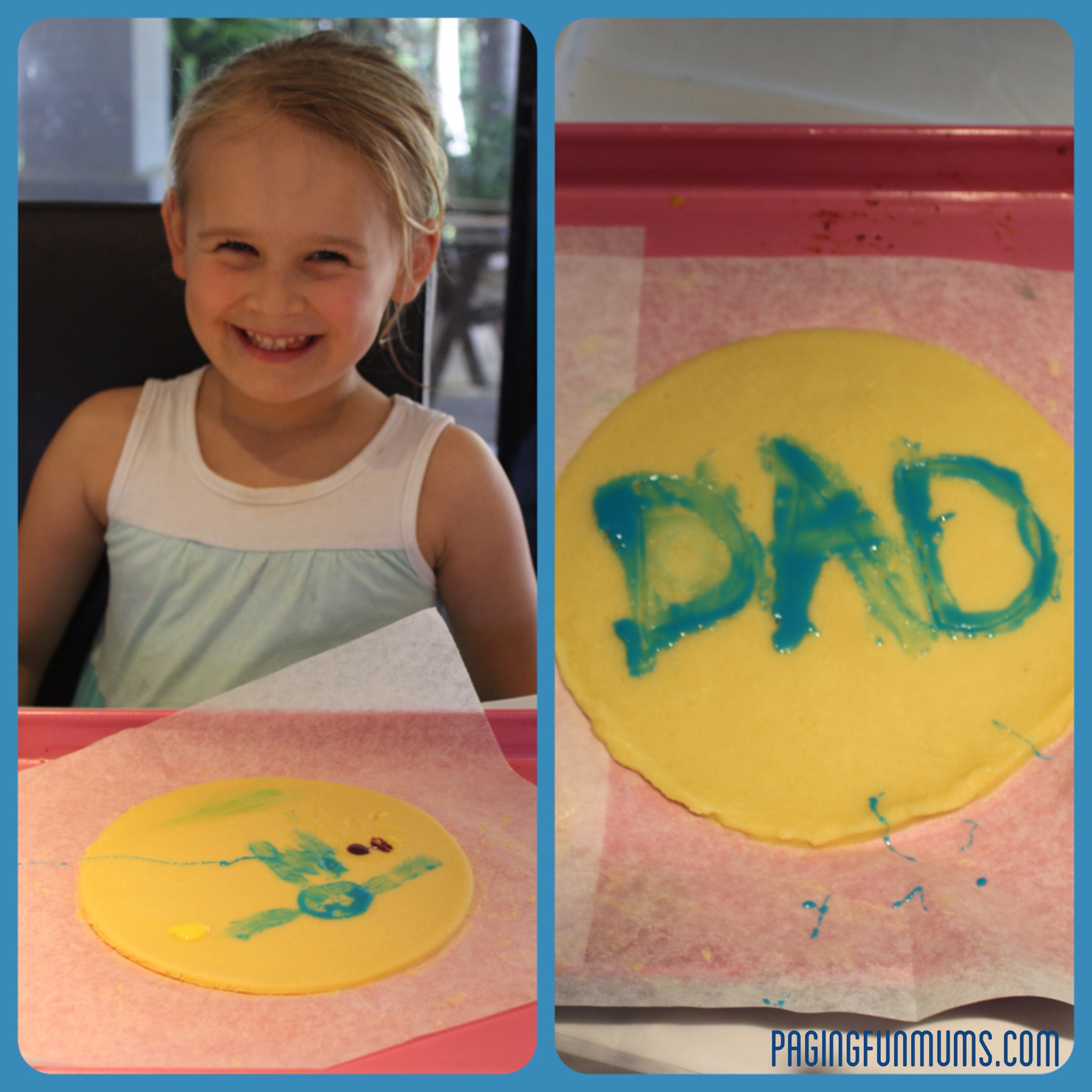 Once decorated cook them for between 8 – 12mins in a pre-heated oven set to 190c (depending on the size of your cookies).
They were supper yummy!!!
Please let us know if you give these cookies a try, we'd love to see the photos! You might like to post them on our Facebook page as we are starting a 'Fan Photo' Album!
Louise x
You may also like our:
If you want to become a Fellow Fun Mum Member & receive all of our fun craft, recipes & activities as well as special offers & promotions – click the button on our home page : )